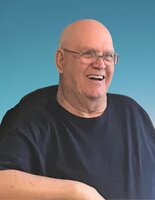 BRIAN MAURICE LAROCQUE
Obituary for Brian LaRocque
Brian Maurice LaRocque, 75 years of age of Hendon, Saskatchewan passed away on October 31, 2022 in the Intensive Care Unit of St. Paul's Hospital in Saskatoon, SK. .
Brian was born in Meadow Lake, SK, on January 1, 1947 to William and Lillian LaRocque. He went to school in Meadow Lake and then went on to get his Journeyman's Certificate in Mechanics.
Brian worked in many places in Meadow Lake and Lloydminster. He even started his own business "Bri-Mech" and worked in the "oil patch" in the Lloydminster area for many years. Another passion of Brian's was to work on the farm, especially during haying season. He farmed on his father's farm in Meadow Lake and then on his in-laws farm near Hendon, SK.
Brian is survived by: his wife Dianne of Hendon. He is also survived by: his children; Ley Anne (Robert) of Victoria, B.C.; Grant and Kabrie (Andrew) of Edmonton, Alberta; his grand-daughter Alexandra Hill of Vancouver, B.C; as well as many cousins, brothers -in-law and sisters-in-law, nieces and nephews.
Brian is predeceased by; his parents Lillian and William LaRocque of Meadow Lake, SK; his brother Robert LaRocque; his sister Betty Murray and brother-in-law Johnny Murray of Meadow Lake; his mother and father-in-law Kay and John Ryma of Hendon and brother-in-law Eugene Ryma of Hendon.
Interment (Burial) will be at a later date in Meadow Lake.
Memorial donations may be made to the
Heart and Stroke Foundation of Canada
222 Queen St., Suite 1402
Ottawa Ontario K1P 5V9
The family wishes to extend their gratitude to; Kelvingdell Lodge, the Kelvington Hospital, Stars Ambulance and ICU of St. Paul's Hospital in Saskatoon.