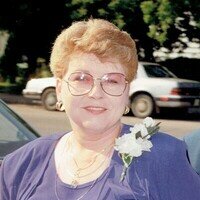 Graveside Service
1:00 pm
Thursday, June 16, 2022
Pleasant View Cemetery
Wynyard Pleasant View cemetery
Wynyard, Saskatchewan, Canada

Get Directions


Obituary of Sandra Anderson
In Loving Memory of Sandra Anderson
It is with great sadness that we share the passing of Sandra Anderson. Sandra passed away on June 8, 2022, at the Wynyard Hospital.
Eunice Mary Sandra Anderson (nee Buchan) was born September 27, 1947 in Yorkton. She was the youngest of four children born to William and Nora Buchan (nee Goulden).
Sandra always described her childhood as wonderful and had a very close relationship with her parents, brothers and extended family that lived nearby.
Sandra attended school at Barvis and Dunleath Country Schools and then went off to Yorkton for high school. Her favorite part of school was information gathering, also known as gossip. She once remarked she went to school for the social life. In 1964 she left high school and started Nurse's Aide Training at the Fort San Tuberculosis Sanatorium at Fort Qu'Appelle, SK.
On October 15, 1966, Sandra married Larry Anderson in Yorkton, SK. They settled in Yorkton briefly, then moved to Regina where Shawn was born in March 1968. In 1969 they moved back to Larry's hometown of Wynyard. In June of 1971, Gaylene Nora came along to complete the family.
In 1998 at the age of 51 she went back to school and enrolled in the LPN program at SIAST in Regina. She was very proud of this accomplishment, as was her family.
After Sandra retired from the Wynyard Hospital in 2010, (after 38 years in acute care) she went onto work at Silver Heights Care Home in Raymore because she felt she had more to contribute. Sandra was reluctant to retire for the second time, but did so in 2017.
Sandra had a long career in healthcare starting in 1964 at Fort San, followed by Yorkton, Regina General Hospital, Wynyard Golden Acres, Wynyard Hospital and ending in 2017 in Raymore. Caretaking was the only career she ever envisioned and she loved every moment. Shawn asked her once "If you hadn't been an NA or LPN what would you have wanted to do?". She answered "nothing else", "I wanted to be a nurse when I was a little girl". She lived her childhood dream and not everybody can say that they were able to do that.
Sandra loved to know the family connections of people. She could be counted on to know a person's name and their family history going back three generations. Knowledge that her coworkers marvelled at.
Sandra enjoyed curling, bonspieling, casino trips and bingo nights. She spoke fondly of the friendships and memories of her time with the girls. She loved reading books that were true stories and doing word search puzzles.
Sandra enjoyed flowers as well as, watching and identifying all the birds that came to their backyard feeders. And it goes without saying that every Rider game that was on tv in the fall and every single curling game all winter was taken in by Sandra as Larry can attest to.
Sandra was lost without the phone. She needed to have that contact with family and friends. If the landline was down on the farm, she was on the cell phone calling for service immediately. In fact, she could make due if there was a power outage, but never the phone.
She also liked to have the last word and hated to be hung up on.
Sandra was very involved in Gaylene's skating and swimming and Shawn's minor hockey. She attended all the events that she could whether they were in town, out of town or out of the province. She flew with Gaylene to the Precision Skating competitions in Quebec.
Every summer when her children were young, they would take a trip. Some of these trips were better than others but they always came home with a memorable story. Even the time Shawn locked the family out of the rental cabin three times by accident.
Sandra taught her children never to lie or steal. She could not even bring herself to tell a white lie. Shawn liked to raise her dander by accusing her falsely of lying. She also made three-year-old Shawn march back to the 5 to a $1 store to return a 2-cent candy to the owner.
Sandra had a big issue with being late, she once committed hit and run-on Larry's truck because she would have been late for a funeral.
Cooking was not her thing but she could make the "famous slice" (confetti squares), relish, jelly and a really good macaroni salad but she left most of the cooking to Larry as she said he was the cook because he liked it.
In later years she attended her Grandson's football games. Even attending Nicholas' last game in a blizzard and then drove herself off to work in Raymore at the care home for a night shift.
Her grandsons had a very special place in her heart. She was one of the first to see Nicholas and Evan after they were born. Sandra and Larry spent a lot of time babysitting them and the boys have fond memories of time spent at Grammy's house. The last words she spoke to them were "I love you".
Sandra and Larry moved out to the family farm in 1994, after the passing of Larry's parents. In the fall of 2020, when harvest was just winding up, they made the move into their home in Wynyard. It was the perfect location for them as it allowed Sandra to continue caretaking the neighbors and a view of the hospital that she called home for most of her working career.
Sandra was predeceased by her parents William and Nora, father and mother- in -law Henry and Hadie Anderson, brothers Ken Buchan, Keith Buchan and sister-in-law Jean Buchan.
Sandra is survived by her husband of 55 years Larry and children Shawn (Tammy) and Gaylene; two cherished grandsons Nicholas and Evan; brother Lowen, sister-in-law Vanessa Buchan, sister-in-law Gail (Keith) Kammer and numerous nieces, nephews and close friends.
Graveside Service
1:00 P.M.
Thursday June 16, 2022
Pleasant View Cemetary
Wynyard, SK
Please Bring your own Chair
For those so wishing to join the service Virtually,
The service will be streamed on Narfason's Facebook Page (CLICK HERE).
For those wishing to send cards
of caring & sympathy
may send them to
The Anderson Family
P.O. Box 814
Wynyard, SK S0A 4T0
Donations in Memory of Sandra
may be forwarded to
The Anderson family,
which they will purchase an item for The Palliative Care Room at Wynyard Hospital
P.O. Box 814
Wynyard, SK S0A 4T0


Share Your Memory of
Sandra