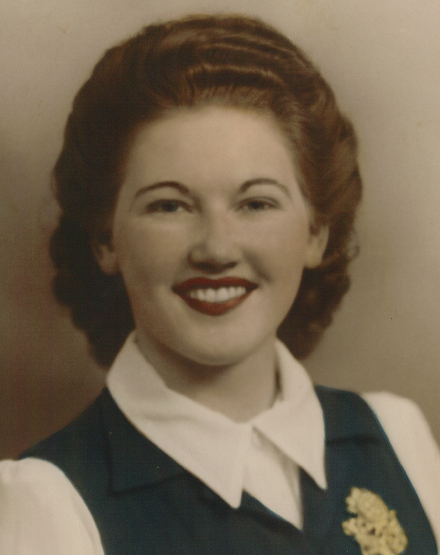 Obituary of Emma Schultz
In Loving Memory of Emma Schultz
December 25, 1925 - July 25, 2022
Graveside Service
1:00 p.m.
St. Peter's Cemetery
North Margo, SK
Emma was born at home on the family farm north of Margo, Saskatchewan. She was one of a family of 10 children. Everyone worked hard on the farm to survive. When she was old enough, she followed her sisters to Toronto, ON, where she worked in the Cadbury Chocolate Factory for 4 years. In 1947, Emma moved back home.
On 26 October 1947 Emma married Verner Schultz of the Kuroki district. They built a farm north of Kuroki near Vern's family homestead. They raised their three children, Sharon, Brian and Robert on the family farm. Emma enjoyed gardening, cooking and was very active in the church and the Kuroki Community Club. Emma loved her family with her whole heart and treasured family gatherings where she always prepared fabulous meals. She enjoyed all of her grandchildren and great grandchildren and was always counted on to remember everyone's birthdays and anniversaries. Emma was always ready for company with a meal, a cup of tea and baking, and even a bit of advice.
In 1979 Emma started working in food preparation at Weneeda Park Lodge where she used her expert cooking skills. Then in 1980 Emma and Vern moved to their new home in Wadena. Vern continued to help on the farm while Emma worked at Weneeda until 1991 when she retired. She remained active in the church, maintained a large garden and continued with family feasts. In 2009 Emma moved to Spruce Manor where she lived until her passing.
What a remarkable life Emma lived. She lived through the great depression, a world war, and advancements in technology from horse drawn carriages, wood burning cook stoves, to microwave ovens, the iphone, and facetime, which she thought was fabulous. What a wonderful, loving, and long life she lived.
We will miss you dearly for the rest of our lives.
Until we are together again…
We Love You MOM, Sharon, Brian and Rob.
Celebrating Emma's life are her: children, Sharon (Jerry), Brian (Debbie), Robert (Ann); grandchildren, Joseph, Jerrod (Karley), Jacqueline (Mark), Nancy (Colby), Tim (Kathryn), Scott (Kaydi), Mathew, Alanna (Joe); great grandchildren, Blake, Jaxon, Kohen, Brydan, Linden, Sadie, Addison, Emma, Julie, Amy and Isla.
Predeceased by her: husband, Verner; parents Emil and Natalia; sisters (brothers-in-law), Martha (Phil) Basler, Elsie (Al) Mutschke, Pauline (Jack) Ziola, Alma Fidelack, Mary (Emil) Froese, Violet Fidelack, Emilia Fidelack, Mabel (Kenneth) Johnson; and brother Oscar Fidelack; brothers-in-law, Ernest (Agnes) Schultz, Paul (Edda) Schultz; sisters-in-law MaryAnne Schultz and Clara (Ernest) Malischewski; and father and mother-in-law, Walter and Pauline Schultz.
Lovingly remembered by: sister-in-law Pat Fidelack, brother-in-law William Schultz and many nieces and nephews, as well as extended family.
For those wishing to send cards of caring & sympathy
may send them to
The Family of Emma Schultz
P.O. Box 861
Wadena, SK S0A 4J0
Donations in Memory of Emma may be made to
The Wadena Hospital Palliative Care Room
P.O. Box 861
Wadena, SK S0A 4J0
or
St. Peter's Cemetery (North Margo)
P.O. Box 861
Wadena, SK S0A 4J0