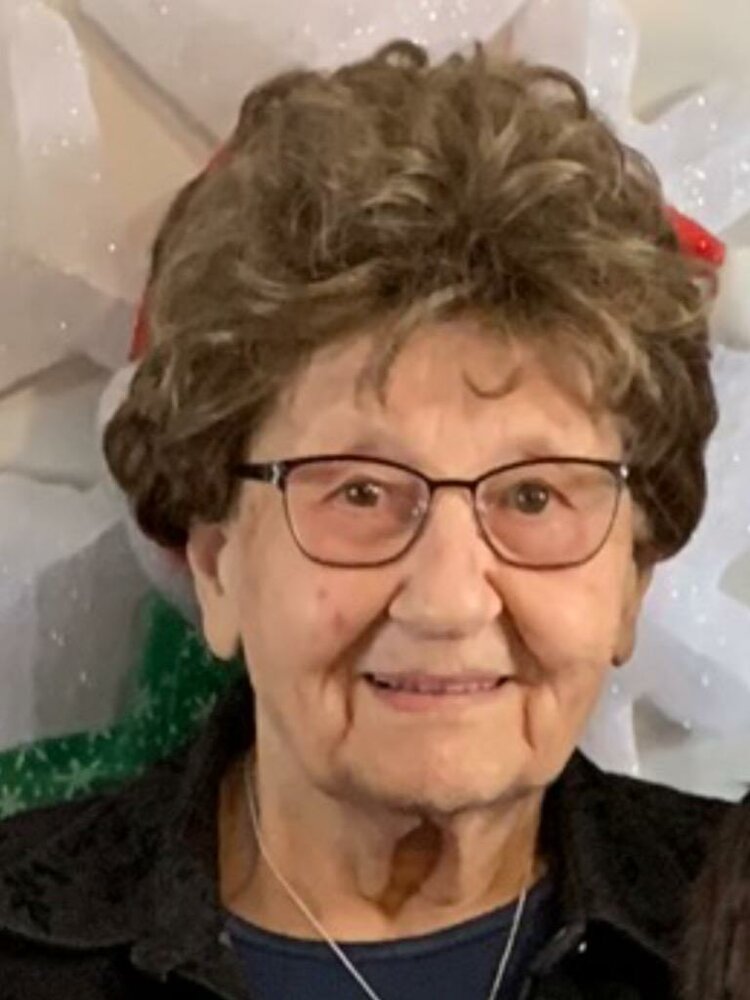 Obituary
No Service Held at this time.
Mary (Bacik) Mikush was born in Blenheim, Ontario, on June 29th, 1933. Mary passed away on August 7th, 2022, at the Wadena Union Hospital.
Mary grew up and schooled in and around Chatham, Ontario. Her dad bought a farm in 1945, and Mary helped on the farm after school. When Mary was finished helping on the farm, she had various jobs in the winter in a factory, restaurant, and hospital.
In 1956, Mary met John Mikush of Margo, Saskatchewan. They corresponded and, within a year, were engaged and married on June 8th, 1957, at the Holy Family Church in Wallaceburg, Ontario. She moved back to the Mikush family farm in Margo, where they started to raise their family.
Mary was no stranger to hard work. Raising ten children she loved the farm life, running a household, gardening and like most farms back then raised your own pigs, chickens, ducks and geese and cattle. At harvest, Mary would assist with hauling the grain.
Mary enjoyed the travels with John with his passion of tractors throughout Canada and the States. She was a member of the Wadena CWL and the Margo Quilting Club for many years. She loved quilting and made many more family quilts. Mary also loved to play Bingo a couple times a week in the later years and watching TV. Particularly, judge and Game Show channels. She would also spend hours talking to her sister Anna on a regular basis. She remained working on the farm until she was hospitalized in April.
Mary is survived by daughter Sharrie (Ken) Wesolowski of Saskatoon, daughter Sheila Peever of Colonsay, daughter Pamela Malischewski of Kuroki, son Thomas Mikush of Margo, daughter Cynthia Mikush of Yorkton, daughter Shawna (Marty) Pfeifer of Esterhazy, daughter Danita Mikush of Saskatoon, son John Jr. Mikush of Margo, son Kelsey (Lori) Mikush of Wadena, son Monte Mikush of Margo. Grandchildren: Christopher (Christine) Shaun (Jennifer) Kourtney (Laurie) Stephen (Jennifer) Derek (Suzanne), Eric, Sheldon, Angie (Trenton) Aaron, Ashlie, Alicia, Glen, Regan, and Dustin. Great grandchildren: Kaden, Kayla, Blake, Hayden, Amy, Matthew, Lina, Nicolas, Aurelia, Rylan, Kellan, Weston, Prestyn, Robbie, Dylan, Alex, Deion, Keelan, Parker, and Hunter. Sister Anna (Martin) Vitek of Tupperville, Ontario, and numerous nieces and nephews.
Mary was predeceased by husband John Mikush, parents Joseph Bacik and Anna (Bacik) Kasper and sister Helen Jones, grandson Jeremy Mikush, sister-in-law Mary Thomas and Cecelia Leoppky, brother-in-law James Jones, Ernie Thomas , and Jake Leoppky.
Read More
Events