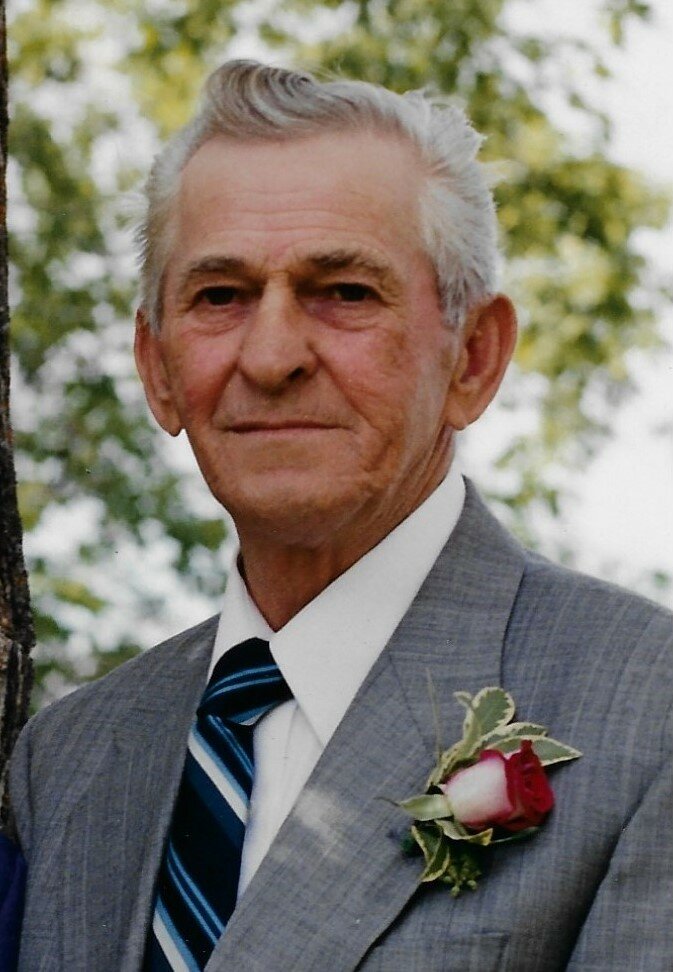 Obituary
Walter Krygowski passed away on August 10, 2022 in Lloydminster, SK after a brief battle with cancer. Walter was born on July 4, 1934 on the family farm two miles north of Hendon to Wojciech and Maria Krygowski. He was the third eldest of six children. He attended Victoria Park School as a child. Later, as a young adult, he moved to Ontario to work until returning to help his parents on the farm. On December 29, 1960, he married Patricia Kizlyk of Fosston, SK. To their union, five children were born; Ken 1961, David 1962, Katherine 1964, Richard 1965, and Cindy 1974. After their marriage, Walter fixed up a house in Wadena for his parents and he and Patricia continued to live and work on the farm. In 1968 they purchased land one mile north of Hendon which they then built a new house. In those early years, although farming, Walter also worked away from home to better his family. If there was a job to be done, Walter would take it. He had impeccable drive to better himself and those around him. Walter continued to farm until the spring of 2018, when he decided to fully retire to stay home and help his wife, Patricia. Sadly, Patricia suddenly passed away on May 13 of the same year. It was really difficult for Walter when he lost Patricia, as they had a strong unconditional bond of love. For the next five years, Walter kept busy doing small jobs on the farm, attending functions in the community, and visiting his children in Lloydminster. Walter was very fond and interested in his Polish heritage. He had the pleasure of traveling twice to Poland once with his daughter Cindy and the last time with his wife Patricia and daughter Cindy. He was able to meet and keep in contact with distant relatives and visit the locations of where both of his parents lived. He was going to go again in 2020, but the trip was interrupted by the pandemic. Walter was also able to go with his daughter Cindy to Italy and Mexico, but Poland was his favorite destination. Walter was the rock of the family. He was a gentle sentimental man who provided advice and guidance to his family. He held strong values and shared them with his children. He always listened patiently, but would interject if he felt we were making the wrong decision. No matter where Walter went, he was instantly loved and admired for his gentle mannerism. A perfect conversationalist, he was able to talk to anyone about any topic.
Walter was predeceased by: his wife Patricia, his sons: Ken and David; parents: Wojciech and Maria Krygowski; brothers: Teddy Krygowski, Frank Krygowski; sister Jinnie Johnson; nephews: Eddie Johnson, Harley Kryg, and David Krygowski; brothers-in-law: Eric Johnson and Walter Kryzanowski; sisters-in-law: Joyce Krygowski and Orlee Kryg.
Walter is survived by his children: Katherine Collinge, Richard (Donna) Krygowski, and Cindy (Jim) Holowachuk; his one granddaughter Destiny (Tom) Hall and his three grandsons: Lee Collinge, Micheal Holowachuk, and Brandon Krygowski; his sister Stella Kryzanowski, and his brother Pete Kryg.
Funeral Prayers
7:00 p.m.
Tuesday, August 16, 2022
The Chapel of Narfason's
Wadena, SK
Funeral Mass
11:00 a.m.
Wednesday, August 17, 2022
St. Mary's Roman Catholic Church
Fosston, SK
For those wishing to send cards of caring & sympathy may send them to the Family of Walter Krygowski
P.O. Box 441
Lloydminster, SK S9V 0Y4
Donations in memory of Walter may be made to
Mary Queen of Poland Roman Catholic Cemetry in c/o Mitchell Staszczak
P.O. Box 64
Fosston. SK S0H 0V0
Read More
Events
Tuesday, August 16, 2022
7:00 pm
Narfason's Funeral Chapel & Crematorium
102 First Street Northwest
Wadena, Saskatchewan, Canada
306-338-2251

Get Directions