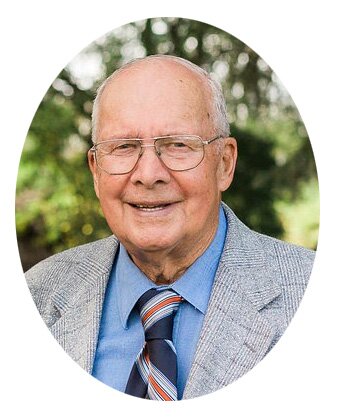 Obituary
In Loving Memory of Bill Paulson
Wilhjalmur John (Bill) Paulson passed away peacefully on October 23rd, 2021 at the Canmore General Hospital, Canmore AB, just a few days prior to his 92nd birthday.
Bill was born on November 1st, 1929 at the Edfield SK family farm to parents Johann (Joe) and Anna Paulson. He was the first of their three children. Bill attended the Edfield School to grade 8, and the Foam Lake School for high school.
Bill had already begun his farming career when he met the love of his life, Edna Bindig, at a dance in 1950. They were married on November 1st, 1951 and began building their life together on the family farm. Their marriage was blessed with two children; Donna, born in 1952, and Keith in 1954. The farm would remain their home until October 2017 when they moved to Cochrane AB.
All things mechanical and electronic intrigued Bill. He was a self taught, life long learner and his strong interest in these areas led to a variety of pursuits; farm machinery innovations, a seed cleaning operation, a radio and television repair business and a hobby in amateur radio to name a few. But of his many interests, perhaps the most enduring was Old Time Music. Bill was born into a musical family, and played in a number of orchestras from his teenage years to the very last year of his life. Venues included local dances, community celebrations, nursing homes and fund raising events. Bill made many wonderful friends through music.
Throughout his life, farming was never very far from Bill's mind, and together with Edna, their mixed farming operation evolved into a progressive and successful grain farm. When they sold their cattle in 1965 to concentrate on grain growing, Bill finally had some free time to enjoy amateur radio conventions, holidays with his family and some fishing.
"Paying it forward" and "giving back" were major goals in Bill's life. He volunteered as a civilian instructor for the Royal Canadian Air Cadets and was an active member of the Vatnabyggd Icelandic Club. He helped to establish the Tuffnell Circle Jammers, and assisted many young musicians with their early music education, gifting them instruments and lessons. In 1998, he provided a quarter section of family owned farmland to a Canadian Food Grains Project which fostered community involvement in the growing, harvesting and donation of its production. This project was particularly close to Bill's heart as he saw firsthand what it was like for others to go hungry during the 1930's.
Bill enjoyed a life well lived, and he was respected by those who had the pleasure of knowing him. He valued his wife Edna and his family above all else, and often expressed how blessed he and Edna were to see their family grow up around them and to be a part of their lives. In his very last days, and in failing health, it was Bill's greatest wish that he would live to celebrate with Edna on their 70th wedding anniversary.
Bill leaves to cherish his memory, his loving wife Edna; brother Marvin Paulson; sister Mae (Wayne) Littlewood; daughter Donna Paulson; son Keith (Marj) Paulson. He will be dearly missed by his grandchildren Pam (Grant) Hvizdos, Ryan (Livia) Franklin, Jennifer (Jonathon) Webb, Terri Lynn (Thomas) Friesen, Trisha Paulson, Ian (Taylor) Paulson, his six great grandchildren, and many nieces, nephews, in-laws and friends. He was predeceased by many family members and close friends during his almost 92 years of life.
Graveside Service
2:00 P.M.
Wednesday, August 24, 2022
Foam Lake Cemetery
Foam Lake, SK
Read More
Events
Wednesday, August 24, 2022
2:00 pm
Foam Lake Cemetary
Foam lake cemetary
Foam lake, Saskatchewan, Canada

Get Directions