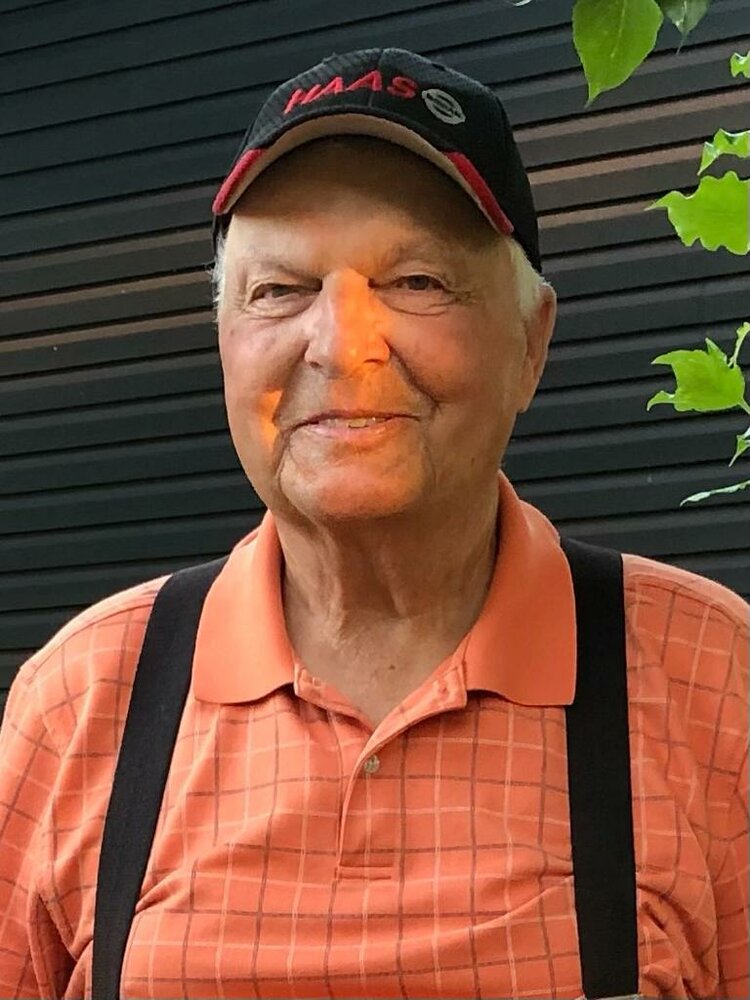 Obituary
Donald Marlin Eyolfson was born April 28, 1943 in the Mount Hecla District. He was the last of eleven children born to Sam and Lily Eyolfson. Donnie attended school first at Mount Hecla and later at Elfros.
After he finished school, Donnie spent several years driving a school bus. There were times with 50 or 60 kids packed on a 48-passenger bus. Donnie was a skilled mechanic. He loved to tinker, invent, and could figure out how anything mechanical worked. He farmed all his life, first at the home place, then later at his own farm south of Foam Lake.
It was there that he met a neighbour girl, Shirley Morris. They were married on November 19, 1977. Donnie and Shirley raised three children, Bryan, Gayle, and Aimee, while building the farm. Donnie loved animals. He always had a good dog by his side.
Donnie was active in both the Leslie and Foam Lake branches of the Royal Canadian Legion. He was a dedicated member for 40 years. Donnie also volunteered with the Leslie Community Hall for many years. He was an avid curler, participating in many bonspiels with many good friends in all the little community rinks. Everyone was welcome at the kitchen table, 'coffee' was always on. Donnie was never too busy to stop and visit. He loved a good joke! With a twinkle in his eye, he always had a funny story to tell, some of them were even true! Donnie loved to play 3-spot. He liked to bid 'no trump' without looking at his cards. He almost always made his seven too! Donnie also enjoyed attending auction sales looking for a bargain.
Donnie and Shirley retired to Foam Lake in 2011, but Donnie continued to help Bryan on the farm. In his retirement, Donnie found a new hobby. He became an enthusiastic fisherman! He built his own ice fishing shack, spending many hours with his friend John, hoping to catch the big one, to brag about. Donnie reconnected with some old friends, while making a number of new ones during his time on the ice.
Donnie's first grandchild was born in 2005, with the last one just this April. He was a proud Grandpa! Donnie loved each of his grandchildren very much! Kade, Aubree, Carter, Alana, Ty and Ben all loved Grandpa's teasing and he was always there to fix whatever they had broken.
Donnie was predeceased by his parents Sam and Lily; brothers Willie, Harold, and Andy; sisters Lil and Kate, brother-in-law and sisters-in-law Jack, Joan, Janet, and Ena.
He will be greatly missed and lovingly remembered by his wife Shirley, son Bryan (Jody) Eyolfson and children Kade and Aubree, daughter Gayle (Brad) Brooks and children Carter and Alana, daughter Aimee (Corbett) Deren and children Ty and Ben, and his beloved dog, Spike. Also by his siblings Joe (Madonna), Sveinn (Joyce), Kris (Ann), Mae (Don) Tataryn, Earl, and many nieces and nephews.
Graveside Service
2:00 p.m.
Wednesday, September 7, 2022
Foam Lake Cemetery
Foam Lake, SK
Please bring your own Lawn Chair to Service
For those wishing to send cards of caring & sympathy may send them to the Family of Donald Eyolfson
P.O. Box 637
Foam Lake, SK S0A 1A0
Donations in memory of Donald may be made to
Foam Lake Legion
P.O. Box 637
Foam Lake, SK S0A 1A0
or
Leslie Community Hall
P.O. Box 39
Leslie, SK S0A 2E0
Read More
Events