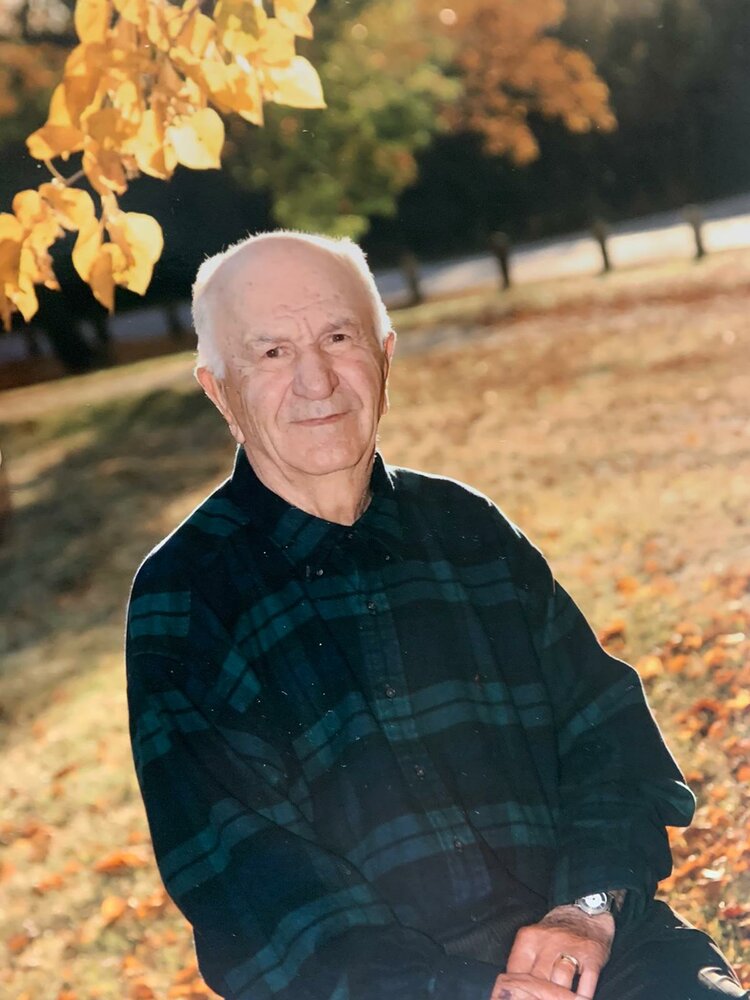 Obituary
Memorial Service
1:30 p.m.
Friday, September 23, 2022
The Chapel of Narfason's
Narfason's Funeral Chapel
Foam Lake, SK
Eddie was born on the family homestead in Otton, Saskatchewan to Egnatz and Mary Seidlikoski on October 5th, 1928, with the help of a midwife. In 1929, at six months of age, he moved with his family to Bankend, Saskatchewan. Eddie was a little farmer from the get-go. Early on everything was done by hand on the farm. One could only plough an acre of land in a day. Chores involved milking cows, churning butter, hauling and cutting wood, and working the fields. One of his early jobs on the farm was to get kindling to start the fire in the stove for his mother. Eddie and his brother Steve liked to catch ducks on the pond. His mother would cook them up with cream. One time Eddie lost his clothes at the pond catching ducks. His brother Steve luckily gave him his shirt so he could get home. To make money, he would catch gophers and sell them for a cent and a half per pound. He would use this money to buy an ice cream and pop for 10 cents. Eddie attended school in Bankend until grade eight. In the winter he travelled to school by horse and cutter, and in the spring, he walked to school "uphill both ways". Eddie loved sports especially hockey. He played goal and most evenings during the winter he was on the rink in their yard with siblings and neighbors. Eddie met the love of his life, Gladys, in 1962 and they were married on February 23, 1963. They were married for 59 years and had four beautiful daughters Linda, Wanda, Sandra and Wannitta. From there came 11 grandchildren and five great grandchildren. Eddie was a loving, gentle husband and father. He taught his children compassion, acceptance, and a strong work ethic. Eddie worked in partnership with his wife on the farm. Everyone helped with the gardening, field work, along with feeding and tending to the animals. His love for food and gathering with family and friends created many wonderful memories over the years. He took great pride putting his heart and soul into providing food and shelter for his family off the homestead. Anyone who knew Eddie, knew he loved to visit and good food. He always told people "The way to a man's heart is through his stomach". Eddie was a kind giving man, and anyone could come to him for help. The farm was near highway 35, so many a person stopped by for help. He never turned anyone away and never expected to be paid. This is how he lived his life. He wasn't rich with money, but rich with all that he had. Eddie worked hard and when he turned 65, he retired. He spent his time tending to the yard, cutting grass, hauling wood, gardening, and keeping the fire burning during the winter. He loved to visit and go for coffee with his farmer friends in town. If mom and him went to town, he would surely find someone to chat with. Mom was still working, so he had to take on some of the housework. He made sure the kitchen was clean and dishes done, before as he would say, "mama" got home. Eddie and Gladys moved to Wynyard in 2018 and sold the farm in 2019. In August 2020, Eddie and Gladys moved to Saskatoon to be closer to family and to the health care they needed. Up until January 2022, Eddie was in pretty good health and although he needed the help of a walker, he got around easily. In May 2022, after a brief stay in hospital, Eddie moved to Oliver Villa where he spent his final days with his devoted wife by his side every day. Less then two weeks ago, Eddie's health began to fail. We knew he was being called home from above. With his family by his side, Eddie with the same gentleness that he lived his life, passed away peacefully on the morning of September 20, 2022.
Eddie is survived by: his wife Gladys; their daughters Linda (Kevin & Pam Hall – Adam, Kathryn & Grace; Jamie & John Young); Wanda Seidlikoski Yurach & Ken Yurach (Madison Yurach Pikaluk & Brendan Pikaluk – Asher and Jacob; Mollie Yurach & James Matlock; McKenna Yurach; Merik Yurach); Sandra & Gary Ehrmantraut (Garrett Cherwinski; Natasha and Tyler Hudy; Tamika Ehrmantraut); Wannitta & Maurice Lalach (Jocelyn; Kaylen (Drake); brother Frank, sister Angeline and sister-in-law Eleanor (Ken) as well as numerous in laws, nieces and nephews and extended family.
Eddie is predeceased by his: mother and father, Mary and Egnatz; brothers John, Gus, Ted, Peter, Steve, and Mathew; sister Wanda.
Donations in memory of Eddie may be made to
Heart & Stroke Foundation
of Saskatchewan
1738 Quebec Ave
Saskatoon, SK S7K 1V9
Read More
Events