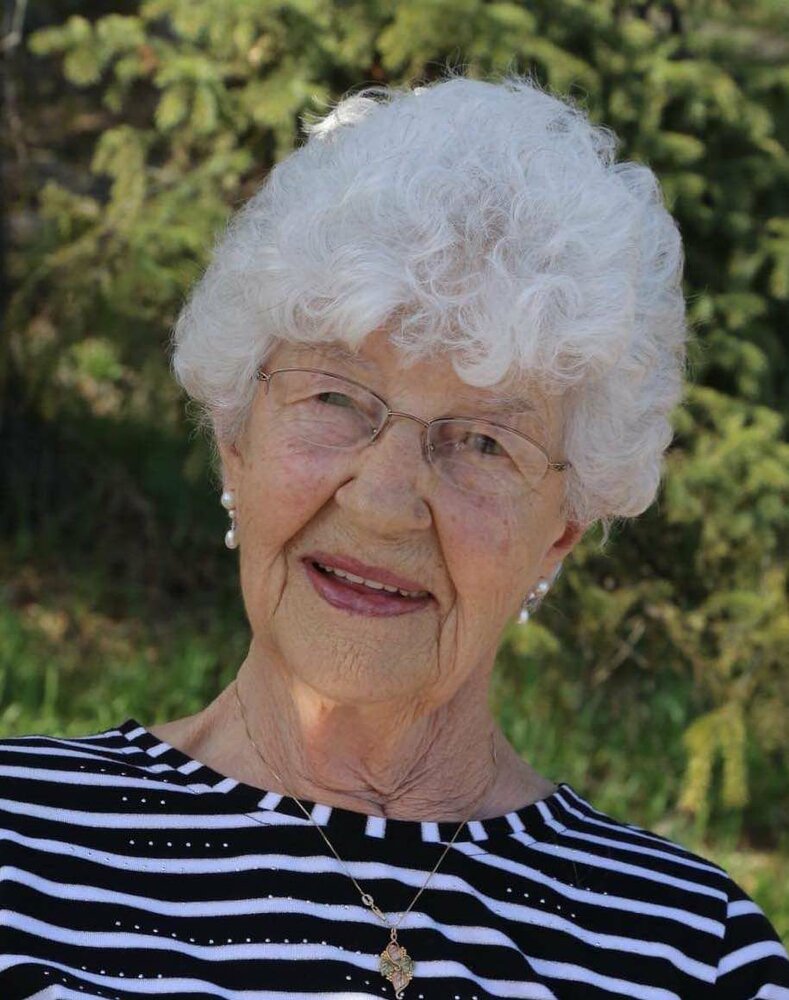 Obituary
Mary was born September 8, 1938 in Rose Valley and spent all of her life in Saskatchewan but for a brief time in Alberta, prior to her marriage to Henry Heinze, the father of their children.
Mary and Henry were married August 3, 1961 in Rose Valley and lived in Humboldt, North Battleford and Watson before moving to Wadena in June of 1979, where they both remained until their deaths.
In her youthful years, Mary was a farm worker, child caregiver and later worked as a nurse's aide in Rose Valley and Wadena.
Mary eventually found her calling in the food services industry. She worked in the kitchen at the Watson Hotel, TC Enterprises, Wadena Hotel and in the 1990s she owned E & M Kitchen with Ed Nygaard, her second husband.
They provided meals with many home grown vegetables from her garden to the residents of Weneeda Park Lodge and Meals on Wheels. In addition to her roles as wife, mother, grandmother ("G-Ma" or " Bupcha" to the grandkids) and business owner, Mary was also involved in community life, as she was a 4-H cooking instructor in Watson, she and Ed also took in several at risk youth, providing stability and a caring home for them (and to teach them to work hard!)
Mary enjoyed life to the fullest and always enjoyed spending her time with friends and family, whether that was at work, at home, or at the family summer trailer at Marean Lake.
Mary was happy to be with and proud of her grandchildren. She loved their individuality and often offered them her sage advice and wisdom.
One of lifes little pleasures was "happy hour" which she enjoyed with a number of her friends. Another one of Mary's passions was gardening. Wherever Mary called home, there was sure to be a large garden full of healthy vegetables and beautiful flowers.
Mom also liked her music and dance. She could be caught singing a tune or watching her favourite Saturday night dance party on TV!
Life did challenge Mom on a few serious occasions. As a child she was critically Ill from an undiagnosed burst appendix. In 1976 she suffered serious injuries sustained in a car accident near Rosebud. Another sad misfortune occurred when a snow covered portable garage collapsed on her at Ed's farm.
Mom certainly kept her guardian angels busy!
Mary was predeceased by her parents Helen and Ross Chaykowski, her brothers Bill, Nick, and Peter, infant sister Barbara and niece Sandra Gall. She is survived by her sisters Helen and Margie, her adult children Kim, Kevin, and Leanna her grandchildren Blake, Brandon, Lucia, Thomas, and Sarah and several nieces and nephews.
On Saturday September 24, 2022, Mary Heinze, the daughter of Ross and Helen Chaykowski passed away at Pleasant View Care Home in Wadena. Mom was diagnosed with lung cancer 5 years ago. She bravely battled the cancer and its complications until she could no longer. Rest in peace Mom.
Funeral services will be held on Friday September 30th at 11am with coffee and lunch to follow. Internment will follow at the Rose Valley Cemetery. Narfason's Funeral Chapel & Crematorium in care of the arrangements.
Read More
Events
Friday, September 30, 2022
11:00 am
Decent of Holy Spirit Ukrainian Catholic Church
Horkoff Avenue
Wadena, Saskatchewan, Canada

Get Directions