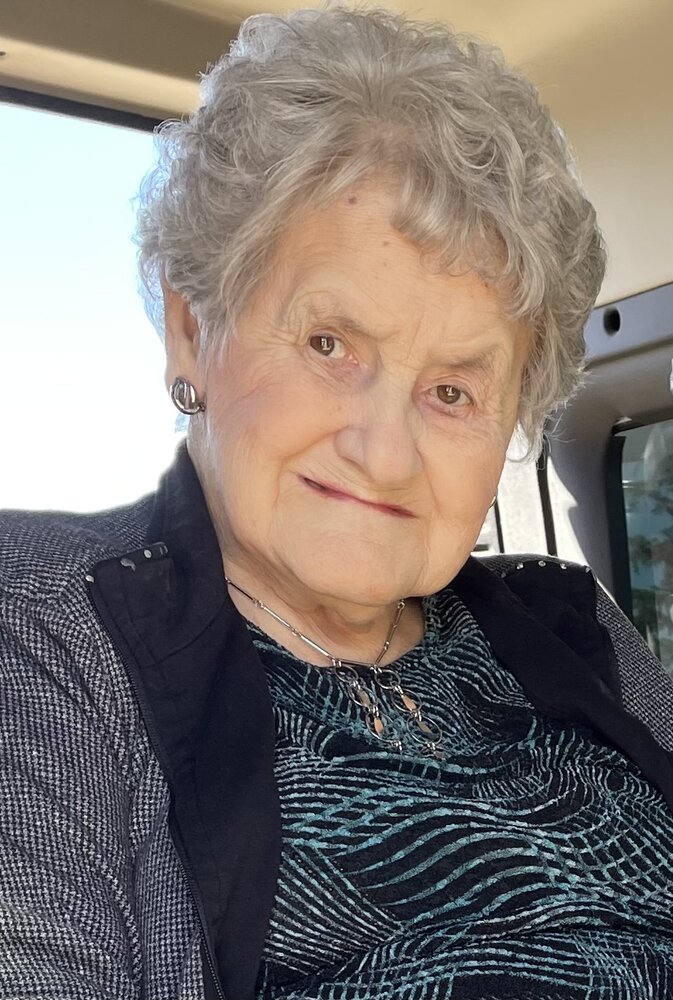 Obituary
In Loving Memory of Jeanne Niezgoda
Jeanne (Godos) Niezgoda was born August 19, 1937 on her parents' farm near Fosston, SK.
The Godos family had five children. Jeanne was the middle child, with two older sisters, one younger sister and finally, a younger brother Edward. Jeanne attended Hopeful School to grade 8, then went to high school in Wadena, where she stayed with her best friend Jean Tchozewski and her family until she graduated.
Jeanne always liked pretty things. When she graduated from high school, her parents surprised her with a grad dress they bought for her. It was pink with a big crinoline. "They brought it home and it fit just perfect. It could have been too big. Oh, it was pretty," she says. "And it fit!"
After graduation, she worked one summer in Wadena, as receptionist at the hotel. Then, in October, after harvest, she married a handsome Polish farmer, Steve Niezgoda, who lived about four miles from her home. She says he was very good looking and "had four sisters, so he knew how to behave around women." When I asked her how they got together, she said, "He was at church, at dances, everywhere you turned around."
Their wedding party was held at the Fosston Community Hall, which was filled with friends and relatives. Jeanne went to Regina to pick out a beautiful dress; her bouquet was burgundy and white—artificial flowers because it was October, but she says they were lovely. There was visiting and dancing all day. When they left the hall that night, there was a foot of new snow.
That day, she remembers, the freight train went through Fosston every hour on the hour, busily hauling grain out. It was a steam train which took on water in town. On their wedding day, the train whistle blew, announcing the time every hour, adding to their celebration.
So began the next chapter of Jeanne's life. The young couple moved in with Steve's parents. It was a big house with two levels. It was comfortable and they all got along well. The women had a big garden, "half an acre". As well, there was an English garden full of roses, cosmos and peonies, all framed by lilacs. Children began to arrive, starting with Cynthia in 1957, followed closely by Jerome in 1958, then Richard in 1962, Greg in 1964 and finally Jacquie in 1966. Babcia helped with the children while Jeanne worked in the garden and on the farm. There were up to ten cows to milk, cream to separate and keep cool down the well.
Jeanne devoted her life to raising her family, caring for her house, her garden and her yard. Good food was always important to her. "Summer was heaven. New potatoes, and beans and peas and carrots. For dessert we had something wild—like saskatoons, raspberries..." Most of it was home-grown and prepared with love. The family picked berries for eating fresh and for pies. She canned hundreds of jars of Saskatoon berries found near the farm, and blueberries which they picked "for days, up north". "We'd pick berries all day, come home, milk the cows, feed the kids and get everybody to bed." Then, she would "pick over" all the berries with no one to bother her, "until midnight, maybe one in the morning...and then at 6:00 o'clock the alarm would go off and we'd start all over again."
In the early '60's electricity came to the area. A fridge, TV and the deep freeze soon arrived. In 1967 Steve and Jeanne had a brand new house built by Kelvington Co-op. "All I had to do was paint it," she says. It had three bedrooms and running water, as long as the cistern didn't go dry. The young family thought it was wonderful.
Steve died suddenly on June 22, 1994. Jeanne stayed in her beloved home on the farm until she moved into the Villa in Kelvington in March of 2002. She moved to the Kelvindell Lodge in November of 2017.
Jeanne loved to make hand-made quilts. She used to spend hours crocheting and knitting. Jeanne made afghans for all the grandchildren as they arrived.
Raised as a Roman Catholic, Jeanne's faith was very important to her. Jeanne was proud of her children, grandchildren and great grandchildren. She loved her yard and garden and spent many hours planting and weeding to her perfection. Flowers, plants, good food, chocolate, and ice cream, especially made her smile.
Jeanne will be lovingly remembered by all of her family. The most important things in Jeanne's life were her family and friends. To us she was our; Mom, Mama, Bupcia, Granny Jeanne, Bupcia Jeanne, Jeannie.
This obituary contains excerpts from "Memories and Moments as written by Ruth Chorney and reprinted with her permission and our gratitude.
We all love you!!!
The Rosary will be said at 6:40 p.m.
Followed by Prayers at 7:00 p.m.
Sunday, October 2, 2022
The Chapel of Narfason's
Narfason's Funeral Chapel & Crematorium
Wadena, SK
Funeral Mass
10:30 a.m.
Monday, October 3, 2022
St. Joseph Roman Catholic Church
Kelvington, SK
The Service will be Livestreamed on
Narfason's Funeral Chapel & Crematorium's Facebook Page
In lieu of flowers in memory of Jeanne
may be made to
Kelvington District Health Care Foundation
P.O. Box 10
Kelvington, SK S0A 1W0
Cards of sympathy & caring
may be forwarded to
The Niezgoda Family
P.O. Box 531
Kelvington, SK S0A 1W0
Read More
Events
Sunday, October 2, 2022
6:40 pm
Chapel of Narfason's- Narfason's Funeral Chapel & Crematorium
102 First St NW
Wadena, Saskatchewan, Canada
The Rosary will be said at 6:40 p.m. Followed by Prayers at 7:00 p.m.

Get Directions
Monday, October 3, 2022
10:30 am
St Joseph Roman Catholic Church
217 2nd Ave
Kelvington , Saskatchewan, Canada

Get Directions