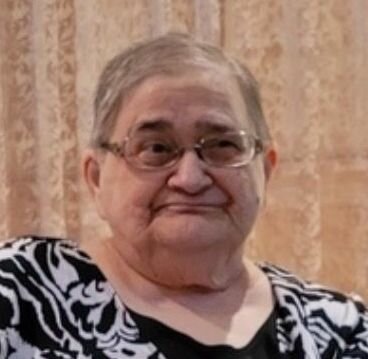 Obituary
In Loving Memory
We are saddened to inform you that Valerie (Val) Kathleen Stadnyk passed away
on October 13, 2022 at Yorkton General Hospital. Val was born in Lestock, SK on
April 25, 1950.

Valerie lived with her family on a farm North of Kelliher, Sk. and attended Good
Haven Country School from Grade 1 to 6. In her 7 th year, Val and her siblings were
bused to Kelliher School. Very few people knew that only the Ukrainian language
was spoken in the family home so Valerie started Grade One speaking and
understanding only the Ukrainian Language. In 1963, the family moved to
Wynyard, SK. It was a very different way of life from working and living on the
farm to living in a town. Plus there was more bedrooms, an indoor bathroom and
a telephone!

Valerie met Alex Stadnyk and they were married November 24, 1972 in Wynyard.
They lived in Regina, SK raising their 3 sons. Alex died suddenly while harvesting
August 26, 1984. A year later, Valerie moved with her 3 sons to Wynyard, Sk.
Valerie is predeceased by her husband, Alexander Stadnyk (1984), her parents
Paul (1988) and Kay (Mandziak) Buczulak (1992).

She is survived by her 3 sons, Daryl and Warren (Laura) Stadnyk of Wynyard, and
Brent Stadnyk of Saskatoon. She is also survived by her Grandchildren, Kelsey and
Rylan; Austin, Triston and Briana(Levi); Tanner and Madison. She also has one
Great Grandchild, Hailey Stadnyk Hlady.

Valerie is also survived by her sister, Marlene (Ken) Hordal of Saskatoon, brother
Brian (Evelyn) Buczulak of Saskatoon and sister, Lorraine (Charlie) Isackson of
Wynyard. She is also survived by many nephews and nieces as well as Aunts and
Uncles and many cousins.

At Valerie's request there will be no funeral. At a later date, there will be a
private graveside memorial.
Memorial Donations in memory of Valerie
may be made to
The Sacred Heart Ukrainian Catholic Cemetery
P.O. Box 483
Wynyard, SK S0A 4T0
Those wishing to send cards of caring & sympathy may send them to the
Family of Valerie Stadnyk
P.O. Box 483
Wynyard SK, S0A 4T0
Read More
Events