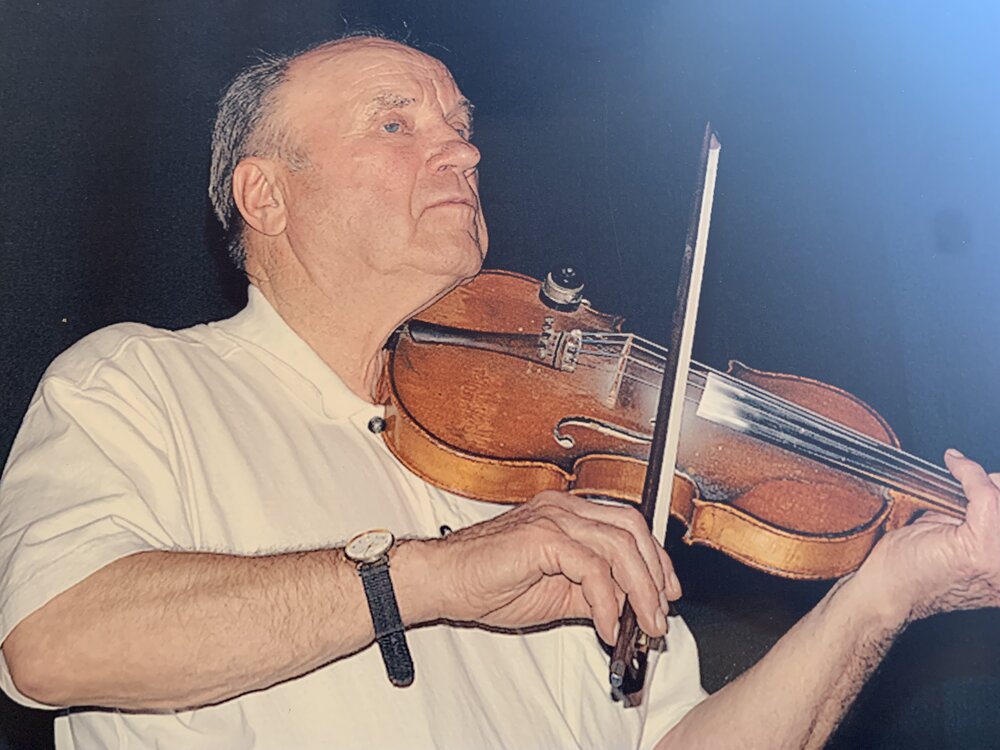 Obituary
In Loving Memory
Nick Keyowski
Nick Keyowski was born on the family farm near Wishart, Saskatchewan on March 18th, 1931, to Andrew and Veronica Keyowski. He was the first of 10 children. He was 4 pounds at birth and in his writing, he stated that it was a miracle he survived. He attended Grade 1 to 8 at Birch Creek school. He made many friends and always saw the good in everyone. You would be honored to have called him a friend. He was genuine, caring, helpful, and loved everyone with his whole heart. He was a great big brother to his 4 sisters and 2 brothers but had a special relationship with his closest brother, Peter. They grew up side by side and did everything with each other. They became interested in music at an early age and the 3 brothers learned to play different instruments. Nick loved the fiddle. They started a band that would play at many special occasions in the area. Coming home from one of his gigs, he met the love of his life. On June 11th, 1957 Helen and Nick were married in Wishart. Their first home was as a small grain bin on the family farm where they would spend the next 64 years of married life together. Eventually the house was built, and they moved in with their first daughter, Bernadette. Every other year after that, another daughter was born. Next came Christine, then Lorna, then Paulette. After 5 years, they decided to try once more for that boy, and Elaine was born. Nick and Pete started farming together and built the farm that exists today. Of course, they could not have done it without their yard manager, organizer, and head cook, Helen. When the grandsons started coming, Nick was happy he had had girls. Tools went missing, windows got broken, and he was not used to the fast pace. But he was just as proud of them no matter what they got themselves into. Thirteen grandchildren and 14 great grandchildren kept the sparkle in his eye. Nick was happiest when the house was full of family.
Throughout his life, Nick was an active community member, neighbor, and friend. He was always willing to lend a helping hand to anyone in need. He purchased a van that acted as a bus, to drive his daughters around to a sporting event, or activity they were involved in. But Nick was always so proud of his daughters and loved them with all his heart. Much of his life revolved around the church, and he loved hearing when his girls sang. Nick was an active member of Our Lady of Perpetual Help Parish. He belonged to the Knights of Columbus and eventually became a 4th Degree Knight, which he was very proud of. In his later years, Nick and the boys band spent countless hours driving to all local nursing homes to entertain the residents. He loved to bring joy to the people there, and said it made him so happy to see them smile and clap along. At the age of 77, Nick had a tragic farm accident that was life changing. This put an end to his fiddle playing days. That would have broken most peoples' spirit, but he never complained. He just spent more time in the garden, not a weed or potato bug to be found. He learned to make perogies with one hand, even though it took more time and patience. Everyone knew the square ones were Nick's. For the last year, Nick spent his days at Golden Acres with his brother, Pete. They still couldn't live without each other. He stayed positive through this, but in the end the Lord needed his music. He passed away peacefully on December 6th, 2022, which happens to be the same date his mom passed in 2007. It is also the feast of his patron Saint, Nicholas. Nick will always be remembered for his kindness, patience, his music, his smile, and his love for his wife and family.
He will be missed but never forgotten.
Nick leaves to cherish his memory: his wife Helen of 65 years; his daughters: Bernadette (Richard) – Karlee & Nickolas; Christine (Glen) – Amanda, Glendon (Tarra) – Addison & Taisley, Donovan (Jessica) – Beau & Crew; Lorna (Murray) – Tyler (Amanda) – Lexi, Levi, & Chloe – Adam (Leslie) – Kendall & Zoe – Dylan (Amy); Paulette (Mark) – Andrew (Chrissy) – Nova & Cruz – Katelyn (Nathan) – Nash, Vann, Knox – Josh; Elaine (Kevin) – Sarah & Julianna: his siblings: Peter, Stella (George), Ann (Russell), Hazel (Mike), and Lillian (Jim) and his sister-in-law Margaret, as well as numerous nieces & nephews.
Nick was predeceased by: his parents Andrew & Veronica; his brothers: John & Mike (stillborn); his sisters: Hazel (1 week), Victoria (died at 2 months), brother-in-law Calvin, nephew Karl, and niece Karen.
Funeral Mass
Saturday, December 10, 2022
2:00 p.m.
Our Lady of Perpetual Help Parish
204-3rd Street, West
Wishart, SK
S0A 4R0
The Service will be Livestreamed on
Narfason's Funeral Chapel & Crematorium's Facebook Page
For those wishing to send cards of caring & sympathymay send them to the
Keyowski Family
PO Box 159
Wishart, SK
Donations in memory of Nick may be made to
Wishart R.C. Men's Club Cemetery Fund
PO Box 34
Wishart, SK
We are Honoured to be caring for Nick Keyowski
Messages of sympathy & caring may be left for the family at www.narfasons.com
Floral expressions of sympathy may be made by calling 306.338.2251
Read More
Events