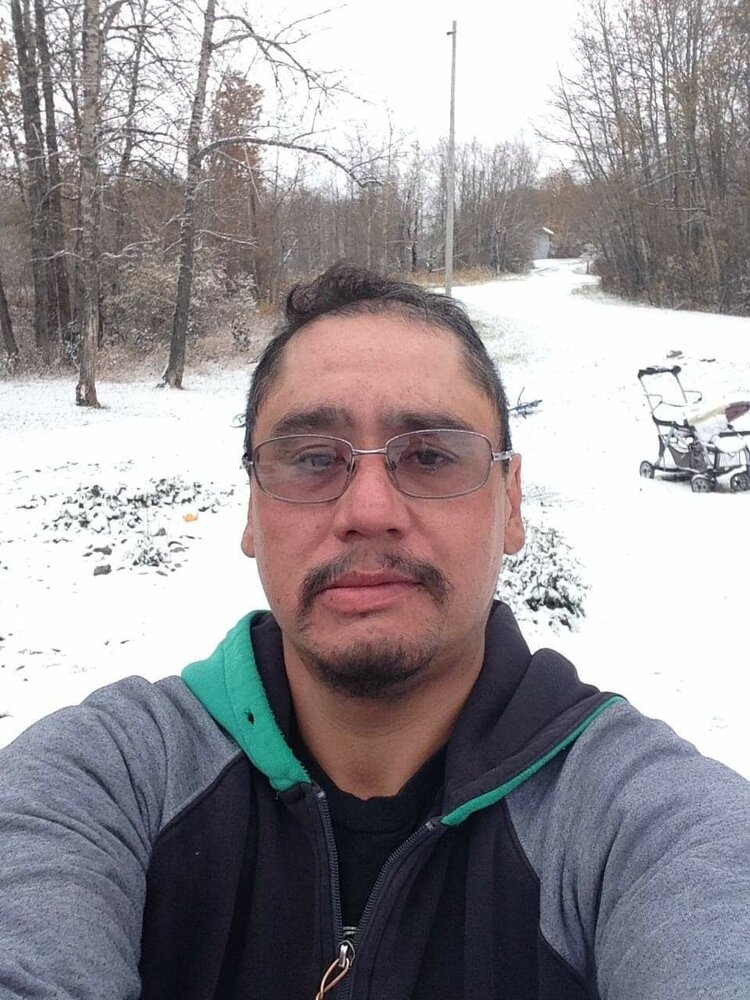 Obituary
In Loving Memory
Maurice Taniskishayinew
June 20, 1976 - December 10, 2022
It is sad to announce the passing of Maurice Rudy Taniskishayinew, who took his last breath at St. Paul's Hospital in Saskatoon, Sk, on December 10, 2022, he was 46 years old.
His family, friends and all that knew him, are heartbroken and sad to learn of his passing. It is hard for them to know that he is really gone to be with the Spirits.
Maurice was born on June 20, 1976. Maurice was known to be a good man, a loving father, grandfather, brother and a great friend. He was a hard worker who enjoyed working and fixing vehicles. He also liked hunting, but was happiest when he was spending time with his family, children and friends, of whom he loved dearly. Maurice had a sense of humour and a way of making jokes and getting cheeky towards those who crossed his path. He had a very BIG HEART. He was kind and caring and always had a smile to offer to everyone, whether you knew him, or just met him. Although Maurice struggled, he always managed to make it through these times like a champ. The way he left this world is tragic and saddens us all, but he is no longer suffering.We all knew he was a strong Native Warrior, he fought many battles and always persevered, and was solid right until the end.
Maurice leaves behind beautiful memories for his family and children to cherish: his beautiful daughters – Brittany, Breeanne, Bailey, Simara, Hannah and Sadie; his handsome sons – Jackson, Tony, and Brendan; his siblings – Terrence (Crystal), Leroy (Tasha), Daryl, Miranda (Leon), Marcia (Hal), and Melissa; many aunties, uncles, cousins, nephews, nieces, relatives and friends, as well as his step mother Katie and several step-siblings.
As he takes the hand of our Creator, and journeys his way to the Spirit World he will be greeted with hugs and open arms as he is reunited with his family. Maurice is predeceased by: his mother Mary Taniskishayinew, his father Roy Slippery, his son Marcus Ahpay-Taniskishayinew, his daughter Sundance Ahpay, his sister Ashley Taniskishayinew, his grandparents- Nora Slippery (Bobby Pauchay), Sadie Taniskishayinew (Pete-Squirrel) and his great-grandparents who always praised him – Nancy and George Slippery, as well as many other relatives and friends whom have passed on.
Miss Me - But Let Me Go
When I come to the end of the road,
and the sun has set for me.
I want no rites in a gloom filled room,
why cry for a soul set free?
Miss me a little, but not too long,
and not with your head bowed low.
Remember the love that we once shared.
Miss me, but let me go.
For this journey that we all must take,
and each must go alone.
It's all a part of the master plan,
a step on the road to home.
When you are lonely and sick at heart,
go to the friends we know.
And bury your sorrows in doing good deeds.
Miss me, but let me go.
~ Author Unknown
Funeral
Wednesday, December 14, 2022
10:00 A.M.
Yellow Quill Band Hall
YellowQuill First Nations, Saskatchewan
Messages of sympathy & caring may be left for the family at www.narfasons.com
Read More
Events