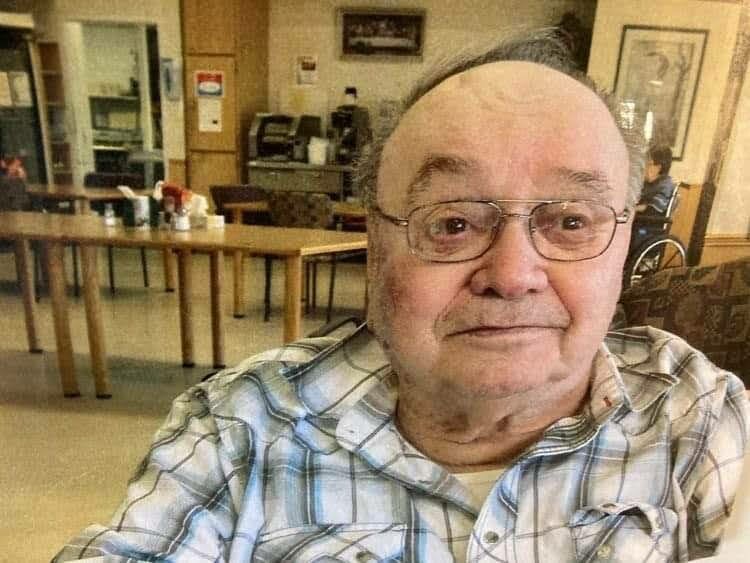 Obituary
Mike James Luchyshyn was born on July 25, 1932, son of Ludwick and Eva (Krywulak) Luchyshyn at the family farm in the Beckingham District. He attended Winthrope School and eventually had to quit school to lend a helping hand on the family farm. He had a passion for horses, cattle and grain farming. He remained on the farm doing what he loved until 1981 where he and his parents moved to Foam Lake. He continued to farm up until 1996, then he decided to sell some land and rent out the rest. This was a hard decision for him to make but knew it was the right one.
On January 14, 1997, Mike suffered a cerebral hemmorage at the age of 64. This was devastating to his dear mother as he was then no longer able to continue living in his own home. So he then moved into the Foam Lake Nursing Home, in which he was the longest residing resident for 25 ½ years. His stroke left him unable to communicate and paralyzed on his right side. The only words he was able to say were 'Bohza, Bohza' and 'Thank You'. He would also shake your hand and hug it to his face and say 'Thank you, thank you'. Despite his disability, he was always in good spirits, understood what you would tell him but would get a bit frustrated that he couldn't communicate with you. It was heartbreaking to see him like that, but he did the best he could. He was determined to not let his condition get in the way of some independence, so he managed to dress himself, transfer in and out of bed, feed himself and take part in some activities. Mike always showed excitement to hear stories and see pictures of his family members, especially when this was done by video chat. The family made sure to include him in holidays such as Christmas, Easter, Thanksgiving and birthdays. Over the years, the staff became part of his family too.They enjoyed his friendly smile and hugs, which he so willingly offered to everyone he met.He was forever grateful for the musical entertainment, van rides, wheelchair rides, visits with family and friends, birthday parties, watching TV, eating his ongoing supply of snacks, candies and most importantly his BANANAS!!
Beginning of December 2022, Mike fell ill with Influenza A. His health rapidly deteriorated and he peacefully passed away on December 20th in the nursing home, with his family by his side.
Mike was predeceased by: his parents Ludwick and Eva; siblings, brother Stephan, sister Antonia; brothers-in-law: Matt Stachyshyn, Steve Stachyshyn and George Serelo.
Mike will be lovingly remembered by: his sisters, Marion Stachyshyn (Humboldt), Sophie Serelo (White Rock, BC), Ann (Allan) Kereluik (Sheho), and Rose Melnychuk (Foam Lake); as well as uncles, aunts, nieces, nephews, cousins and his Nursing Home family.
Funeral Service
11:00 a.m.
Friday, December 30, 2022
Christ the King Roman Catholic Church
238 Cameron Street
Foam Lake, SK
For those wishing to join the service virtually may do so by visiting
Narfaosn's Funeral Chapel & Crematorium's Facebook Page (CLICK HERE)
Donations in memory of Mike may be made to
The Foam Lake Jubilee Nursing Home
P.O. Box 460
Foam Lake, SK S0A 4J0
Or
Christ the King Roman Catholic Parish
P.O. Box 179
Foam Lake, SK S0A 1A0
Read More
Events
Friday, December 30, 2022
11:00 am
Christ the King Roman Catholic Church
238 Cameron Street
Foam Lake, Saskatchewan, Canada

Get Directions