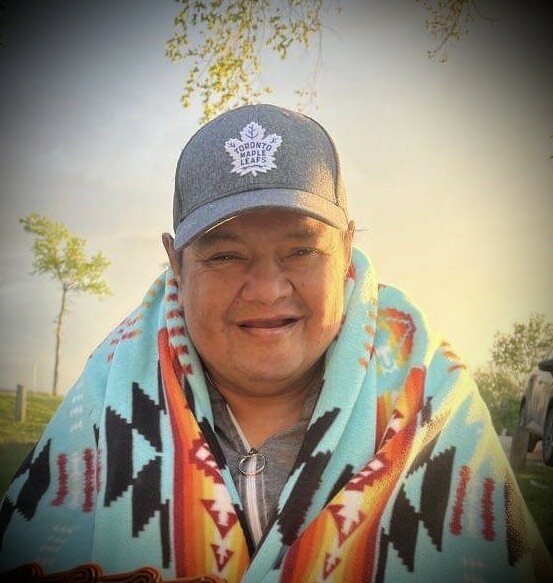 Obituary
In Loving Memory of Dean Severight
It is with great sadness that we announce the passing of our dear father, husband, brother and son, Dean Allan Severight, on December 27, 2022.
Dean Severight was born on May 28, 1968 in Rose Valley, SK to Annie Alice Taysup and Joseph Quewezance. He was a man that was well known by many as a kind hearted person, a supportive husband, a father, a big brother to many, an inspirational leader, and a residential school survivor. Throughout his life, He had given his greatest effort and dedication to his family. Many will remember him for the help, humour and loving energy he so willingly gave to many in times of need.
Dean was well known by many for his quick witted nature, his deadly skills in automotive mechanics, his keen insight into most things, and above all, his everlasting humour. Dean was a great inspiration to many and a natural leader at heart.
His love of the Blue Jay's and Maple Leafs is what defined him as a sports fanatic and his love for the sport will live on with every baseball and hockey fan near and far.
Though he had battled many health issues in his later years, he had not once stopped being a loving father to his children and a supportive husband to his wife.
His passing comes at a time of year when people come together to celebrate family and appreciate the love between kinship; each both great blessings that Dean had cherished most in his heart. His love and dedication to family will always be remembered by those who loved him and by those who share in the grief and sorrow from the passing of such a great man.
Dean is survived by his loving wife Patricia, his children Laura (Kayla), Jamie, Alicia, Christa (Randon), Christian and Amber, His grandchildren Liam, Jordan and Reinier, His father Joe (Vera) His siblings Deanna, Devin, Celina, Lori, Brent and Chrissie, His Step-Siblings Benny, Sherry, Alice, Roy and his many numerous friends, cousins and relatives.
Dean was Predeceased by his Mother; Annie Alice Taysup, his Stepdad Tiny Taysup, his Grandparents; Annie and Jim Kinniewess, Christine (nee Yellowquill) and Charles Quewezance, his brother Eugene & Dwight, his niece Brooke and his granddaughter Leilani.
Wake
4:00 p.m.
Friday, December 30, 2022
Yellow Quill Band Hall
Yellow Quill First Nation, Saskatchewan
Funeral
10:00 a.m.
Saturday, December 31, 2022
Yellow Quill Band Hall
Yellow Quill First Nation, Saskatchewan
Interment
Yellow Quill First Nation, Saskatchewan
Traditional Feast to follow
Messages of sympathy & caring may be left for the family at www.narfasons.com
Read More
Events