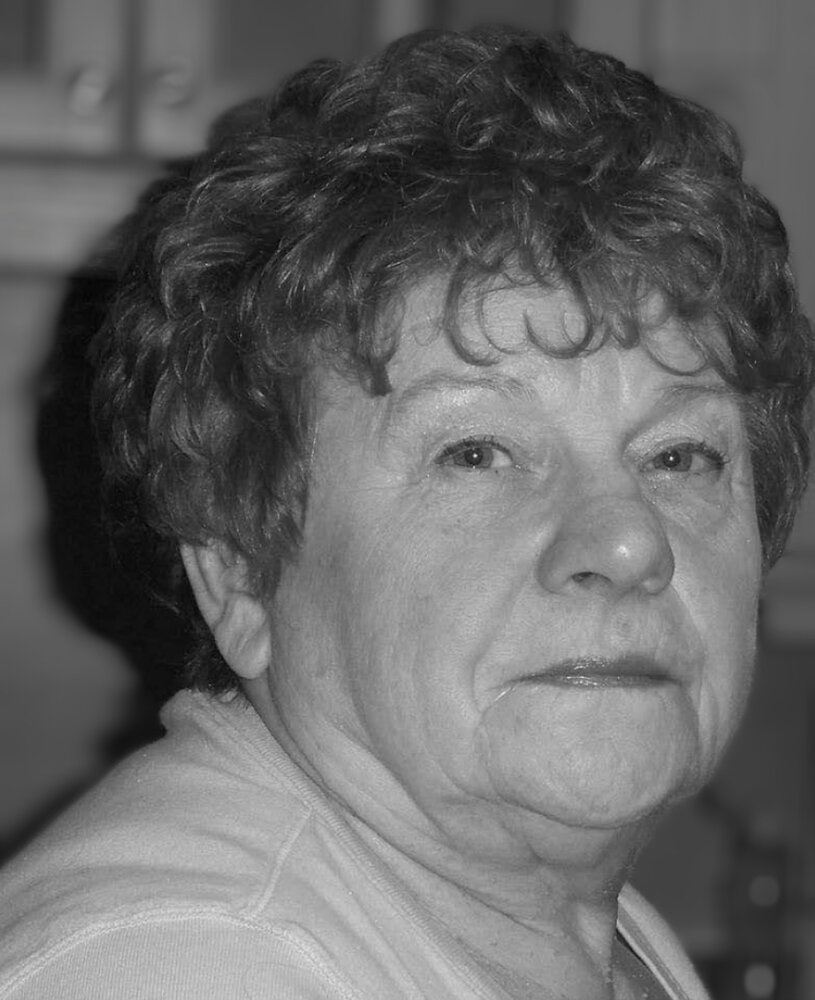 Obituary
In Loving Memory
Theresa Hall
January 26, 1944 - January 13, 2023
It is with heavy hearts, the family announces the passing of a beloved wife, mother, grandmother, great-grandmother and sister. Theresa Hall passed away peacefully in her sleep on January 13, 2023, at her home in Wynyard, SK.
Theresa was born at the family farm homestead SE of Wishart, SK, on January 26th, 1944. She was the eighth child of 19 children born to Alex and Jean Dakiniewich. Theresa began her education at the Country Schools in the Wishart area. She attended Allenby and Emerald in her early years. In grade nine, she attended Sacred Heart Academy in Regina.
Theresa met and fell in love with Jacob James Bzdel, they were married on May 1st, 1962. Together they had five children; Jacinta, Jackie, Joan, Lisa and Darcy. After they married, they lived on a farm one mile east of her parents' homestead. For a short period in 1965 they called Regina home but eventually moved back to the farm. Following that, they made their home in Wishart, SK. On September 3rd, 1975; her husband James passed, leaving her with five young children to raise alone.
On May 8, 1980, Theresa and Raymond had a first date. They fell in love and were married on June 25, 1983. She became a step-mother to Ray's three boys; Clayton, Clinton and Clifton. Theresa and Raymond were blessed to have a daughter together, Lyra.
When Theresa was 55, she achieved one of her greatest accomplishments, she completed her grade twelve by taking a GED course; which she was very proud of. Once the children left home, she completed her Personal Care Aide Certificate. She worked as a Personal Aide with Home Care and then accepted a position at the Foam Lake Jubilee Home, driving many miles from Wynyard and Wishart in all weather and road conditions. In 2007, they made the decision to move to Wynyard and she retired a few years later.
Theresa was a devoted Christian, wife, mother, daughter, sister and friend. Her faith led her to love unconditionally and put others ahead of herself. Theresa spent countless hours volunteering for the Church.
Theresa took pride in everything she did, especially her pristine garden. She enjoyed canning, baking and cooking. She always had tons to share. She was an amazing cook and made sure you never left her house hungry. Her recipes are a treasure and will be passed down and cherished by her children and grandchildren for generations to come.
Left to cherish her memory are her: husband Ray; daughters: Jacinta (Ronald) Lamb, Jackie Bzdel, Joan (Kevin) Lewandoski, Lisa Michaels, and Lyra (Bryce) Bugyi; son: Darcy (Christa) Bzdel; stepsons: Clinton (Jackie) Hall, and Clifton (Penni) Hall; granddaughters: Caitlin (Kurt), Jasmin (Jake), Sheridan, Matisan, Rhea (Taylor), Elly, Melinda (Harrison), Mackenzie (Dillan), and Quinn; grandsons: Jacey (Ashley), Lyndon (Kaitlyn), Austin, Joshua (Lindsay), Adam, Nathan, Brandon (Rene), Brodie (Hayley), Deacon, Arek, Caleb, and Elijah; step grand-daughters: Brittany (Tucker), Jessica (Cordell) and Justine; step grand-sons: Justin (Alicia), Travis, Dustin (Leanne) Dylan (Emilia), and Colton (Sawyer); great grand-daughters: Brynlee, Tatum, Victoria, Farryn, and Jade; great-grandsons: Brantley, Ayden, Lawsyn, Jack, Denton, Lincoln, Isaac, Koen, Edward, William, Bowen, Wiley, and Everett; step great-grand-daughters: Taya, Mya, Rylan and Luna; step great grand-sons: Gabriel, Kayden, Oliver, Jayden, Carsen, Corbin, Alistair and Asher.
Theresa was predeceased by: her first husband James Bzdel; parents: Alex and Jean Dakiniewich; fathers in-law and mothers in-law: Ralph & Muriel Hall and Mike & Anastasia Bzdel; sisters: Josie Bzdel, Stella Longpre, and Mary Skolney; and brother: Joe Dakiniewich; stepson: Clayton Hall; son in-law Faron Michaels; and granddaughter: Jennilee Bzdel.
God saw you getting tired.
And a cure was not to be;
So he put his arms around you.
And whispered, "Come to me".
With tearful eyes we watched you.
And saw you pass away;
Although we loved you dearly.
We could not make you stay.
A golden heart stopped beating.
Hard working hands to rest.
God broke our hearts to prove us.
He only takes the best.
Memorial Service
11:00 A.M.
Friday, January 20, 2023
St Mary's Roman Catholic Church
Wynyard, SK
Please Join the Livestream on
Narfason's Funeral Chapel & Crematorium's Facebook Page (CLICK HERE)
Donations in memory of Theresa may be made to
Canadian Cancer Society
2 630 45th Street West,
Saskatoon, SK S7L 5W9
For those wishing to send cards of
caring & sympathy may send them to the
Hall Family
Box 26
Wynyard, SK S0A 4T0
Messages of sympathy & caring may be left for the family at www.narfasons.com
Read More
Events