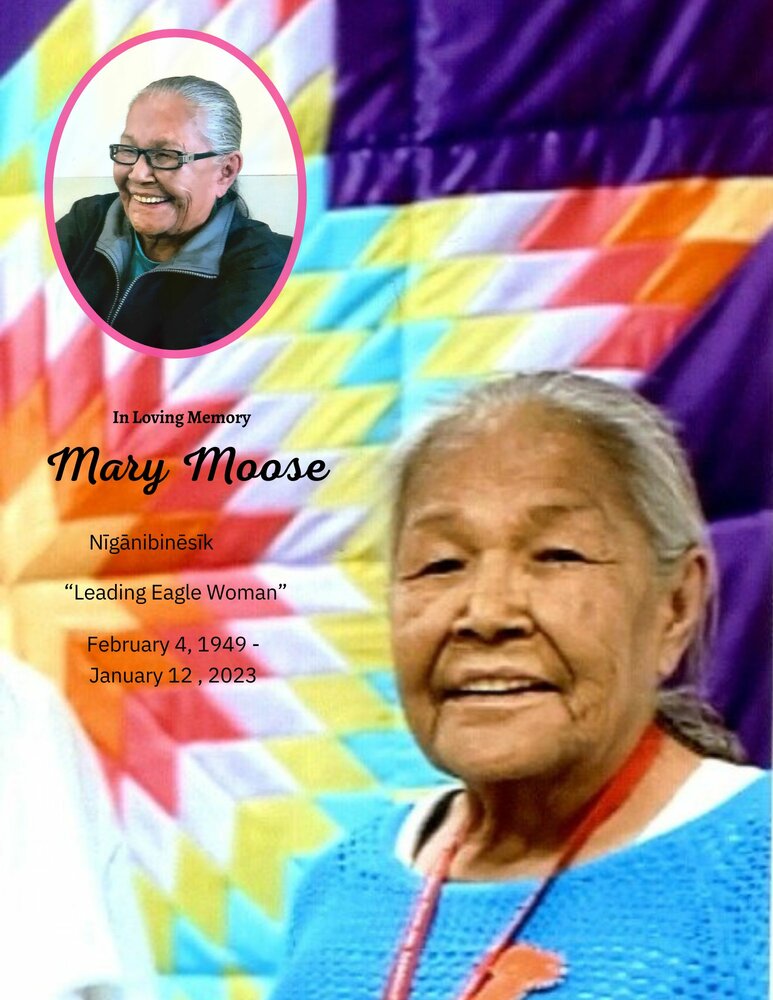 Obituary
In Loving Memory
Mary Moose
Nīgānibinēsīk
"Leading Eagle Woman"
February 4, 1949 - January 12 , 2023
It is with heavy and humble hearts that we lay our loved mother, sister, grandmother, great grandmother and great-great grandmother to rest.
Mary Moose was born in Nut Lake to Nancy and Angus Moose. Mary did not take life for granted and will be forever remembered for her smile and laugh. She had a deep faith in traditions, culture and language. She attended ceremony and participated in Elders and Woman's groups. She shared her wealth of knowledge with many generations of youth and women. Mary enjoyed bingo and casino as a past time. She loved sewing, ceremony, socializing, and visiting.
Mary raised and had her home open to family and grandchildren. Mary had a big heart and even bigger smile and laugh. She loved to laugh and joke around; she had a great deal of fun with her Neenims and sweethearts.
Mary grew up on a farm and would return as a young adult to Nut Lake. It was there that she was taught to drive the bus by her father, Angus. She was a driver of long distances and was a medical taxi driver as one of her many occupations throughout her life. She was also the Community Health Representative in Yellow Quill. Mary worked hard and provided for her family also working at the Wynyard chicken plant for a time.
In recent years Mary lived in Regina and would frequently visit Yellow Quill on weekends. She spent her time at Prairie Spirit Connections in the grandmothers group. It is here that she passed after taking a smoke break from the work that she truly enjoyed.
Mary is predeceased by her parents Nancy and Angus Moose, aunts and uncles and grandparents, her son Edwin, and daughters Selena and Kerry, her sister Patricia and brothers; Steven, Johnny, Richard, Billy, Edward.
She is survived by: sons Dennis, Ricky, Johnathan, Jerome; daughters, Monica and Kim; sisters Margaret, Corrine, Linda and brother Norman.
She raised her grandchildren Shayla, Ashton, Cassius, Justin, Rikki and is survived by numerous grandchildren, great grandchildren and great-great grandchildren.
She is survived by many of her friends and family would like to honor by mention her close friends April and Marilyn.
Wake
3:00 p.m.
Saturday, January 14, 2023
Yellow Quill Band Hall
Yellow Quill First Nation, Saskatchewan
Funeral
10:00 a.m.
Sunday, January 15, 2023
Yellow Quill First Nation, Saskatchewan
Elder
John Machiskinic
Pallbearers
Friends and Family
Interment
Yellow Quill First Nations Field Cemetery
Yellow Quill First Nation, SK
Feast
Traditional feast to follow
Yellow Quill Band Hall
Messages of sympathy & caring may be left for the family at www.narfasons.com
Read More
Events