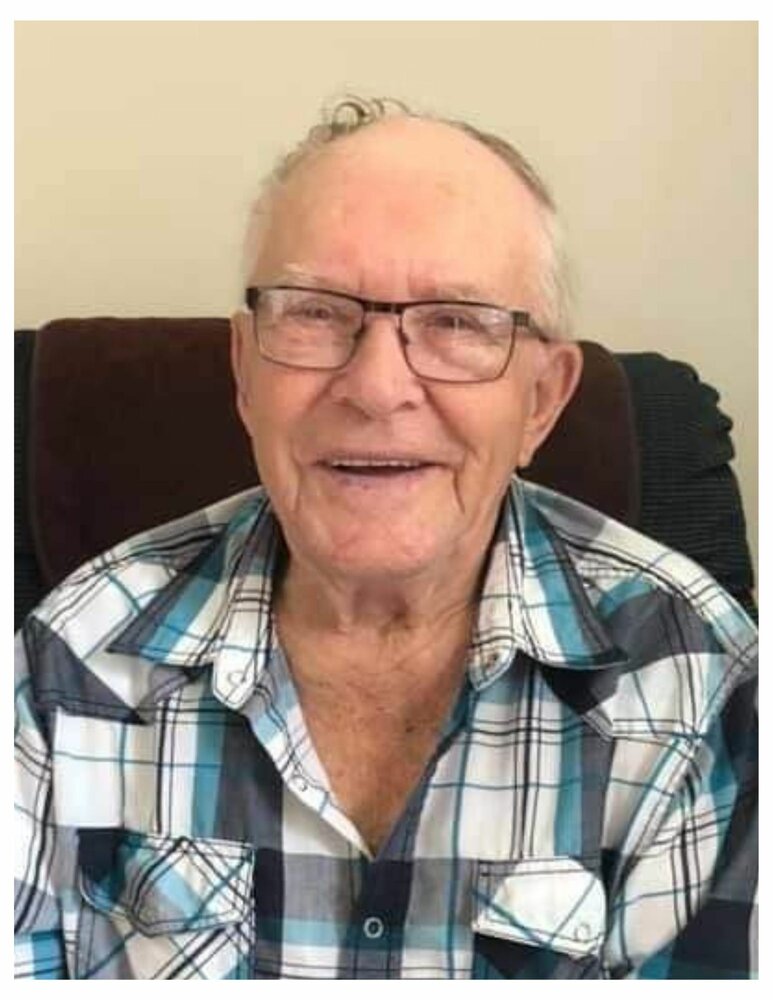 Obituary
In Loving Memory
Edward Lipinski
July 16, 1922 - January 13, 2023
Edward Lipinski was born on July 16, 1922, to Felix and Mary Lipinski, in Bartozswka, Poland. In 1929 the family immigrated to Canada. They spent over a year at Riley, Alberta, and eventually settled at their homestead, NW-35-37-14 W2 near Fosston, Saskatchewan. Edward and his siblings all worked on the farm.
Edward and his sisters all attended Mallard school, a daily 2 ½ mile trek. Edward had to learn English, as his family only spoke Polish. In 1937, Edward got his driver's license, at a cost of one dollar. Cars soon were bought, though roads were still poor. In 1943, Felix and Edward owned their own threshing machine, after finishing their own crops, they would custom harvest for the neighbours. They bought the current homestead in 1945, together they built a new home for the family. In the next years, were built a barn, sheds and granaries all with hand tools. Land was purchased and rented.
Edward met Marie Rogowski in 1951. After a whirlwind romance, the couple were married on November 7th, 1951, at Kelvington R.C. Church. The couple lived and farmed with Edward's parents. The farm finally got electricity in 1958, which replaced the 1945 vintage 32-volt wind charger system. Edward and Marie had three boys, Frank, Stanley, and Anthony. In 1965, the couple finally had their own little home, built in the same yard as his parents. As the three sons grew, they continued to run the family farm.
Ed and Marie loved gardening. They grew many potatoes, to make their perogies, and rows of cabbage for their cabbage rolls. They had a mixture of animals. They raised chickens, cows, pigs, and turkeys.
As loyal parishioners of the Fosston, St. Mary's R.C. Church, the couple also attended the yearly Pilgrimage that was held at Rama, Saskatchewan. Edward, Marie, and Ed's parents purchased one of the Stations that were displayed at the outdoor, Stations of the Cross.
Edward and Marie moved to Fosston in 1986. Edward served on the R.M. as councilor for 19 years, was a loyal Knights of Columbus member for 48 years, holding the position as Grand Knight for a total of 6 years. He was on Fosston town council, most of the 28 years in town. Edward was always seen cutting town grass or blowing snow, after his own. He helped in the Seniors Club, the Hall, Curling Rink and RC church. Then in 2014, the couple moved to Wadena, into a senior duplex. Edward drove to the son's farms frequently, to check on things, and to offer any help needed, until 2019. The couples next move was to Weneeda Park Lodge. In January 2021, Ed and Marie made their last move into Pleasant View Care Home. The couple celebrated 70 years of marriage on November 7th, 2021. On November 21, 2021, Edward lost the love of his life, Marie. He continued to reside there until his passing.
With sadness we say goodbye to a Husband, Father, Brother, Grandfather, Great-grandfather, Uncle, and a Friend.
Edward will be missed by: his sister Joey Halvorson; and his three sons: Frank (Jeannette), Stanley (Monica), Anthony (LeAnn); his grandchildren: Tasha, Stefanie (Joey), Aaron (Alex), Blaize, Bryce, Lyndon, Kyle, Shaylene; his great-grandchildren: Farryn, Luke, Willow, and Jaxon.
Edward is predeceased by: his loving wife, Marie; his parents: Felix and Mary Lipinski; his parents in-law: John and Theresa Rogowski; his sisters and their husbands, Eunice (Clarence) Berge, Helen (Jules) Langlois, Stella (Conrad) Volk, Susie (Eilif) Johnson, and his brother-in-law Adolph Halvorson.
A Letter From Heaven
When tomorrow starts without me
And I'm not there to see;
If the sun should rise and find your eyes
All filled with tears for me.
I wish so much you wouldn't cry
The way you did today;
While thinking of the many things
We didn't get to say.
I know how much you love me
As much as I love you;
And each time that you think of me,
I know you'll miss me too.
When tomorrow starts without me,
Don't think we're far apart
For every time you think of me,
I'm right here in your heart.
Prayers
7:00 P.M.
Sunday, January 22, 2023
St. Mary's Queen of Poland Roman Catholic Church
Fosston, Saskatchewan
Funeral Mass
11:00 A.M.
Monday, January 23, 2023
St. Mary's Queen of Poland Roman Catholic Church
Fosston, Saskatchewan
Please Join the Livestream on Narfason's Funeral Chapel & Crematorium's Facebook Page (CLICK HERE)
Donations in memory of Edward may be made to
Pleasant View Care Home Auxillary
Box 10, Wadena, SK S0A 4J0
or
Knights of Columbus Charitable Foundation
Box 59, Fosston, SK S0E 0V0
Cards of Comfort may be forwarded to
Box 59, Fosston, SK S0E 0V0
or
Memories of Edward may be emailed to: fljl2@yourlink.ca
Messages of sympathy & caring may be left for the family at www.narfasons.com
Read More
Events