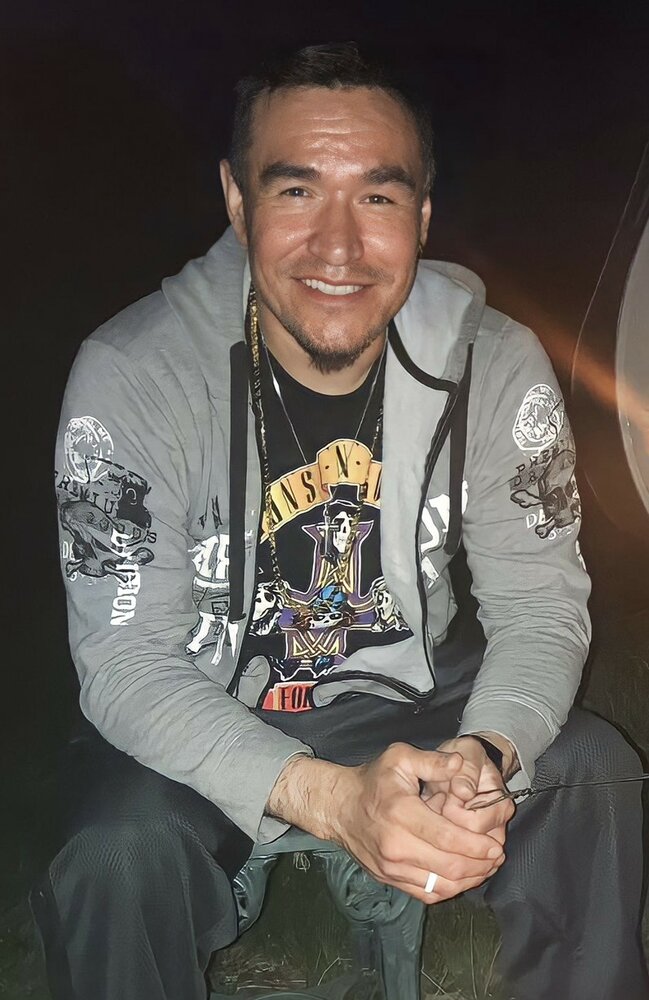 Obituary
In Loving Memory
Jonathon Cory Crowe
June 28, 1981 - January 29, 2023
Jonathon Cory Crowe was born on June 28, 1981 to Joseph Genaille and Brenda Kayseas (Crowe) in Wadena, Saskatchewan.
Jonathon loved to play the harmonica. He was known to his family and friends to be funny, talented and a true happy-go-lucky. He had the biggest and brightest smile that no one could ever forget. He loved to laugh and never got mad at anyone. Not a mean bone in his body. That's why he was loved by everyone. He was caring, generous, nice, strong, brave and had a good head on his shoulders.
Jonathon often spend time alone, kept things to himself, didn't spend a lot of time at home or close to his family. He missed a lot of family holidays and gatherings.
Saskatoon Correctional was a place you could find him as he spent a lot of time in jail. Jonathon was involved with the wrong substances. He was very active in this lifestyle. On January 29, 2023, Jonathan lost his long battle with addictions.
Jonathon left to mourn, his mother: Brenda Kayseas; stepfather: Norman Kayseas; his dad: Joseph Genaille; brothers: Kenneth Crowe, Shaun Marceland, little sister: Brooke Poorman-Crowe, daughter: Shanelle Crowe, son: Cory J. Crowe, mother to his children: Melanie Peequaquat, Jennifer Tobac, and granddaughter: Sasha (Beans) Crowe.
Predeceased by: Grandma Mary Crowe, Grandma Marilyn, Grandpa Joe Crowe, cousin: Jeff Crowe, 2 sons: Jonathon Jr. Crowe, and Shane Crowe.
Wake
4:00 P.M.
Wednesday, February 1, 2023
Percy Severight Memorial Hall
Kylemore, Sk
Funeral Service
Burial
11:00 A.M.
Thursday, February 2, 2023
Percy Severight Memorial Hall
Kylemore, Sk
Elder
Robert Whitehead
Pallbearers
Rudy Crowe
Darryl Crowe
Chris Crowe
Rodney Jr. Nataucappo
Sherman Peequaquat
Travis Nataucappo
Ryan Deaflad
Honorary Pallbearers
Saskatoon Correctional Center
Saskatoon Tribal Council (Justice)
All that are here today that knew and loved Jonathon
Interment
Anglican Cemetery
Fishing Lake First Nation
Traditional feast to follow
I'm Free
Don't grieve too long, for now I'm free,
I'm following the path set out for me.
I took the Creator's hand when I heard Him call,
I turned my back and left it all.
I could not stay another day,
to laugh, to love, to work, or play.
Tasks left undone must stay that way,
I found my place at the close of day.
When my parting leaves a void,
then fill it with remembered joy.
A friendship shared, a laugh, a kiss,
Oh yes, these things I too, will miss.
Be not burdened with times of sorrow,
I wish you the sunshine of tomorrow.
My life's been full, I've savored much,
good friends, good times, a loved one's touch.
My departure now is my relief,
don't lengthen it with undue grief.
Lift up your heart and share with me,
the Creator wanted me, for He set me free
Messages of sympathy & caring may be left for the family at www.narfasons.com
Read More
Events