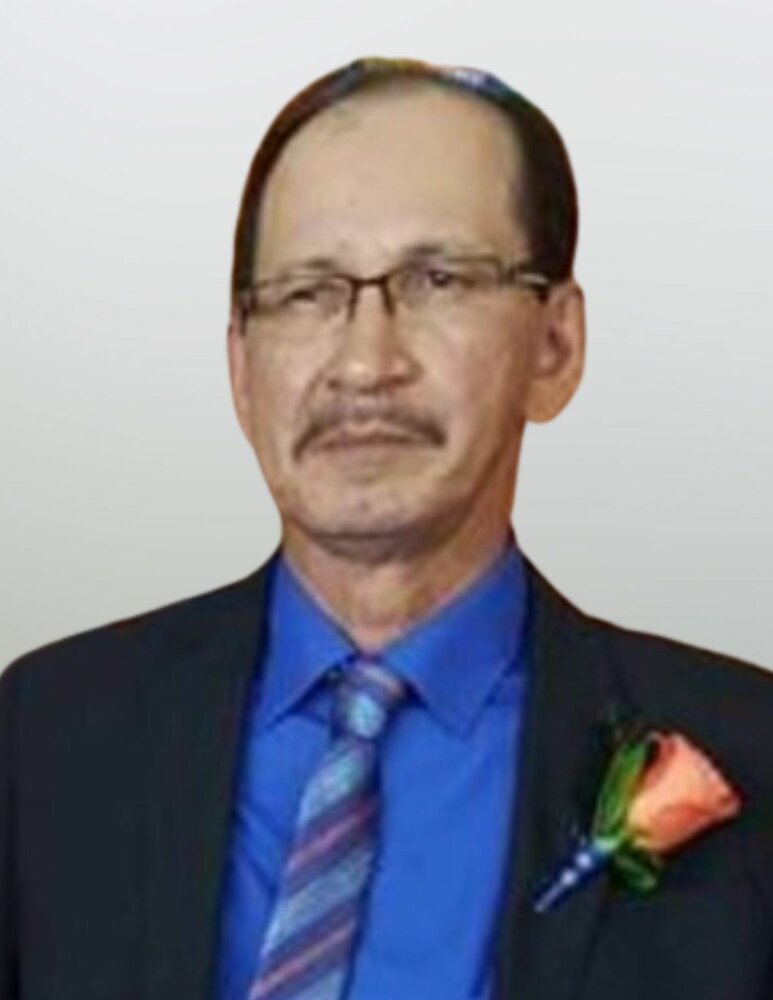 Obituary
In Loving Memory
Verne Kinequon
1958 - 2023
It is with great sadness that the family of Verne Kinequon announce his passing on February 9, 2023.
Verne will be lovingly remembered and deeply missed by his wife Maureen Esperance-Kinequon, children: Glennis (George), Teneille (Fenton), Dylan (Sunrise), Anna (Mason), and Levi (Anika); numerous grandchildren; mother Beatrice Kinequon; brothers: Lloyd (Rhonda), Delbert (Sheila), Derek, Dennis, Tim, Leon (Pam); sisters: Lorretta (Clay) and Lorraine (Richard); mother-in-law Doris Esperance; sisters-in-law: Charlene and Lorelei Esperance; special nephews: Dion, Joseph Marc, and John Keewatin; god sons: James Waylon Paul, Brett Esperance; adopted family Freda Koochicum (Donald), Vera McNabb, Lynda Bigknife, Lorne Bigknife (Anita); and numerous nieces & nephews.
He was predeceased by his father Morris Kinequon; brothers: Cameron Kinequon, Walter Kinequon, Darwin Kinequon; niece Raven Kinequon; nephew Vinny Esperance; and father-in-law Harold Seesequasis.
Verne worked on the CN Rail for over 35 years and gained many friends throughout his career. He was a quiet man. Verne always kept himself busy doing yard work, farm work or helping others. He enjoyed listening to country & classic music and sneaking to the casino with Maureen. He took good care of his family, loved his grandchildren, and made sure to check in on his nephews and nieces – always giving an encouraging word to them.
The family would like to thank Dr. Litwin and the nursing staff of Wynyard Hospital for the care they gave him; also, a special mention to Narfason's Funeral Chapel.
As we take him to the family cemetery, George Kay will be on horseback leading a rider less horse, any other riders are welcome to follow.
I'm Free
Don't grieve for me, for now I'm free
I'm following the path
The creator has laid you see.
I took His hand when I heard him call
I turned my back and left it all.
I could not stay another day,
To laugh, to love, to work or play.
Tasks left undone must stay that way
I've now found a peace
At the end of the day.
Wake
4:00 p.m.
Sunday, February 12, 2023
Day Star First Nation Community Centre/Gym
Day Star First Nation, Saskatchewan
Funeral
11:00 a.m.
Monday, February 13, 2023
Day Star First Nation Community Centre/Gym
Day Star First Nation, Saskatchewan
Officiant
Dale Gillman
Pianist
Esther Hooper
Pallbearers
Marne Kinequon
Jim Kinequon
Kima Demarais
Derek McNab (DJ)
Elijah Kinequon
Trent Kay
John Keewatin
Dennis Esperance
Honorary Pallbearers
CN Crew
Dwaine Buffalo
Paul Halikowski
Dwayne Eagle
George Vincent Esperance
Matthew Holinaty
Lester Buffalo
Raymond Horney
Don (Rusty) Nowosad
Herb Seesequasis Sr.
Leo Cameron Jr.
Joseph Cote (Meat pak)
Angus Esperance
Lucy & Mary Esperance
Sheila & Blaine Buffalo
Interment
Kinequon Family Cemetery
A meal will be provided at the community centre/gym after the interment
For those wishing to send cards of caring & sympathy may send them to the
Kinequon Family
Box 1546
Wynyard, SK S0A 4T0
Messages of sympathy & caring may be left for the family at www.narfasons.com
Read More
Events
Sunday, February 12, 2023
4:00 pm
Day Star First Nation Community Centre/Gym
Day Star First Nation Community Centre/Gym
Day Star, Saskatchewan, Canada

Get Directions
Monday, February 13, 2023
11:00 pm
Day Star First Nation Community Centre/Gym
Day Star First Nation Community Centre/Gym
Day Star, Saskatchewan, Canada

Get Directions