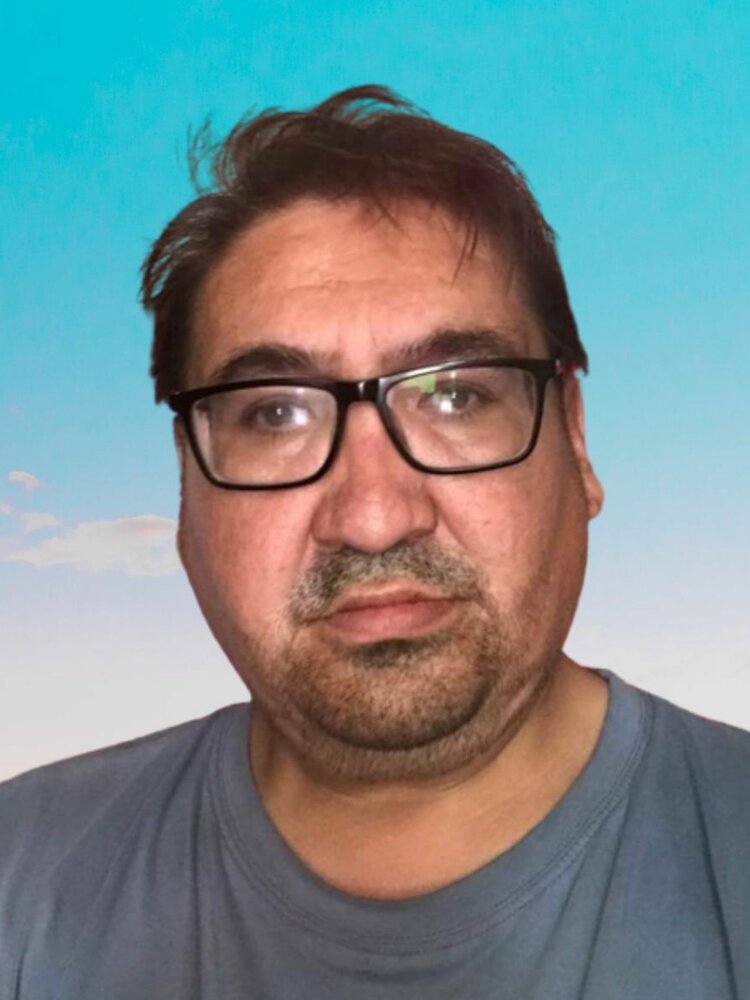 Obituary
In Loving Memory
Kelvin Taniskishayinew
April 29, 1975 - February 7, 2023
It is with great sadness to announce the sudden death of Kelvin Taniskishayinew on February 7th 2023.
Kelvin was a good hearted man with a lot of kindness to give. He loved to laugh and joke around with family and friends. There was no dull moment with Kelvin around. He always had jokes to share. He was loved by a lot of people.
Kelvin enjoyed travelling with his mom. Kelvin loved to write and draw during his free time. He enjoyed playing bingo, listening to music and the company of older people.
Kelvin is survived by his mother April Taniskishayinew; his son Brandon Moose; his siblings: Jayson Taniskishayinew, Alvin Taniskishayinew, Stanley Shepherd, Donna Taniskishayinew, Donna Poorman; his nephews: Lenny Taniskishayinew, Leslie Campeau, Rylance Quewezance , Rose Quewezance , Tyrae Lund; nieces: Michelle Taniskishayinew, Brooke Quewezance, Keisha Lund, Asia Quewezance, Jaycee, Airanna, Alex Brown Lee; grandchildren: Naya Taniskishayinew, Sophie Machiskinic, Raelee Taniskishayinew, Nakota Taniskishayinew, Bella Taniskishayinew, Aria Quewezance.
Kelvin is predeceased by his biological father Albert Pauchay, step dad, Raymond Kittiekaywinnie whom he grew up with. His siblings: Lynn Taniskishayinew, Donald, Darren, Christopher Taniskishayinew and Dora Machiskinic.
I Made It Home
I just wanted to let you know
that I made it home.
Everything is so pretty here, so white,
so fresh, so new. I wish that you could
close your eyes so you could see it too.
Please try not to be sad for me.
Try to understand. God is taking care of me...
I'm in the shelter of his hand.
Here there is no sadness and no sorrow and no pain.
Here there is no crying and I'll never hurt again.
Here it is so peaceful, when all the angels sing.
I really have to go for now...
I've just got to try my wings.
P.S... I'll be the first face you see when you get here!
Wake
4:00 p.m.
Friday, February 10, 2023
Yellow Quill Band Hall
Yellow Quill First Nation, Saskatchewan
Funeral
10:00 a.m.
Saturday, February 11, 2023
Yellow Quill Band Hall
Yellow Quill First Nation, Saskatchewan
Elder
John Machiskinic
Pallbearers
Family and Friends of Kelvin
Interment
Yellow Quill First Nation, Saskatchewan
Traditional Feast to follow
Messages of sympathy & caring may be left for the family at www.narfasons.com
Read More
Events
Friday, February 10, 2023
4:00 pm - 10:00 am
Yellow Quill First Nations Band Hall
Yellow Quill
Yellow Quill, Saskatchewan, Canada
Wake

Get Directions
Saturday, February 11, 2023
10:00 am - 11:00 am
Yellow Quill First Nations Band Hall
Yellow Quill
Yellow Quill, Saskatchewan, Canada
Funeral

Get Directions