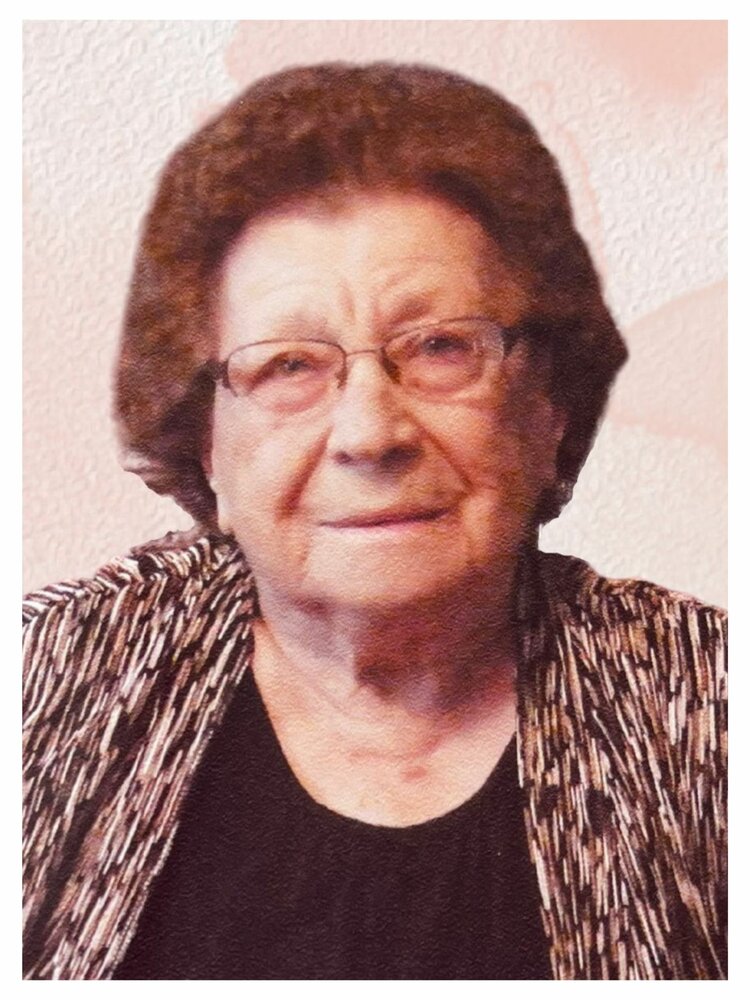 Obituary
In Loving Memory
Mary Woroshelo
March 24, 1922 - February 20, 2023
Mary Woroshelo was born on March 24, 1922, the daughter of Bella and Fred Sucholotoky.
Mary grew up on the farm in the Insinger/Sheho area and attended Deer Creek School. After finishing school she worked as a housekeeper for a few years.
On November 8, 1942, Bill and Mary were married and began their mixed farming operation in the Sheho District. They lived and worked together for 69 years until Bill's passing.
Mary was an active member of Christ the King Church Ukrainian Catholic Church and was a Ladies Aide Volunteer. In her younger years, Mary's favourite pastimes included crocheting, knitting, cross stitch, and embroidery. Mary also grew large gardens, raised pigs, chickens, milked cows and made lots of excellent cottage cheese.
On February 20, 2023, Mary passed away peacefully at her home at the age of 100.
Mary was predeceased by: her husband Bill; parents Fred and Bella; sisters - Ann, Nettie, Effie and Sylvia; brothers - Billy and John; son-in-law Ed Denesiuk.
Mary leaves to cherish her memory and celebrate her life: daughters - Joyce Denesiuk of Comox, BC, Elaine (Wilfred) Bisschop of Sheho, SK, Beverly (Randy) Weber of Comox, BC; son Irwin of Sheho, SK; Grandchildren - Corrinne Denesiuk (Aaron Bruce) of Vancouver, BC, Robert Denesiuk of Courtenay, BC, Gerald (Darlene) Bisschop of Sheho, SK, Sheila (Jason) Watt of Saskatoon, SK, Leann (Kevin) Yurkiw of Yorkton, SK, Jennifer Weber (Lorne Strachan) of Comox, BC, and Tylan (Sara) Weber of Comox, BC. Great Grandchildren - Skylar and Paige Yurkiw, Ty and Clay Bisschop, Lane and Lauren Quinn, Cole, Caleb, and Cohen Weber, and numerous nieces and nephews.
The Broken Chain
We didn't know that morning
that God would call your name,
In life we loved you dearly,
in death we do the same.
It broke our hearts to lose you,
you did not go alone,
For part of us went with you,
the day God called you home.
You left us peaceful memories,
your love is still our guide,
And though we cannot see you,
you are always by our side.
Our family chain is broken,
and nothing seems the same,
But as God call us one by one,
the chain will link again.
Funeral Service
10:30 a.m.
Tuesday February 28, 2023
Sheho Community Center
Sheho, SK
Donations in memory of Mary
may be made to the
UKRAINE CATHOLIC CEMETERY FUND
P.O. Box 62
Sheho, SK
S0A 3T0
For those wishing to send cards of caring & sympathy
may send them to the
WOROSHELO FAMILY
P.O. Box 53
Sheho, SK
S0A 3T0
We are Honoured to be Caring for Mary Woroshelo
Messages of sympathy & caring may be left for the family at www.narfasons.com
Flowers of sympathy may be ordered by calling
Narfason Flowers
at 306.338.2251
Read More
Events
Funeral Service for Mary Woroshelo
Tuesday, February 28, 2023
10:30 am
Sheho Community Center
Sheho
Sheho, Saskatchewan, Canada
Funeral Service for Mary Woroshelo
Tuesday, February 28, 2023
10:30 am - 11:30 am
Sheho Community Center
Sheho
Sheho, Saskatchewan, Canada
Sheho Ukrainian Catholic Cemetery
Sheho
Sheho, Saskatchewan, Canada