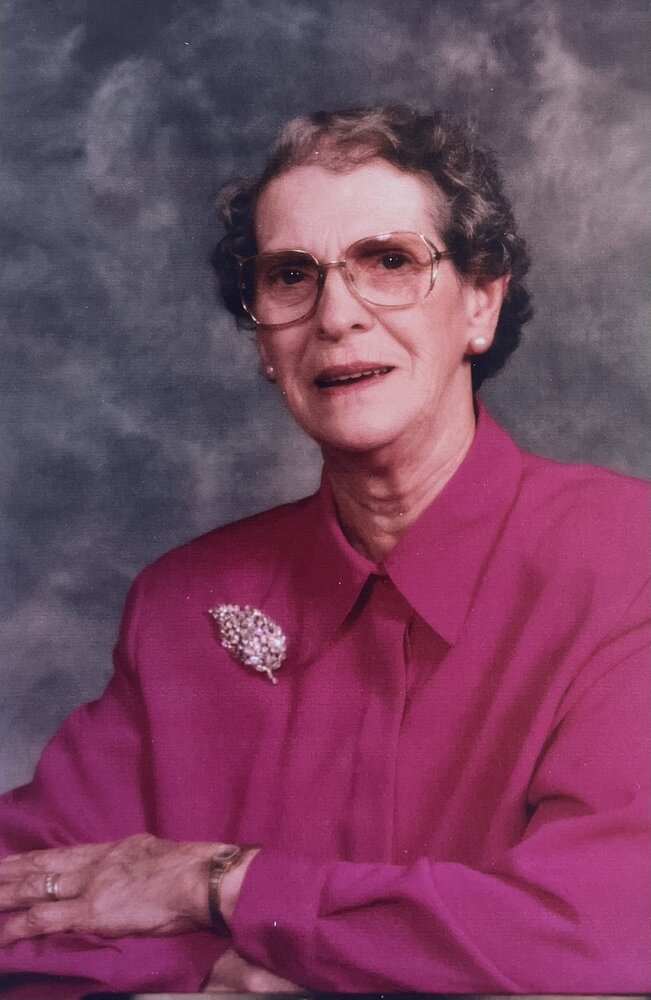 Obituary
In Loving Memory
Annie Long
October 15, 1931 - February 18, 2023
Annie Long was born to John and Ethel (nee Bolt) Kaminskas on October 15, 1931 on a farm near Strasbourg, SK that is now occupied by Rowan's Ravine Park.
When she was 4 years old, her family relocated East of Spalding, SK in search of better land. This made a lot of hard work. Ann was the oldest of 4 children and she attended Lake Edward Country School where she completed grade 9.
It was one of the many Saturday night dances in Spalding, SK that Annie meet Reigh Long. Ann and Reigh were married on August 6, 1952. They resided with Reigh's parents on the farm West of Lac Vert, until his parents built a new home and moved to Naicam. It was then that Reigh and Ann helped take over the operations of the mixed cattle, pigs and grain farm.
In 1953, Ann and Reigh welcomed their first child Lois, followed by Jerry in 1956. Both were of great help to the farming family.
Ann was involved in all aspects of the family farming life and was very proud of the house they designed and built, on the farm. She was most proud of the hard work she had put into finishing that house and making it a home.
Ann also loved the outdoor life and spent as much of her time as she could gardening. Her passion was growing vegetables, flowers and the trees she planted around the yard. In her spare time, she could be found sewing. If it could be sewed on a machine, she was more than willing to tackle it. She sewed many of her own clothes and clothes for her children. Ann also enjoyed carpentry. Ann's talents and imagination were bountiful.
Annie was also involved in her community as she was part of the Lewis Lake Ladies Club and the Naicam Seniors. She could be counted on to volunteer to help with the local community supper (especially in Lac Vert) and was a member of the United Church in Naicam.
After Reigh's passing, Ann continued to live on the family farm till 2010, when she moved into Naicam, to the Church View Lodge.
Ann lived at Church View Lodge by herself till she was 90 years old from 2010 - 2021, she then moved to Quill Plain Centennial Lodge in Watson on November 9th, 2021, where she resided until her passing. Ann passed away in Humboldt Hospital on February 18th, 2023.
Annie will be sadly missed and lovingly remembered by her daughter Lois' family - Pamela (Michael), Jenna and Curtis (Rebecca) and their children Zoey and Zander; her son Jerry, his daughter Dawn and her children Tyler, Riley, Kendra and Shawn; her sister Nita (Albert) Hoffman, and 2 sisters-in-law Helen Long and Doris Long of Saskatoon; as well as many nieces & nephews and extended cousins.
Ann was predeceased by: her husband Reigh; their infant son Allen; their daughter Lois Pawliw; her parents John and Ethel Kaminskas; Reigh's parents Jaspar and Bessie Long; her 2 brothers Alex (Iris) and Gordon Kaminskas; Reigh's brothers Louis, Victor (Jean), Lloyd (Elsie), Rosco Long and Reigh's sister Fern Harper (Gordon).
Listen in Silence
If You Would Hear
Silently the green leaves grow
In silence falls the soft, white snow
Silently the flowers bloom
In silence sunshine fills a room
Silently bright stars appear
In silence velvet night draws near...
And silently GOD enters in
To free a troubled heart from sin
For GOD works silently in lives
For nothing spiritual survives
Amid the din of a noisy street
Where raucous crowds with hurrying feet
And "blinded eyes" and "deafened ear"
Are never privileged to hear
The message GOD wants to impart
To every troubled, weary heart
For only in a QUIET PLACE
Can man behold GOD FACE to FACE!
Be still, and know that I am God.
Funeral Service
1:00 p.m.
Tuesday March 7, 2023
Five Oaks Shared Ministry
Naicam, Saskatchewan
We are Honoured to be Caring for Annie Long
Messages of sympathy & caring may be left for the family at www.narfasons.com
Flowers of sympathy may be ordered by calling
Narfason Flowers at 306.338.2251
Read More
Events
Funeral Service of Annie Long
Tuesday, February 7, 2023
1:00 pm
Five Oaks Shared Ministry
Naicam
Naicam, Saskatchewan, Canada
Funeral Service of Annie Long

Get Directions