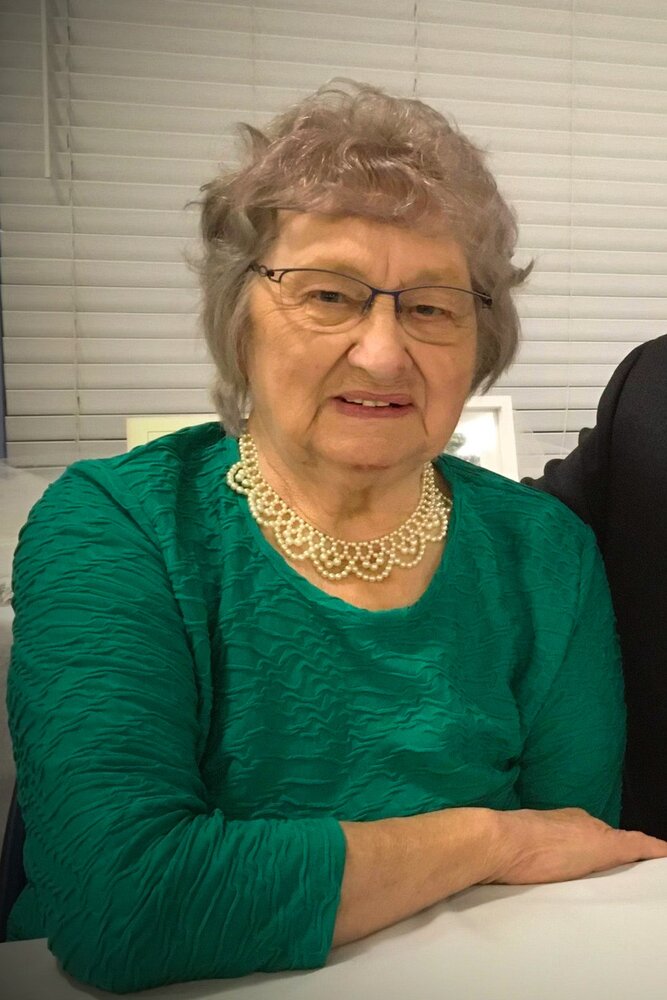 Obituary
In Loving Memory of Lorraine Petryshyn
Obituary
Lorraine Lenora Petryshyn (nee Lazorko), our mom, grandmother, great grandmother, aunt, sister and friend passed away suddenly in hospital at Regina, Saskatchewan on Thursday, April 6, 2023 at the age of 86 years.
Lorraine was born at the homestead of her parents Fred and Anne Lazorko on December 9, 1936. Lorraine is predeceased by her husband Edward with whom she shared 56 years of marriage; her parents Fred and Anne Lazorko; brothers Lawrence, Merv and a brother who was stillborn, and sister Doreen in infancy; and brothers-in-laws Arnold Gudmundson and Walter Dvernichuk.
Left to cherish her memory are her children Dan (Marie) Petryshyn, Carol (Wes) Matheis, Bernadette (Gordon) Cadrain, Jeremy (Terra) Petryshyn; ten grandchildren- Michael (Cheryl) Petryshyn, Nicole (Dale) Moffat, Danielle Petryshyn (Pat Fraser), Dylan Matheis, Chelsey (Travis) Paxman, Logan Matheis, Cherelle Cadrain (Randy Orchison), Cody (Jen) Cadrain, Jesse Cadrain, and Cage Petryshyn; ten great-grandchildren Hunter Petryshyn, Leland and Marianna Moffat, Alexis, Chloe and Noah Paxman, and Tyson, Owen, Jeslyn and CJ Orchison; sisters Irene Dvernichuk and Jean Gudmundson; sister-in-law Sadie Lazorko; Edward's sisters Mary Pasternak, Annie Kowalski, Sandra Lazorko, Elsie (Gordon) Fehr, Theresa (Arnold) Stolarchuk; and many special nieces and nephews.
Lorraine attended Birch Creek School up until grade nine and wanted to be a hairdresser as a young child, but instead left school to help her dad on the farm.
She married Edward Petryshyn on June 20, 1959 at St. Demetrius Holar Church. They moved to Regina where they honeymooned and took up employment until spring and then moved home to rent and farm the land of Lorraine's parents and start a family. In 1962, they purchased the land of Ed's parents (Fred and Emily Petryshyn) and built a new house on the homestead in 1977 where Lorraine lived right up until the day of her passing. Lorraine worked at the Wynyard chicken plant, from 1979 to 2001, while tending a beautiful home and garden, raising their four children, helping Edward and sons on the grain farm and minding over 60 head of cattle.
Lorraine loved to share her garden bounty with family, neighbours, and friends, declaring "If the Lord blesses me with more than I need, I share." She was known to open up the tailgate of the truck in the parking lot at Holar Church for all to take what they need, and she never visited friends or relatives without bringing a five-gallon pail of cucumbers or a massive zucchini or two. She worked hard on that farm and was grateful for the help of special neighbours who looked out for her after Edward passed away. The homestead was located right on the highway between Elfros and Bankend, perfect for passers-by to stop in and pick dill, grab some vegetables or dig horseradish. Lorraine cherished those visits.
Lorraine was made to live in the prairies. Her community of family and friends all within 30 minutes was everything to her. She took great comfort in having that close bond with them, the beauty of her surroundings, and the peace that came from the local church. She and Edward were very involved in maintaining and supporting the St. Demetrius Holar Church. They dedicated many hours to cleaning, decorating and preserving their beautiful church and cemetery and were very proud to be part of the church's community of friends and neighbours. Memorials in memory of Lorraine's devotion may be made to the Holar Cemetery Fund.
Eulogy
Today we come together in this beautiful church to say goodbye to an amazing and wonderful
mom, baba, great grandmother, sister, auntie, and neighbour.
For us kids she was more than our mom she was our protector, provider, cheerleader,
counselor, and friend.
I have found that writing a eulogy is one of the most painful things you can undertake as you
remember all you have lost. I found myself mad at the world when I first started. I was
embarrassed that I felt like that. But I slowly made peace with it as I came to the conclusion
that you should feel mad when you lose something special, something that you weren't ready
to lose and something you know you can never replace no matter what.
Writing a eulogy is also one of the most rewarding things you can do for your soul as you peel
back all the noise and outside influence of the world around you and remember the person as
who they were and what they meant to you and to those around you.
When life gets tough, I often look to find an inspirational quote or some type of words I can
connect with. It may seem cliche or even corny, but I find words like those can help remind us
what is important.
Shortly after mom's passing I stumbled upon this quote.
Life is too short to wake up with regrets
So love the people who treat you right
Forget those who don't
Believe everything happens for a reason
If you have a chance take it
If it changes your life let it
Nobody said life would be easy
They just promised it would most likely be worth it.
Mom was born on December 9, 1936, and her very first day on this earth did not start in a
hospital but rather right on the farm, delivered in the home of her parents Fred and Ann
Lazorko.
Mom was blessed to grow up with two loving brothers and sisters. Their home was simple but
strong and consisted only of 1 bedroom, a kitchen, and a living room. She lost a brother who
was stillborn and a sister in infancy. Mom often talked about losing her sister. It weighed
heavily on her mind that a member of her family did not get to experience all this life has to
offer.
Life on the farm at that time was as far from easy as you can imagine. They raised cattle,
horses, pigs, turkeys, and chickens all in an effort to feed the family and pay the bills. Mom
often talked about her own mother and was inspired by the work she did to provide for their
family. Her dad would cut the crop with a horse and binder and her mother would stook the
grain in between rounding up 10 cows every day and milking them, feeding the other animals,
pulling water by pail and rope for them and raising the kids. My mom and her siblings were
often sleeping on the floor before her parents even got in the house at night. It was never easy,
but it was worth it.
Mom went to school in Birch Creek and wanted to be a hairdresser. But in Grade 9 mom had to
quit school to help her parents on the farm. Mom recalled them being one of the first people to
get a television and fondly remembers, friends, family and neighbours all coming over to watch
the hockey game.
Our mom and dad met in the Birch Creek area and were married June 20, 1959, again at this
beautiful church. They moved to Regina to work for a year and then moved home in the spring
of 1960 to rent her dads land as the previous fall weather had left the crop in the field and
created even more challenges for the family. In 1962 they purchased the land of dad's parents
Fred and Emily Petryshyn and in 1977 built a new home there. Lorraine lived in the home from
that day right up until her final day on this earth.
Some may refer to our mom as a farmer's wife but that would not be accurate. See she was a
farmer who married another farmer. The hard work and dedication that makes up that
profession ran through moms veins every day of her life.
I would consider my brother, sisters, and I hard workers. But none of us could hold a candle to
our mom. If our dad was considered the brains of the farming operation with his careful
planning and execution, mom was definitely the muscle, his right-hand man. Dad knew he
couldn't do it without her. The work she did followed much of what she saw her mother do for
the family. Mom would harrow the fields, truck grain, pick rocks, shovel grain, milk the cows,
grow a garden, cook meals, and take care of the kids. And later in life take a job in Wynyard, all
so us kids could have enough. The harder the job the more our mom would be front and center.
She never said it out loud, but I know she felt in her soul that she needed to do whatever it took
to make sure her family had the best life possible.
The amazing thing is she didn't just have this drive and work ethic in her twenties or thirties,
she did it her entire life, right up to her final week. It was never easy, but it was worth it.
Mom's family, friends and neighbour meant everything to her. They brought her comfort and
enjoyment throughout her entire life. The early years consisted of large get togethers on the
farm. Celebrations for birthdays, anniversaries, church functions and holidays. Even an annual
Fathers Day get together for all the relatives. Whatever the occasion it would usually call for a
large meal, maybe a three spot tournament and possibly even some leg wrestling between our
mom and Nestor Pid, with Nestor losing every time.
No matter what the occasion it was special to my mom, and she would bring an energy to those
events like no one else could. She would often talk to us about those memories and smile with
almost a tear in her eye wishing it would never end.
As us kids grew up and ventured on our own, life got somewhat simpler for our parents; they
now got to spend some time enjoying the fruit of their labour. Vacations became a real thing
and outings to the city were a common occurrence. They would often make a trip up to the city
to grab a meal together, do some shopping and go to the casino. The ride home would consist
of dad driving and mom sleeping with her shoes off and her legs just long enough to put her
feet on the dash. All that hard work for so many years got them simple things, but those simple
things made them truly happy.
Our mom was there to teach us right from wrong and had no issues holding us accountable for
our mistakes. Those valuable life lessons will guide our family for generations to come. But our
mom was also our biggest cheerleader. Whether it was sporting events, life accomplishments
or just a phone call to discuss how the week went, she lived for every moment of it. Dad and
her newfound freedom now let them enjoy their kids' accomplishments and even more so their
grandkids. I remember them at the grandkids' curling games; dad would be in the back pacing
and wringing his hands together, but mom would be sitting front row. If you watched her
closely, she would physically hold her breath on every shot the grandkids did for the entire time
the rock would leave their hand until it came to a full stop. When the game was over, she
looked more exhausted than when she put in a 14-hour day on the farm. She wanted it that
bad for them. It was never easy, but it was worth it.
As our family continued to grow, mom could see all the effort she had put forward start to take
shape. If any of you have ever been to one of her grandkids' weddings or graduations, you
would have seen a 5-foot-tall lady walking like she was 6'6. The smile and joy radiating from her
body could not be matched.
I have heard other people describe our mom as a firecracker. A strong an independent woman.
I truly get that.
But under that strong and tough exterior was a heart that was always worried about others and
the world we live in.
She was so excited about her kids and grandkids branching out and discovering the world for
themselves including traveling to new places for rest and relaxation. On the outside she could
not contain her happiness, while the whole time she worried every minute until they came back
home, sick to her stomach and praying to God that they would be safe.
As with all of us life gives us failure and setbacks. Whether it was a broken bone, a relationship
gone wrong or a life changing decision, our mom wore every one of our challenges. It honestly
often affected her more than it did us kids or grandkids it was happening to. It was never easy,
but it was worth it.
It was hard to watch her worry so much about all of us but that pure emotion is also what
allowed her to feel our accomplishments. She was so proud of all of her kids, grandkids and
great grand kids. I really want you guys to know that. I heard it firsthand all the time. During our
half an hour phone conversations, the first twenty minutes would be mom talking about all the
great things you are doing in the world and the great people you have become, never forget
how proud she was of you. Never stop making her proud.
The last 10 minutes of the conversation would change to those darn family members that gave
her a 1000-piece puzzle of the ocean that kept her up until 4am because every darn piece is
blue. Then how upset she is with Megan Markle for breaking apart the royal family talking like
she knew Megan and the royal family firsthand. It would follow with how happy she was that
Jennifer Jones lost her curling game and how the Riders need to find a new quarterback, one
who doesn't throw so many stupid interceptions.
Dad's passing was extremely hard on mom, her partner on the farm was gone and life had to
continue without him. But even after dad's passing, our mom did not show any weakness. She
marched on with her strong demeanor and wanted to enjoy all the time she had left on this
earth. She managed that farm and picked up all the tasks left on her shoulders. She didn't miss
a beat. It was never easy, but it was worth it.
Her time together with family grew even more precious to her. She looked forward to those
cousin weddings or special anniversaries to see her nieces and nephews and the families they
too had built. The support she got from her family, especially her sisters and sister in-laws
during her final years was incredible. She loved them beyond compare. Through our
conversations I would hear all about the get togethers in Wynyard and how Sandra's and I
skunked Annie and Mary in three spot again. Then we had fresh homemade buns and Lemon
Marange pie and Sandra and I drank a whole bottle of wine.
When relatives or friends would stop by to visit mom at the farm, there was no way they were
leaving without some fresh vegetables and a bag of fresh dill. If they had time to come into the
house, out would come the pictures of her family. Kids grandkids and great grandkids spread
across the table. A story to back each photo. My cousins would often tell me that after the visit
they felt they knew everything about the kids in those photos, even the ones they had not yet
had the pleasure to meet. There were even many days mom would spread those pictures out
when no one was there. It was one of her connections to those people she loved and a chance
for her to take in all that she had built.
Even after dad's passing, mom's trips to the city, especially Yorkton continued. They would be
an all-day affair from getting groceries for the week, shopping for presents for her family and
friends, to most likely getting her favorite meal from KFC of Chicken and Fries. No doubt getting
some extra pieces for a midnight snack. The night would end up at the casino until all hours of
the night. She would be excited about the chance to play the slot machines but more about all
the people she would run into and reminisce with. On the late-night drive home, she would like
to find a semi truck and follow it. That way they would hit the deer first. Some semis would
drive too fast and lose her, but most would be going too slow for the speed mom liked to drive
and eventually she would have to pass.
Last fall mom did one of these full day trips to Yorkton and had an amazing day. The shopping
was great, the friends were plentiful, and the slot machines were paying. She was having so
much fun that she closed the place down.
She started her trip back to the farm and began to worry. She realized that it would be 5am
when she finally got home and there was a good chance that Doug McDougall and his sons who
rent the land would most likely already be working in the yard. She quickly tried to think of
what excuse she could give them as if she was a teenager coming home from a high school
party.
To be able to be that strong and independent of a woman in your eighties and live truly
enjoying the simple things in life, is something special.
For me though I would really like to know what was going through that semi truck driver's mind
that night. When he is cruising down the highway only to look over to his left and see an eighty-
five-year-old lady who can barely see over the steering wheel of a 4*4 truck she is driving,
passing him at 4:30 in the morning. All the while probably holding a chicken drumstick in her
right hand.
We had a small family reunion at my sister's cabin a few years back. It was just my mom and
our immediate family. It was an amazing day. The one thing that I noticed that day was that as
we sat around the fire late into the night and the conversations got stupider and stupider as
they always do. Across the fire was mom proud as could be and not wanting to miss a moment.
But it wasn't our mother the protector provider cheerleader or counselor. It was our mom our
friend and we realized how special that really was.
Mom loved this Church. She truly believed it was the most beautiful church she had ever seen.
Mom would often tell us about her visits to the cemetery, how beautiful Neil Syrota would keep
the grounds and how she would spend time tending to her parents, brothers, in laws and
husband's individual grave sites and how she would talk to both them and God.
"Come on Edward, It's the weekend, you should be here with me going dancing like when we
were young. Come on Nestor and Merv you guys should be coming too, we would have so
much fun, do you remember."
You have never seen such grace as my mom and dad doing the seven step.
Mom's sadness for the people she lost taxed her more than she let people know. It was again
that hard exterior masking those inner vulnerabilities. She had to be tough as life was never
easy for mom and she believed she needed to have the strength to push through anything.
Our mom's love for our family and dedication to the farm knew no limits. She gave every inch
of herself for that farm to be successful in order to provide for her kids, their kids and their kids.
Her generosity and giving of herself will live on for generations to come. The courage it must
have taken to start a large family, a grain and a cattle farm from scratch is amazing. It was never
easy, but it was worth it.
With her family there to watch, Mom made one last tour of the farm last night before coming
to her final resting place. As the hearse left the property, you could say that was the last time
she was there but that would not be true. See she remains in every blade of grass, every plant
that grows and every piece of dirt that she touched with her loving hands on that property. She
is in the wind blowing through those spruce trees and the hoar frost on the pines that line the
yard. She is the rain falling on the garden and the warmth from the heavens that makes
everything grow.
Our mom's strength and toughness was evident right until the end. In her last 24 hours she
lived her life just like the previous 86 years and only asked for help when she realized she
absolutely couldn't do it for herself. She never wanted to be a bother to others. That day mom
called on her sister Irene for help and Auntie was there to do everything possible just like our
family always does. It's the reason that being a Petryshyn and a Lazorko makes us proud.
Mom was put through some tests and then taken to Regina for further examination. The
ambulance ride up consisted of mom's stories about her kids, grandkids and great grandkids
and filling in the paramedic about why the Yorkton Casino is better than the Regina one. Mom
was in capable hands in the hospital, and no one thought that she would not be coming back to
that farm to plant another row of cucumbers, potatoes, and zucchini.
But God had other plans for her. He felt that under that hard shell exterior mom's heart had
done more than enough in this world for her family and friends. Mom's heart stopped on April
6, and for fourteen minutes the medical staff tried to bring it back.
I imagine during those 14 minutes it was a debate between God and mom.
God would have been saying "Lorraine you have done everything I needed you to do and more.
You have left on this world 4 children, 10 grand children and 10 great grand children with
families full of love. They continue on as a piece of you and Edward forever. The values you
have given them and the life you have built for them will be used to continue to make this
world an amazing place. Come and rest with me, visit with your husband, parents, relatives and
all your friends who have gotten here before you. They are all waiting to welcome you into my
house."
In those 14 minutes mom no doubt argued back. "I don't need to rest, I am fine, don't worry
about me. I still need to be here, to protect them, encourage them, guide them, and help
them."
As the debate continued to go back and forth, I would believe that mom only finally gave in
when God pointed out and mom realized that now she could watch over all of her loved ones
from above, and her work was not done, it was only going to come from a different venue. And
being able to watch, guide and inspire every second going forward wouldn't be easy but it
would be SO worth it.
Prayers
7:00 p.m.
Thursday, April 13, 2023
Holar St. Demetrius Ukrainian Catholic Church
Elfros District, SK
Funeral Mass
10:30 a.m.
Friday, April 14, 2023
Holar St. Demetrius Ukrainian Catholic Church
Elfros District, SK
Donations in memory of Lorraine
may be made to:
Holar Cemetery Fund
Box 704
Wadena, SK, S0A 4J0
Cards of sympathy may be sent to:
The Petryshyn Family
Box 34
Bankend, SK, S0A 0G0
Read More
Events
Thursday, April 13, 2023
7:00 pm
Holar - St. Demetrius Ukrainian Catholic Church
Elfros District
Elfros District, Saskatchewan, Canada
Prayers

Get Directions
Friday, April 14, 2023
10:30 am
Holar - St. Demetrius Ukrainian Catholic Church
Elfros District
Elfros District, Saskatchewan, Canada
Funeral Mass

Get Directions