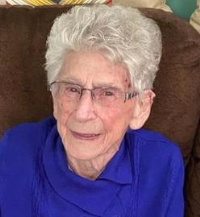 Obituary
In Loving Memory of Ruth Erickson
Ruth Mardell Gilbertson was born on May 21, 1928 in Hatton North Dakota, USA, to Emil & Oline (Anderson) Gilbertson. Before Ruth's birth, her dad Emil, and uncle Albert (Op) moved up to Canada where they bought land together to grow wheat. Ruth's mom Oline, and aunt Mandy along with baby Ruth, her older siblings, Anna, Richard and James and her cousin Ann came up to Canada, by train, at the end of June 1928. The two families lived together in a 3 room home for almost 7 years. The children began their schooling at Twin Creek School, where Ruth took her grade One. In 1935 Emil and Oline bought their own farm in the Gardinia District - where Scott Gilbertson, Ruth's great-nephew lives today. Ruth's brother Harold was born two years later.
When WWII broke out, Ruth's brother Richard, joined the American Army and Jim joined the American Navy. Ruth quit school to help out on the farm. When she turned 16 and got her drivers licence her occupation was listed as FARMETTE.
Ruth met Christian (Chris) Erickson near the end of the war, when he was home on leave, through a good friend of hers, Myrtle Erickson, Chris' sister. Chris and Ruth were married on October 28, 1947, in the Quill Lake United Church, Quill Lake, SK. Chris and Ruth then bought his parents farm in the Scrip District. There they raised their family - Darlene, Dianne, Ellen and Leslie. Ruth was a true farmer and worked alongside Chris. She could run any piece of machinery.Although Chris did custom spraying, Ruth never ran a sprayer. She could do anything a man could do and probably better.Along with field work, she milked cows, fed pigs and chickens, tended a huge garden and kept an immaculate house, as well as cooking. She taught her children at a young age to help out with everything, working alongside her where she made work seem like fun.
Chris and Ruth retired to Quill Lake, SK, in 1986. They then enjoyed their motorhome; fishing and travelling to such places as Hostfest and other places in Canada and the USA, sightseeing and visiting along the way. Besides travelling and fishing, she kept busy with quilting, knitting, crocheting, and always had the "coffee on" for anyone who dropped by.
Ruth was a fighter. She never slowed down, even when she received cancer and Lupus diagnosis'.
Chris died in 2011. In 2013, at the age of 85, Ruth fell and broke her hip. She was determined. Nothing was going to stop her from anything, especially doing what she loved. She worked hard at recouperating and was successful. She lived in her own home and continued yard and garden work, keeping a house that was prestine in cleanliness and organization.
In 2016, she moved out of her home and into Waneeda Park Lodge in Wadena. She made many friends and spent hours doing puzzles, knitting and crocheting. In 2020, after taking a nasty fall, she moved to the Watson Care home while she waited for placement closer to her family at Pleasantview Care Home (PVCH), Wadena, SK. Ruth made her home at PVCH until her passing on April 15, 2023, with her children by her side. Ruth felt loved and cared for at PVCH and often expressed this to her family.
Ruth was predeceased by: her parents- Emil and Oline; sister Anna Hamel; brother and sister-in-law Richard (Darlene) Gilbertson and brother James Gilbertson; and sons-in-law Eugene Zagrodney and Marvin Badgerow.
Left to mourn are her: children Darlene (Bill) Sawchuck, Dianne (Allan Ball) Zagrodney, Ellen Badgerow, Les (Loreen) Erickson; grandson - Wally (Danine) Sawchuck and their son Daylen Sawchuk, granddaughter - Lori (Sawchuk) (Shawn) Burnett and their children Bailey (Mike) and Kylie (Storm), grandson - Dean (Tracy) Sawchuk and their children Owen and Carter, granddaughter - Ivy (Zagrodney) (David) Rachkewich and their children Tysen, Madison, Marley and Dylan, granddaughter - Joni (Zagrodney) (Kevin) Morman and their children Ava, Isla and Clara, grandson - E.J. (Victoria) Badgerow, grandson Jordan (Jayne) Erickson and their chldren Hunter and Maddox, granddaughter - Lauren (Erickson) (Tavis) Huebner and their children Everest and Luxton, granddaughter - Courtney (Erickson) (Louis) Thevenot and their son Lincoln; brother - Harold (Jean) Gilbertson, sisters-in-law Myrtle Erickson, and Nellie Gilbertson as well as many nieces, nephews and extended family.
Funeral Service
1:00 p.m.
Monday, April 24, 2023
Quill Lake Community Hall
Quill Lake, Sk
For those who were not able to attend in person,
The service can be viewed at
Narfason's Funeral Chapel & Crematorium's Facebook Page. (CLICK HERE)
For those wishing to send cards of caring & sympathy, please send to:
The Erickson Family
P.O. Box 56
Clair, SK
S0A 0N0
Donations in memory of Ruth may be made to:
Quill Lake Cemetery Memorial
P.O. Box 9
Quill Lake, SK
S0A 3E0
or
Pleasant View Residents Council
P.O. Box 10
Wadena, SK
S0A 4J0
Read More
Events
Monday, April 24, 2023
1:00 pm - 2:00 pm
Quill lake Community Hall
46 Oswalt St
Quill Lake, Saskatchewan, Canada

Get Directions