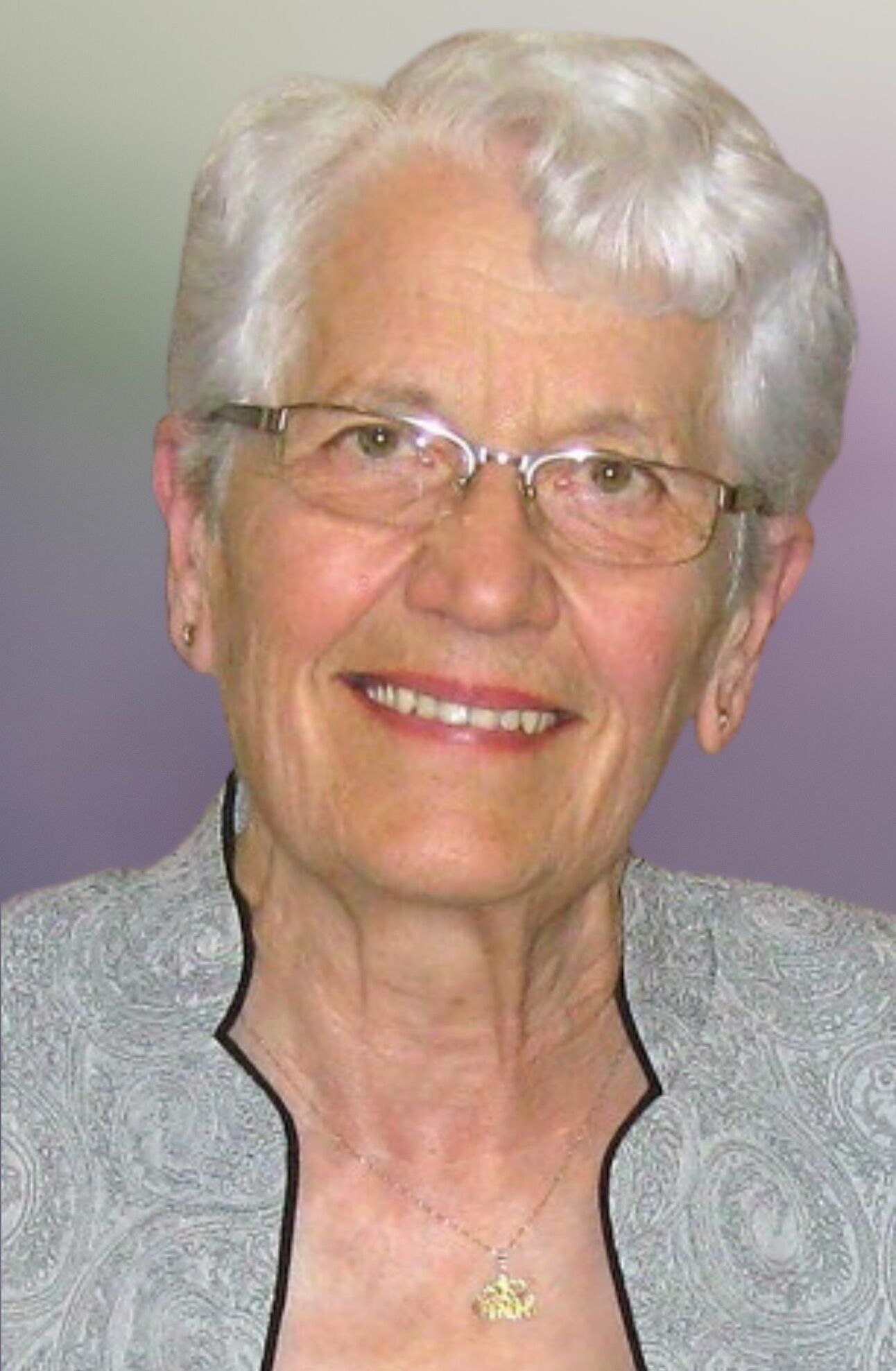 Obituary
In Loving Memory of Iris Kowalchuk
Iris Kowalchuk entered eternal rest at the age of 89 years, on May 31, 2023 at the Foam Lake Jubilee Home, with family by her side.
Iris was born on January 12, 1934 to Alex and Aksana Ostapowich on the family homestead south of Tuffnell, SK in the Krasney district. Iris married Wasyl Kowalchuk on October 15, 1955 and they settled in the Edmore district to farm. Their time was spent working the land, tending the animals, and of course Iris had a large vegetable garden and many beautiful flowers around the family home. In 1970, Iris began her career at the Foam Lake Jubilee Home and shortly after received her accreditation as a Geriatric Aide where she continued to work at the home for twenty-nine years. Iris was a kind and compassionate caregiver to the elderly and made many life-long friends amongst her co-workers at the nursing home.Wasyl and Iris enjoyed their retirement in Foam Lake. Later Iris moved to Regina for five years to be closer to family, and returned in 2020 to reside at the Jubilee Home.
Iris was an active volunteer in the community with the Orthodox Ladies Aide, Perogy Ladies and the Veselka Choir, where she enjoyed socializing and friendships. Faith was important to Iris and she was an active member of the Ukrainian Orthodox Church in Edmore and later Foam Lake. Maintaining the Ukrainian culture and traditions was important to Iris and her dedication to this is admired by her family.
Crafts and sewing were a passion for Iris, as she spent countless hours crocheting, knitting, and cross-stitching and her children and grandchildren were quite often the beneficiaries of these beautiful works and with her passing these items will be a lasting memory of Iris.
Iris's family was so very important to her and most especially her grandchildren. Her home was always a welcoming place for holiday gatherings at Christmas and Easter with the welcoming aroma of a meal coming from the kitchen. At family gatherings or with friends, there was always a game of cards to be had. Iris always looked forward to hosting her annual birthday gathering at her home with her friends.
Iris was predeceased by her husband Wasyl, parents Alex and Aksana Ostapowich; sisters Bella, Rose, Mary, and Katie; brothers Matt, Nick and Johntee; brothers-in-law Alex Kozak, Alex Holowaty and Bill Eliuk. Iris is survived by her sister-in-law Mary Kozak; sister-in-law Sandra Leitch; daughter Delores (Rick) Neufeldt; son Harvey (Bev) Kowalchuk; grandchildren Jennifer Neufeldt (Richard Law); Kelsi Kowalchuk and Madison Kowalchuk (Dallon Kuprowski); and several nieces and nephews.
Iris was a kind and loving soul, may her memory live forever,
Vichnaya Pamyat
Funeral Service
1:00 P.M.
Thursday, June 8, 2023
Narfason's Funeral Chapel
Foam Lake, SK
In lieu of flowers,
donations in memory of Iris may be made to
Saskatchewan Alzheimer's Society
301-2550-12th Avenue
Regina, Saskatchewan
S4P 3X1
Read More
Events
Thursday, June 8, 2023
1:00 pm
Narfason's Funeral Chapel
410 Royal Street
Foam Lake, Saskatchewan, Canada

Get Directions