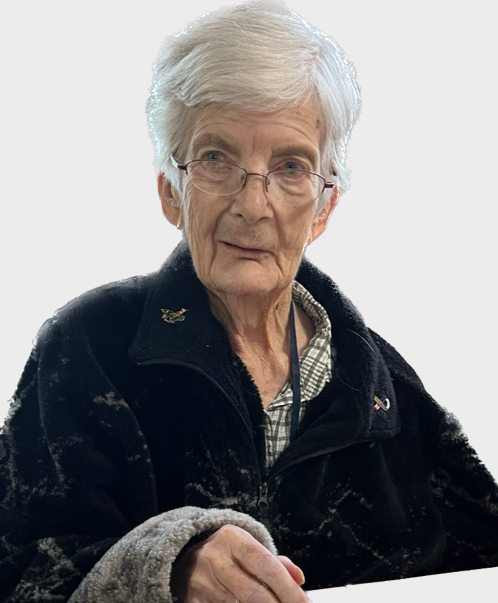 Obituary
In Loving Memory of Rhoda Shurgot
Rhoda Margaret GAYTON was born at Port Reeve, Sk, on September 12, 1926, and passed away on June 5, 2023 at 96 years of age. She was the second of four daughters of Arthur and Annetta Gayton. It was in this community of Port Reeve and through her parents that her core values were instilled-- her responsibility to the community, sharing and in general, making life better in little ways through volunteering and donating her time and efforts to support people around her, and appreciating the many of God's blessings that she was so lucky to have. She attributed her great inspirations as her mom and dad.
Rhoda grew up during the great depression and dirty 30's in the small southern Saskatchewan town of Port Reeve along with her three sisters, Alpha, Helen and Edith. As town kids, there were lots of friends to play with and lots of games and sports to play. However, her favorite and always remembered memory is of spending time at the farm of family friends, Ian and Mae Carruthers, north of Port Reeve. She would ride horseback to the farm when she could and also, spend holidays there. She loved going with Uncle Ian with a team of horses to get a load of wood, to the pasture to fix fence, check cattle and picking Saskatoon berries. Ian Carruthers once told Rhoda that she was the best ranch hand he ever had. Rhoda thought of Ian and Mae Carruthers as great inspirations.
After graduation from school, Rhoda enlisted with the Canadian Forces on October 3, 1944. She was assigned the duties of a Secretary-Typist. She also became an accomplished sharpshooter. When the end of the war was declared, Private Rhoda Gayton, Reg #W120306 was discharged on May 13 1946. She received the Canadian Volunteer Service Medal. It was at this time that Rhoda purchased a refurbished 1942, Model 45 Harley Davidson motorcycle nicknamed Jinx. Her friend, Ruth, also owned one. These two ladies and one other travelled to the west coast via the United States---a 19 day motorcycle trip where they camped and slept in abandoned buildings along the route. One of her most treasured memories.
Rhoda furthered her education with Normal training in Moose Jaw and became a teacher. She taught school at Antelope Creek School near Chaplin, Sk. She soon followed her sister, Alpha, to Foam Lake and taught in the Foam Lake School district at Dunlop, Edmore, Athlone and Kelvin Grove Schools. She was the last teacher at Kelvin Grove before it closed. She made a lasting impression upon her students.
While living in Foam Lake, she met the love of her life, a young local farmer, Roman Shurgot. Rhoda had brought her Harley to Foam Lake with her and she and Roman would go for motorcycle rides during their courtship.Rhoda and Roman were married on July 4, 1953. As a wedding present from Ian and Mae Carruthers, she was gifted a horse called Fleet who became her transportation to and from school. Rhoda and Roman farmed south west of Foam Lake. In the summers, they lived in a converted home/granary. In the winters, they would live with Roman's parents at their farm north of Tuffnell. Gayle was born during this time. In time, more land was purchased and they moved to a house closer to Foam Lake. Soon, there was the addition of Ian and Donna to the family. In 1966, they purchased more land and residence on the west side of Foam Lake. Here they raised their family, with the addition of their son, Corby. Rhoda and Roman continued to live there until Roman's passing in 2006. They had enjoyed nearly 53 years of marriage. It was then that Rhoda purchased a home closer to the amenities of Foam Lake on the "other side of Milligan Creek". In 2014, she moved to Saskatoon to be closer to her children. As her health failed, in 2021 she moved into the Warm and Cozy Care Home and resided there until her passing. Rhoda passed away 17 years to the day that Roman passed away….June 5.
Rhoda was an avid reader, loved the outdoors, horses, hockey, baseball, Canadian football, curling, swimming, bowling, playing cards, travelling, crossword puzzles, word finds, the tv show, the Edge of Night until it ended, and coffee row with her friends. She was an awesome cook and baker and always had a bountiful garden. She was a faithful member of the United Church in Foam Lake, the Ladies Auxiliary and the Foam Lake Legion. She became a lifetime member of the Foam Lake Legion in 2008. Her last duty with the Legion was on July 1, 2019 when she proudly cut the ribbon for the Foam Lake Cenotaph Gate Dedication. She spent many years as a Volunteer for Foam Lake Minor Hockey, Baseball, other minor sports groups and canvassed for Charities. She received a certificate from the Minor Hockey Association acknowledging her 19 years of volunteer service with them. She spent much time attending & chauffeuring her kids to their activities—4-H Horse Club, Gymkhana, hockey and baseball. She watched the CFL football games especially her Saskatchewan Roughriders, the Toronto Blue Jays, Hockey and curling. She knew the fundamentals of these games very well and could explain them clearly so one would understand. She faithfully attended the Foam Lake Flyers games. She rode horseback in the Wynyard to Foam Lake trail ride and in Foam Lake parades. Rhoda enjoyed travelling and made trips to Australia, Poland, Chicago, an Alaskan cruise and locations across Canada.
Rhoda was so very proud of her grandchildren and great-grandchildren and followed their lives and their accomplishments. She looked forward to their visits in Foam Lake where she was sure to take them to Fishing Lake or the pool, and have wiener roasts at home. They would receive home made Valentines or Christmas Cards from her in the mail. Roman and Rhoda travelled to graduations and to sports events to support their grandkids. In April, Rhoda was able to go to the arena and watch her grandson play hockey in Saskatoon and Warman.
Rhoda was predeceased by her husband, Roman on June 5, 2006, her granddaughter, Lindsay Leon, her parents, Arthur and Annetta Gayton, her sisters and brothers-in-law, Alpha and Morris Howe, Helen and Gordon Ross, Don Wallace, sister-in law and brother-in-laws, Anna and George Fennuk, Pete Wetzel and her mother and father-in-law, Katie and Kost Shurgot.
Left to mourn her passing are her daughter, Gayle (Shawn) Boyce, Ian (Rhoda) Shurgot, Donna (Gordon) Ehalt and Corby (Petra) Shurgot, her grandchildren – Chelsea (Brad) Kuhn, Heather Shurgot, Cara Shurgot, Kristen (Neil) Korotash, Dillan Ehalt, Jack Shurgot, Eric Shurgot and Lee Shurgot, 2 great-grandchildren – Chloe and Gus Kuhn, her sister, Edith Wallace, her sister-in-law, Jean Wetzel and numerous nieces and nephews.
Funeral Service
10:00 A.M.
Saturday, July 8, 2023
Foam Lake United Church
310 Royal St.
Foam Lake, SK
For those wishing to send cards
of caring & sympathy
may send them to
The Shurgot Family
P.O. Box 241
Foam Lake, SK S0A 1A0
Donations in Memory of Rhoda
may be made to
Foam Lake Royal Canadian Legion
P.O. Box 1028
Foam Lake, SK S0A 4T0
or
Foam Lake United Church
P.O. Box 224
Foam Lake, SK S0A 4T0
Read More
Events
Saturday, July 8, 2023
10:00 am
Foam Lake United Church
310 Royal Street
Foam Lake, Saskatchewan, Canada

Get Directions