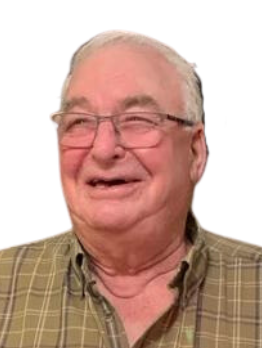 Obituary
In Loving Memory of Gordon Ake
Gordon Ake was born to Jack and Stella Ivy Ake on September 10th, 1936 in Wadena, SK. He was one of five children; Patricia Mae, Robert (Bob), Doreen (whom died in infancy), and Myrna Rose. Jack developed arthritis and rheumatism as a young man. Gordon at the tender age of 14, with his mother by his side, assumed the daily duties of farming, as Jack's health started to fade. Jack took over the kitchen detail, helping out in any way he could. When Gordon was just 26, his dad Jack, passed away on May 13, 1962 in the Wadena Hospital after a lengthy illness due to cancer.
When the spring farm work was complete, Gordon would then go to work hauling gravel with his brother Bob. They also worked across the province building roads, crushing gravel and meeting the provinces needs of road building, to promote transportation of goods and farm products. Gordon continued the gravel business well into the late 1960's when farming and family demanded full time attention. Gordon expanded the farming operation with more seeded acres and increasing the livestock herd, all the while continuing his commitment to the community development including leadership and economic sustainability Gordon was following in his father's footsteps.
On June 14, 1963, he married the love of his life , Georgina (Girlie) Patrick in the Kelvington United Church. From this union, three children were born Mindy Jewell, Michele Joelle, Jason John Gordon. Gordon, Girlie and the children worked together on the family farm for many years.
Gordon, like his dad, was very community minded - Jack along with a handful of others put up a quarter of land, as security, for the beginnings of first Saskatchewan Wheat Pool, in Lintlaw - a project that benefitted everyone in the surrounding area. Gordon took on responsibilities as a board members for the Lintlaw Credit Union, local Co-op, anddedicated many years to the Saskatchewan Wheat Pool. Gordon was also very instrumental in building the Lintlaw Skating Rink. Gordon's goals in the farming industry were to grow improved crops and raise better cattle. In 1974, he took an Artificial Insemination Course to improve his herds genetics. In 1975, he had the honour of having two bred hiefers selected to sell at the Canadian Western Agribition. One of the heifers, was awarded the honour of the Highest Selling Half Blood Bred Heifer, a rare and prestegious accomplishment.
In the last couple years, one the of the highlights of his farming career, was the sale of 250 bred replacement females into the Ontario marketplace: because of his reputation, the purchase was made site unseen. Gordon was very proud of this accomplishments and his knowledge of the cattle industry's genetics, improving them and his impeccable foresight, had came to fruition. The family always worked together on the farm caring for the land, cattle, gardening and food preparation.
The next generation of farmers started in 1983 when Michele graduated from High School. Rob Spray joined the farming operation in 1985. When Jason graduated, he went to further his education, becoming a journeyman diesel truck and transport mechanic. Jason worked in Saskatoon and returned to join the family farm in 1999. Mindy graduated highschool and completed a Medical Secretary Diploma in Saskatoon. She began working in The Animal Health Care Environment in Saskatoon at the U of S Vet College. She then worked at the Yorkton Artificial Breeders, a Cattle Inseminatin Lab in Yorkton before returning to Kelvington when she married Richard Niezgoda and started working in the Kelvington Credit Union. During this time, Mindy began helping with the record keeping responsibilities for the farm operation and continued to do so for 32 years.
Later in life, Gordon became interested in municipal leadership. He was a Counselor for many years and was elected Reeve for the Rural Municipality of Sasman. He devoted 1000's of hours working with different levels of government, committees and community members, making certain the land was respected, as well as policies and governance were followed, for the betterment of all. This work was a labour of love, and to him didn't seem labourous but instead fulfilling. Even though he gave of his time in many ways, he continued to be the leader of the family farm, right right up until his passing. In the later years, he enjoyed driving across the province, to secure parts for the farm machinery or to pick upveterinary medicines for the livestock. These trips were always an adventure when a friend rode along. Despite all of the miles, and the unpredictability of Saskatchewan weather, he always returned safely to the farm with the necessary collectables. Travelling companions included Murray Troback, John Herbert, Lloyd Lillebo and Wayne Elander. These travellers will never understand how their time was respected and appreciated by Gord. These travel companions saved his family from hours of worrying because they knew that he was in great hands and was never travelling alone.
Family meant everything to Gord, he was very proud of them and their accomplishments. He enjoyed teaching them how to care for the farm, cattle and dealing with lifes events. He loved his grandchildren and great-grandchildren and every visit was very special, especially when they had a chance to share a bowl of ice cream. His family always knew there was a bountiful stash of ice cream treats, and looked forward to the surprise of contents and sampling the many varieties found in the freezer. Friends and family always felt welcome to drop by, unannounced, to enjoy a cup of coffee, the Dodgers, and a home cooked meal.
In 2022, Gordon's health began to deteriorate. He received medical attention in Kelvington and Saskatoon health care systems a few times. With each of these hospital stays, he was able to return home and in a few days, he was assisting the family farm again
Gordon was predeceased by his: parents Jack and Stella Ivy Ake; grandmother Martha Amelia Cartwright; brother Bob; sisters Doreen, Mae and Myrna; brother-in-law Paul Banadyga; nephew Brian Banadyga; cousins Rita Cartwright, Frank Cartwright and Gladys Cawkwell; and mother-in-law Effie Patrick.
Gordon is survived by his: wife Georgina (Girlie) of 60 years; children: daughter - Mindy (Richard) Niezgoda,grandchildren - Malcolm (Teghan), Victor (Victoria), Nathan (Makaela); daughter - Michele (Rob) Spray, grandchildren Dallas (Michelle), Dustin (Shyla), son - Jason (Tracy Webb) grandchildren John (Emily); great-grandchildren - Jadeyn, Kyhra Ivy, Theodore, Wilder, and soon to arrive 2 more babies; brother-in-law Pat Breckenridge; nephew and nieces - Dale (Wendy) Banadyga, Dr. Barb Ake (Dr. Verne Avery), Donna Ake (Rick Farden), Beverly Breckenridge, (Dave), Lynn Ellen Breckenridge (Sokratis), as well as great-nieces and great-nephews and one remaining first cousin, Ron Cartwright from British Columbia.
Funeral Service
1:00 p.m.
Monday, July 10, 2023
Kelvington Legion Community Centre
Kelvington, SK
Those wishing to join the service virtually may do so by visiting
Narfason's Funeral Chapel & Crematorium's Facebook Page (Click Here)
Donations in memory of Gordon may be made to
Lintlaw Recreation
P.O. Box 29
Lintlaw, SK S0A 2H0
Those wishing to send
cards of caring & sympathy may send them to
The Ake Family
P.O. Box 100
Lintlaw, SK S0A 2H0
Read More
Events
Monday, July 10, 2023
1:00 pm
Kelvington Community Legion Hall
208 1 Ave
Kelvington, Saskatchewan, Canada
Funeral Service

Get Directions