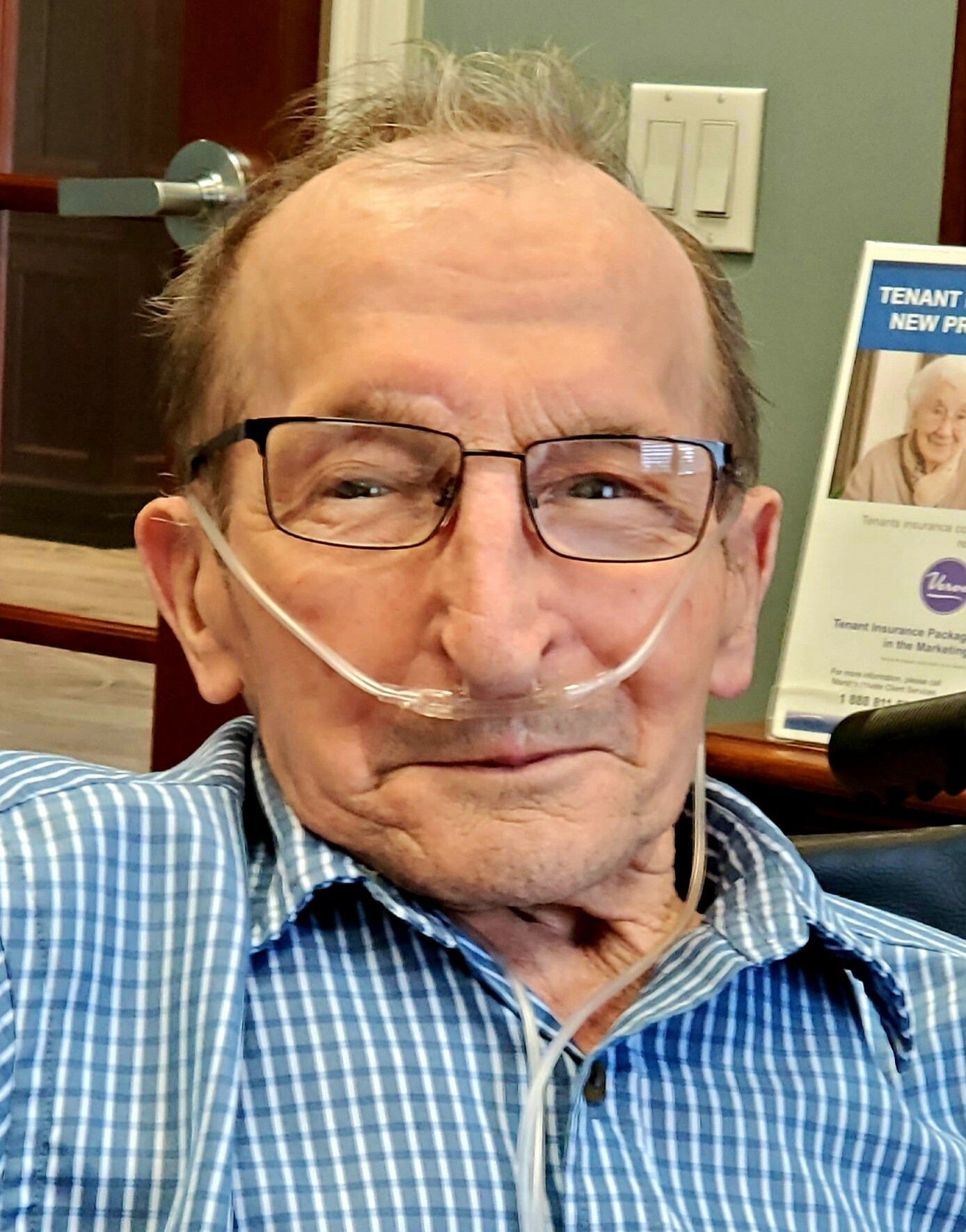 Obituary
In Loving Memory of Mike Hajewich
Mike Hajewich was born on Sept. 25, 1934, to Andrew and Annie Hajewich in the West Bend district. He was the youngest of the boys and second youngest of the 10 children. He attended Gilbert and Firefly School till grade 8 and then went to Foam Lake for grade 9 and 10. He and his siblings walked to school in the summer, till it got too cold and then he took a team in the winter. He loved to play ball and they sometimes ventured to other schools to play against them. He earned some money by helping the teacher. He would bring in wood for the stove and light the fire at the schoolhouse. He was also very dependable, so she would get him to deliver letters to the families who attended the school, probably because those children were in trouble of some kind.
As the youngest of the boys, he had it a little easier than the rest did, but there were chores to do before and after school, stones to pick in the summer and when old enough ran the machinery and worked in the field.There was little time to play, and toys were nonexistent, so they entertained themselves. He worked on the family farm throughout his life. Once his parents moved to Foam Lake in 1960, he and his brother Peter took over and stayed there till 2005.
Throughout those years, he enjoyed such sports as curling, fishing enjoyed visiting with family and friends and playing cards, especially 3 Spot and canasta. He also was the historian in the family. His memory was impeccable to when someone got married, died, what the weather was like on such and such a day. He heard stories and retained them in his memory for years and then started to write them down for all of us to have. If you needed some past info, you went to Mike.
Although small in stature, he had a big heart and was sympathetic towards the women and how hard they worked. Once his parents left the farm, he was doing the cooking, cleaning, gardening, carrying water, feeding the chickens, milking the cows and anything that was considered "women's work" and doing the field work.They farmed till 2005, when they sold and moved to Yorkton to an easier life. There, they enjoyed going out for coffee, access to restaurants, playing cards with old friends, going to the exhibition and casino and other activities around Foam Lake, Model Farm and Yorkton.
After his brother Pete passed away in 2019, he developed some health issues and moved to Regina to be closer to his family. He moved to Wintergreen Estates where he dazzled the workers with his "smile" and compliments. He enjoyed the meals and didn't need to worry about cooking and washing the dishes.
He leaves to cherish his memory, his cousins, nieces, nephews, great nieces and nephews and friends he made during his life. He is predeceased by his parents, Andrew, and Annie (Popik) Hajewich, his siblings Rose (Bill) Butters, Stefania (in infancy), John Hajewich, Andrew (Stephania) Hajewich, Katie (John) Sawchyn, Nick (Elsie) Haywick, Peter, Olga (Stan) Scherbey and Elsie (Bill) Hood.
Eternal Memory - Вічна пам'ять
Funeral Mass
10:30 a.m.
Monday, July 24th, 2023
Holy Eucharist Ukrainian Catholic Church
Foam Lake, SK
Those wishing to join the Mass virtually may do so by
visiting this link - www.narfasons.com (click here)
Donations in memory of Mike may be made to
Model Farm Church Cemetery
P.O. Box 42 West Bend SK
S0A 4M0
or
Regina Wascana Grace Hospice
4101 Dewdney Ave
Regina SK S4T 1A5
Read More
Events
Monday, July 24, 2023
10:30 am
Ukrainian Catholic Church
238 Cameron St
Foam Lake, Saskatchewan, Canada
Funeral Mass

Get Directions