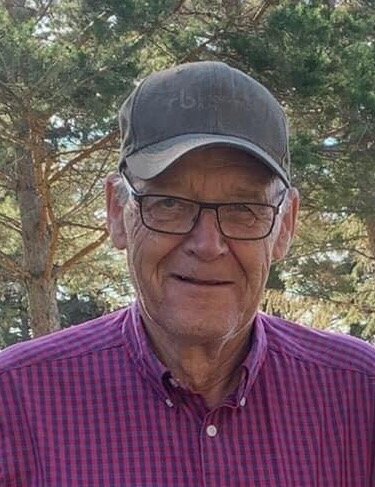 Obituary
In Loving Memory of Dennis Pylatuik
Dennis passed away peacefully, in the home he built, held in the loving hands of his family, on the morning of July 24, 2023. His last words were "I love you all very much".
Dennis Paul Pylatuik was born on October 14, 1942, to William and Natalka Pylatuik in Rose Valley, SK. He was an older brother to his sister Marca.
Dennis attended elementary school at the Ponass Lake Country School, walking or biking the 3 miles in summer, or by horse and sleigh or skating down the creek in the winter. Grade 9 and 10 he boarded at Omelians in Clair and for grades 11 and 12 he boarded at Haggards, in Quill Lake while attending school. Because of his father's poor health and eventual tragic farm accident, he worked very hard helping on the farm with custom baling, grain farming, raising cattle and purebred pigs. Despite all the work, he managed to have fun times playing ball, and curling. Dennis treasured fishing days with his dad. After high school, Dennis started working in the winters driving Cat, cutting bush, and later venturing out to work on the oil fields and pipe lines. In 1968, Dennis married Sonia Brataschuk, from Spalding, They lived in the upstairs suite of Fraleighs in Wadena for 6 years. At this time, Sonia worked at Wadena Hospital as a Registered Nurse. Dennis continued to go out working in the winter and upon return, welded at Lloyd's Mfg until seeding began in the spring. With the arrival of their first child Jeffrey in 1974, Dennis and Sonia moved out to the farm where they began living in their family home they built themselves. In 1977, they were blessed with their second child, Andrea. Dennis was passionate about farming, never afraid to try new techniques and take opportunities to expand and improve whenever possible. He was extremely hard working and also generous. He loved his neighbours and helped others whenever needed, by lending his time and equipment. At the age of 45, Dennis learned to downhill ski and was a pro from day one. From then on, he enjoyed annual winter vacations with friends and family. Skiing in the mountains, and summer fishing trips to Jan Lake were also a yearly event for over 40 years. Summers at Buckhorn Bay and socializing with neighbours at the lake are treasured memories. Dennis enjoyed many trips throughout the world with special friends. He loved his grandchildren dearly, to them, Grandpa was their idol. There are no words to describe how much he loved and was loved.
Dennis is survived by: his loving wife Sonia, of over 55 years; his son Jeff (Jackie) Pylatuik; daughter Andrea (Clarence) Boutin; grandchildren - Sarah Pylatuik, Raiden Boutin and Katrina Boutin; his special friend from Holland Marc Oscam; sisters-in-law - Eunice Anderson and Elaine Gulutzan; brother-in-law Vern Matileg; as well as numerous nieces, nephews and wonderful friends and neighbours.
Funeral Service
1:00 p.m.
Saturday July 29th, 2023
Wesley United Church
Quill Lake, SK
Donations in Memory of Dennis may be made to:
Quill Lake Cemetery Perpetual Care
Box 596, Quill Lake, SK S0A 3E0
or
Wesley United Church
Box 424, Quill Lake,
SK S0A 3E0
or
Saskatchewan Cancer Foundation
#200, 4545 Parliament Ave.
Regina, SK. S4W 0G3
Read More
Events
Dennis Pylatuik Funeral Service
Saturday, July 29, 2023
1:00 pm
Wesley United Church
22 Goode Street
Quill Lake, Saskatchewan, Canada
Funeral Service

Get Directions