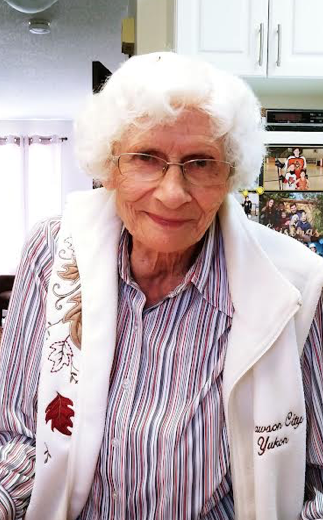 Obituary
Celebrating The Life of Anne Wasyluk
Anne was born April 29, 1931 near Kamsack, in the Madge Lake area. She was the second child of four born to William & Pauline Shukin. In 1936 the family moved to farm more land southwest of Kuroki. When the polio epidemic hit in 1937, Anne got sick and missed a year of school. She often talked about walking 2 miles to school in the spring & fall and in winter having to drive with horses and toboggan. After completing her schooling, she enrolled in the Nurse's Aide program which was offered by correspondence. Following that Anne worked in the Foam Lake and Wadena hospitals.
In 1950 Anne married Mike Wasyluk and they had 5 children: Linda, Paula, Faye, Lawrence & Ronald. Mike took on the British American Oil Distribution, as well worked as the Federal Elevator Agent. This must have been where the 'Wasyluk Grand Central Station' started where coffee was always on and the door was always open for a visit, with people always coming and going. This daily tradition continued for years, years, and years. In 1959 they took on a new project, building and operating a service station with a restaurant in Kuroki, A & M Service. In addition to raising 4 four children, running the restaurant and serving home cooked meals, Anne was sometimes seen pumping gas as well.
Anne and Mike built a new home in 1962/63 on the acreage along Highway 5, where she remained living until 2019. Here she was in her glory, gardening and landscaping. This took up her summer. She often said, "I could just live outside." It was in the mid 2000's that she had this idea of a Japanese garden, made arrangements to have a lot set aside with a RM Councillor, and in 2011 the plan was set in motion. A committee was formed, plans for funding were made, a garden blueprint was approved and it has become what it is today, but still a work in progress.
In February 2005, Mike passed away.
Anne moved into Spruce Manor in 2019 and because of poor health in April of this year, another move to Weneeda Park Lodge. She passed away peacefully in her sleep, the early morning of July 28, 2023.
In addition to raising a family, Anne was very active in community activities: Kuroki Community Club, Donor's Choice, Kuroki Rec Board, Senior Drop In, Reaching Out to Others, Al Anon, Kuroki United Church Ladies Aide, teaching Sunday School, United Church Board and most recently the initiator of the Kuroki Japanese Garden. She will always be loved and remembered by family and friends. Everyone was important to her and she always had time for all.
Anne leaves to mourn her: daughter Linda Sill (Gerald Bohl), daughter Paula Sobchyshyn; grandson Lindsey (Janet) & great grandchildren Emery & Alexa; grandson Terry (Sara) & great grandchildren Graham, Dixon, Lilya; daughter Faye Kucheran; grandson Zenon (Kerri) & great grandchildren Kadyn & Conner; grandson Auryn (Nancy) & great grandchildren Max & Ben; son Larry Wasyluk; son Ronald (Sandy) Wasyluk; grandchildren Ryan & Mike; sister & brother in law Lucy & Bill Filipchuk & families; sister in law & brother in law Nell & Bill Wasyluk; sister in law Mary Psovsky & families; as well as many nieces, nephews & extended families.
Anne was predeceased by her parents William & Pauline Shukin, husband Mike Wasyluk, brothers Lawrence & Bill Shukin, son in law & grandson Randy & Brendon Sill.
The family would like to thank all who provided support in any way. A big thank you to Carrie Althouse, Myrna Lozinski from Home Care, and Karol & Karter Narfason.
Celebration of Life
2:00 P.M.
Tuesday, August 8, 2023
Wadena Baptist Church
Wadena, SK
For those wishing to attend the service virtually may do so by visiting this link (CLICK HERE)
Those wishing to send cards
of caring & sympathy
may send them to
The Wasyluk Family
P.O. Box 127
Kuroki, SK S0A 1Y0
Donations in Memory of Anne
will be forwarded to:
Kuroki Japanese Garden
or
Wadena Food Bank
(Please specify)
P.O. Box 127
Kuroki, SK S0A 1Y0
Read More
Events
Tuesday, August 8, 2023
2:00 pm
Wadena Baptist Church
134 2nd St NE
Wadena , Saskatchewan, Canada

Get Directions
Tuesday, August 8, 2023
2:00 pm
Wadena Baptist Church
134 2nd St NE
Wadena , Saskatchewan, Canada

Get Directions