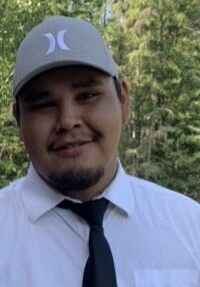 Obituary
In Loving Memory of Randy Shumi
It is with great sadness to announce the sudden passing of a gentle soul, Randy Shumi on August 30, 2023 in Yellow Quill First Nation.
Randy leaves behind to mourn his loss his parents Raymond and Doreen Shumi; siblings: Jennifer, Charmaine, Raymond Jr. (Boy), Rayleen, Rayna, Raydin, and his girlfriend Candy.
Randy was known to enjoy hunting, as he was a good hunting buddy. He also liked spending time with his family, friends, and especially girlfriend Candy Campeau. Randy was such a happy person, always made the room light up. Everywhere he went he put a smile on everyone's face. He loved everyone who loved him. Randy was a great friendly guy, always lending a hand. He was one beautiful soul. Randy cared so much for his nieces and nephews. He taught them so much. Randy was the best uncle. He was known to be very cheeky and loved to tease.
Once you left this world, I felt nothing but my world crashing. You helped me through everything. You were my first everything, I will forever miss you. I wish I could hug you one last time and be there. You were a wish come true, that I never knew I was making. You have my heart, I'll never forget you - Candy
Predeceased by his sister Bernice Shumi; grandparents Robert Kinniewess & Judy Ahpay; his dad's parents Alec Wapasshoes & Tootsie Ninnie, as well as numerous relatives.
Wake
10 a.m.
Friday, September 1, 2023
Yellow Quill Band Hall
Yellow Quill First Nation, SK
Funeral
11 a.m.
Saturday, September 2, 2023
Yellow Quill Band Hall
Yellow Quill First Nation, SK
Traditional Feast to Follow
Read More
Events
Friday, September 1, 2023
10:00 am - 11:00 am
Yellow Quill First Nations Band Hall
Yellow Quill
Yellow Quill, Saskatchewan, Canada
Wake
Saturday, September 2, 2023
Yellow Quill First Nations Field Cemetery
YellowQuill
Yellowquill, Saskatchewan, Canada
Interment
Saturday, September 2, 2023
11:00 am - 12:00 am
Yellow Quill First Nations Band Hall
Yellow Quill
Yellow Quill, Saskatchewan, Canada
Funeral