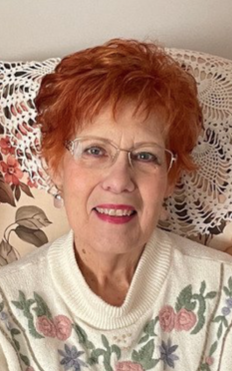 Obituary
In Loving Memory of Cheryl Stocks
Cheryl "Cherie" Elizabeth Stocks was born in Faribault, Minnesota, USA on May 28, 1949 to Roderick and Eva Collison. The family would later be completed with another daughter, Julie Ann and a son, David Roderick. The family moved to Wadena, SK in 1969 where Roderick would be teaching school. Shortly after their move, Cherie met her future husband, James Stocks from Kelvington, SK. They were married October 24, 1970. In time, they had one daughter, Leah Annette.
In addition to being an excellent homemaker, Cherie also worked secularly doing various cleaning jobs and retail sales. She especially enjoyed her years working in a bridal shop.
Cherie enjoyed many interests. She was a fun-loving person who loved dancing and visiting with friends. Cherie loved to help Jim with the gardening. You would often see her in the kitchen freezing peas and beans, canning tomatoes, and making delicious jams and jellies. She also loved crafts. In the evening, Cherie would often be sitting in her chair knitting or embroidering, with her little dog Maggie sitting right beside her. Her most favorite thing was talking to people about the wonderful promises in the Bible. She was baptized as one of Jehovah's Witnesses in 1963. The Bible's future promise of an end to sickness and death brought her much comfort and hope.
She was predeceased by her: father Roderick in 2009; father-in-law Charles 'Bert' Stocks in 1983; mother-in-law Eileen May Stocks in 1990; brother-in-law Shane Charles Stocks in 1996; sisters-in-law Shirley May Miller in 2004 and Eva Margie Stocks in 2017.
On September 19, 2023, Cherie passed away after a brief battle with cancer. She leaves to mourn her loving husband Jim of almost 53 years; her mother Eva Collison; her daughter Leah (Roy) Hale; sister Julie (Donald) Rubis; brother David (Liz) Collison; sister-in-law Carolyn (Andrew) Arnold; special friend since childhood, Lois Babcock as well as many nieces, nephews, and friends.
No service will be held
at this time
Those wishing to send cards of
caring & sympathy
may send them to
The Stocks' Family
P.O. Box 242
Wadena, SK
S0A 4J0
Read More
Events