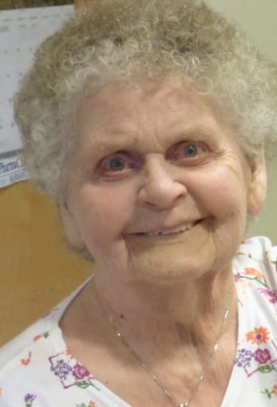 Obituary
Celebrating the Life of Esther Yasinsky
'Matriarch of the Johnsons'
Esther Yasinsky, last living member of the Johnson family, was born in the Preeceville District to Julius and Matilda Johnson on June 15, 1930. She attended school at Beaver Falls in the Preeceville District. Walking the 2 miles everyday, to attend the one roomed school was a requirement back in those days. Esther attended school until the passing of her father, at which time her schooling ended since she needed to help look after her 5 younger siblings. She not only looked after her siblings but also did many of the day to day chores. Living on the farm for many years meant milking cows at 4:00 am, feeding chickens, pigs and keeping up with the cleaning and cooking of the household.
As a young woman with much determination and strength, she embarked on a new adventure with her young son, Dennis, leaving the farm to join some of her brothers in Quesnel B.C. She took a housekeeping job for the Foreman of the Lumber Mill, Nicholas Yasinsky, in Cinema B.C. Esther married Nicholas Yasinsky, on April 12, 1958, whom had been her employer, now her husband. In the following 5 years, Esther and Nicholas had raised 4 boys and 1 beautiful daughter; Dennis, Donald, Dan, Leonard and Debbie. While in BC, they lived in Williams Lake and Cinema. Over the years, they moved to Smokey Lake and Edmonton. In Edmonton she worked at the Royal Alexander Hospital as a cook. Caring for children was her pride and joy, while enjoying cooking, baking and gardening at the same time. Later in life, the family moved back home to Preeceville, SK. After Nicholas passed, Esther and Dan moved to Fort McLeod, AB and Slave Lake, AB. In 2008 Esther made her final move to Saskatchewan, residing in her own home in Okla, until she moved to the Preeceville Lodge in 2018, where she remained until her passing.
Esther is survived by: her sons - Dennis (Denise) - children: Candace, Owen, Chantal, Yves, Monique; Donald (Angela) - children: Michael, Jessica, Britney, Truce; Dan; Leonard (Joyce) - children Kyle, Ashley; son-in-law Barry Arnie - children: Derek, Brooke; grandchildren-in-law; 20 great-grandchildren; nephew Vernon (Peggy); as well as numerous nieces and nephews.
Esther is predeceased by her: husband Nicholas; daughter Debbie Arnie; parents Julius and Matilda Johnson; sisters- Olga, Elma, Helen, Florence, Mabel, Myrtle, Edna, Laura; brothers- Elmer, Oscar, Lester, Lawrence as well as numerous extended family.
Celebration of Life
2:00 p.m.
Friday, October 20, 2023
Okla Hall
Okla, SK
Those wishing to send cards of
sympathy & caring may send them to:
Esther's Family
P.O. Box 12
Okla, SK
S0A 2X0
Donations in memory of Esther
may be made to:
Jim Pattison Children's Hospital
Foundation
1 - 345 3rd Ave S
Saskatoon, SK
S7K 1M6
Read More
Events
Friday, October 20, 2023
2:00 pm
Okla Hall
Okla
Okla, Saskatchewan, Canada

Get Directions