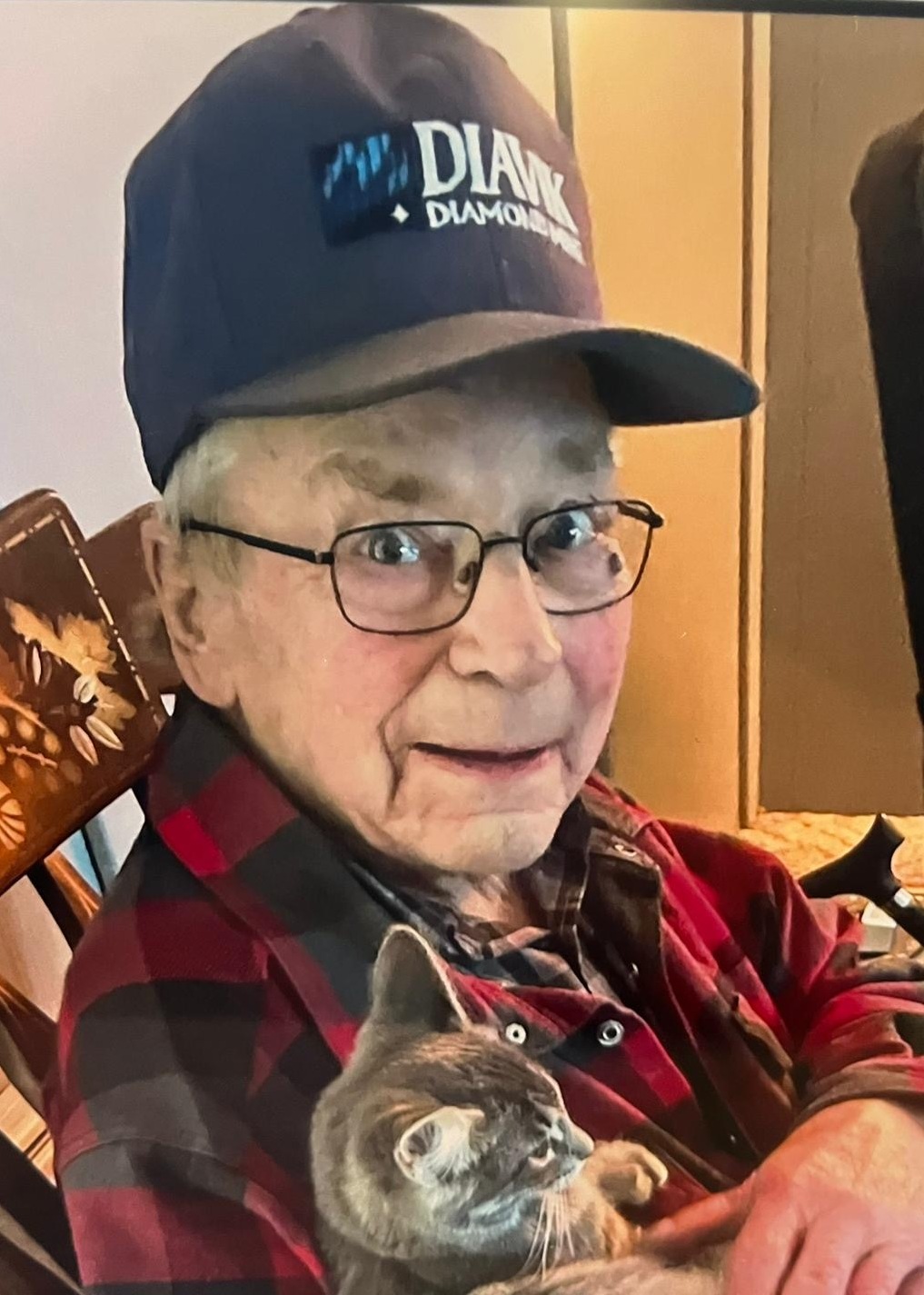 Obituary
Celebrating The Life of Hjalmer Wennerbom
Hjalmer Wennerbom passed away peacefully in his sleep on November 19, 2023 at the age of 87 in the Melfort Hospital after a short illness of congestive heart failure.
He was the son of Knut Magnus Wennerbom and Anna Marie Wennerbom
(Gustafson). Hjalmer was born on January 16, 1936. Hjalmer went to Littlestone School, which was 2 1/2 miles from home. He quit at a young age to help his dad on the homestead with cattle, pigs, seeding and harvest. Helmer started his family with Judy Rohne and had five beautiful children - Delores, Rodney, Leona, Myles, Wade (whom he adopted as his own son). He and Judy, together had one daughter - Marie on July 15, 1974. Helmer and Judy married on November 9, 1974. Dad had a great love for music, whether it was dancing up a storm, playing guitar or singing to his granddaughters in Swede. He was very proud that he was a self taught musician. He learned to play by listening to the notes and chords, which lead him to playing in many bands at dances, near and far.
Dad had a kind soul. He had a genuine love and respect for people. Helmer had numerous friends of many generations. Dad had a memorable laugh. His friends would tell jokes just to hear him laugh with tears streaming down his cheeks and his hand over his face. You knew his distinctive sound came from the bottom of his soul.
Helmer had a lot of passion in his life, but the most important was his family and close friends. He was always willing to drop whatever he was doing to have a cup of coffee and just take a moment to visit and catch up, no matter how many years went by since he had seen someone. He valued every person. Another passion of dad's was his love of flowers and planting a large garden. He would give away produce to friend's, family and whoever needed it. He kept very little for himself as long as he knew he was helping someone, he was content.
Dad was a true cowboy through and through. For special occasions a cowboy hat, a western shirt with a rope tie, and a nice shiny belt buckle. From the time he could wear shoes, they where cowboy boots. And everyday of his life after that, he went threw many. Dad always said he would die with them on his feet. Sorry dad, but that wasn't god's plan..
If anyone truly knew dad, he hated scary movies - but would watch from the fridge door with always something in his hand. He would always cheat on our tomatoe growing contest, as he would get his from Larson's Greenhouse. Dad absolutely loved lutefisk - he said he could eat it everyday and even wondered if the hospital would make him some! Courtney and Alison were Papa's heart! They could get that man to do anything, from new hair styles, a make-up makeover, dress up and new games. They loved to make him laugh and just to see the pure smile on his face.
Helmer - Dad - Grandpa - Papa - Uncle - Great Uncle - Knut - Hemmie - Hammer - Helmet and dear friend…he had many nicknames and he answered to all….
You will be extremely missed.
Helmer was predeceased by: his father Knut Wennerbom on June 8, 1974; mother Anna Wennerbom (Gustafson) on December 2, 1972; sister Phyllis Williams (Wennerbom) on September 10, 2010; brother-in-law Ken Williams (Phyllis) on March 11, 2020; granddaughter Brittiny Carlson on February 28, 1989 and niece Janice Brown (Williams) on December 15, 2005.
Helmer is survived by children: Dolores of Melfort SK, Rodney of Naicam SK, Leona (Devon) of Red Deer, AB, Myles (Jin) of Red Deer, AB, Wade of Star City, SK, Marie (Dean) of Gronlid, SK; Grandchildren: Courtney, Alison, Ashley, Travis, Hope, Jesse, Sierra, Renay, Corey, Meagan, Sean, Jason, and eight great grandchildren.
In Dad's words…. Nay Ohh' Nay Ohh' Nay
Goodnight Baby
Marie xoxo
Viewing
4:00 p.m. - 6:00 p.m.
Thursday, November 23, 2023
Chapel of Narfason's & Peter's
Narfason's & Peter's Funeral Chapel
Naicam, SK
Celebration of Life
1:00 p.m.
Saturday, November 25, 2023
Five Oaks Shared Ministry
Naicam, SK
Those wishing to send cards of
caring & sympathy
may send them to
The Wennerbom Family
P.O. Box 927
Melfort, SK
S0E 1A0
Donations in memory of Hjalmer
may be forwarded to:
The Alzheimers Society
301 - 2250 12th Ave.
Regina, SK
S4P 3X1
OR
The Heart and Stroke Foundation
26-1738 Quebec Ave.
Saskatoon, SK
S7K 1V9
Below is the link to view the live stream. You have to register before gaining access to the waiting room. Registering can be done at any time but we recommend doing it in advance in case of any problems. If you do not have an email or mobile phone number when registering you will need to call 1-877-895-2739. The support staff at Forget Me Not Ceremonies will provide you with a code to gain access to it.
Read More
Events
Thursday, November 23, 2023
4:00 pm - 6:00 pm
The Chapel of Narfason's & Peter's
Narfason's & Peter's Funeral Chapel, 203 5th Ave
Naicam, Saskatchewan, Canada

Get Directions
Saturday, November 25, 2023
1:00 pm
Five Oaks Shared Ministry
303 4th Ave
Naicam, Saskatchewan, Canada

Get Directions