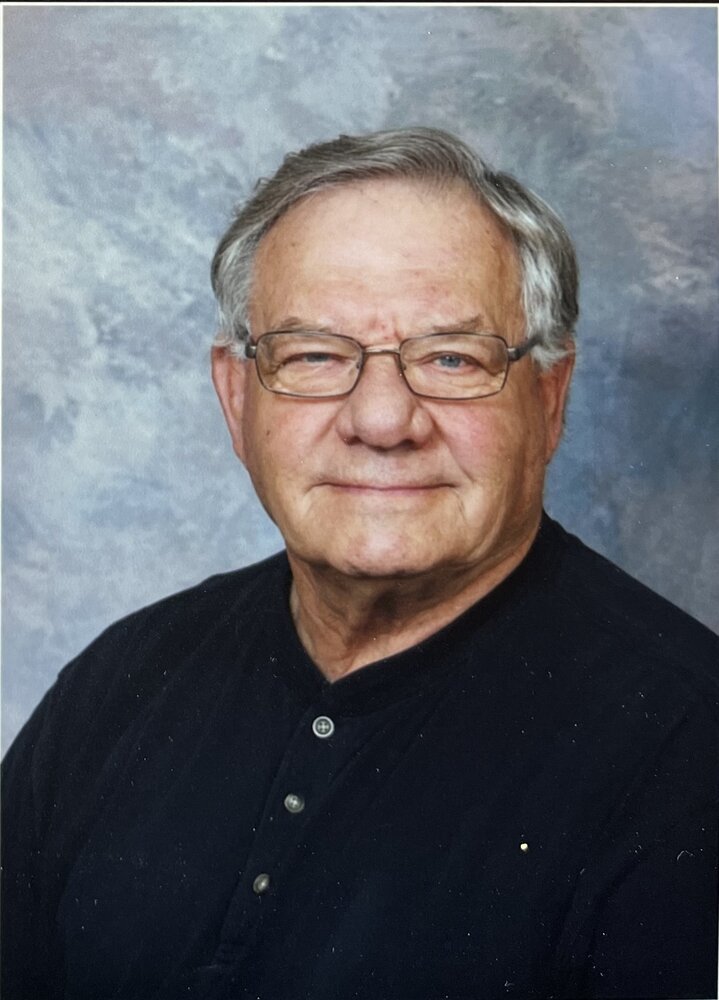 Obituary
In Loving Memory
Germain Arnold Dauk
May 23, 1939 - February 21, 2023
Germain Arnold Dauk - whose life focused on faith, family, friends and farming — passed away peacefully on Tuesday, February 21, 2023 at age 83, surrounded by his children and wife of 60 years, Myrna.
Germain recently underwent an experimental and successful heart valve replacement in Toronto, but following the surgery an inoperable cancer was detected. Its unrelenting growth caused him to spend his final, uncomfortable days away from his hometown of Naicam in a Saskatoon hospital, where his family and friends gathered and abided by staff instructions to allow only two visitors into his room at a time.
"Good life, good wife, good family," he told his wonderful caregivers. "I'm ready."
Germain was active on Facebook. It was the perfect way for his outgoing, inquisitive personality to stay in touch with people he met around the country while farming, teaching school, playing sports, public speaking, serving on committees as a volunteer, a liaison and fund-raiser or handling church services whenever the priest was unavailable.
Born in Annaheim, Germain was the oldest of four children to parents Marie and Arnold Dauk. Their mother died when Germain was 10, leaving him to nurture his siblings and learn the responsibilities of adulthood at a young age. His father Arnold died in 1983.
After completing high school at St. Peter's College in Muenster, Germain spent from 1960 - 1964 at the University of Saskatchewan, earning Education and Arts Degrees in Chemistry and Geography. An excellent athlete who continued golfing into his 80's, Germain played college football before a short stint with the Saskatchewan Roughriders ended because of injury. His competitive nature would spark family stories about this seemingly gentle giant sending game boards crashing across the kitchen if he lost a tough game of cribbage.
Germain began teaching in Regina, SK. By the time Richard, Susan and Ryan were born, Germain and Myrna had returned to Naicam, where he continued teaching and resumed farming the family's land. His expertise in crop science led to positions with Pulse Canada and trips around the world to discuss agricultural innovation. He served on numerous boards and never stopped making new acquaintances or seeking possible relatives while on road trips, simply by calling any "Dauk" listed in the local phone book.
Germain retired as a teacher in the late 1980s but continued farming until his sons decided he was crashing too many vehicles. He and Myrna made regular trips to Las Vegas, usually with extra days set aside to visit friends and family. His interest in crops, education and community never waned. "Oh, really?" he would say when hearing something new. And he was never shy about asking.
His greatest sadness is leaving Myrna; children - Richard (Diane), Susan and Ryan, their children - Jonathan, Sydney, Jaxon, Hunter, Dayton, Kylee and Dexter; step- grandchildren - Richard and Nicole; his siblings - Connie, Kenneth and Jane; numerous in- laws and the cherished partners of his relatives, a great-grandchild on the way and eight others, all of whom regularly visited the Dauk family home in Naicam.
In Our Hearts
We thought of you today.
But that is nothing new.
We thought about you yesterday.
And days before that too.
We think of you in silence.
We often speak your name.
Now all we have are memories.
And your picture in a frame.
Your memory is our keepsake.
With which we'll never part.
God has you in his keeping.
We have you in our heart.
~Unknown
Funeral Service
11:00 a.m.
Saturday March 4, 2023
Naicam Gym
Naicam, SK
For those who are unable to attend in person
The service will be live streamed on
Narfason's Funeral Chapel & Crematorium's Facebook Page (CLICK HERE)
Donations in memory of Germain
may be made to
ST. PETER'S COLLEGE
P.O. Box 40 Muenster, SK S0K 2Y0
HEART AND STROKE FOUNDATION
OF SASKATCHEWAN
1738 Quebec Ave
Saskatoon, SK
S7K 1V9
For those wishing to send cards of caring & sympathy
may send them to
THE DAUK FAMILY
P.O. Box 314
Naicam, SK
S0K 2Z0
We are Honoured to be Caring for Germain Dauk
Messages of sympathy & caring may be left for the family at www.narfasons.com
Flowers of sympathy may be ordered by calling
Narfason Flowers
at 306.338.2251
Read More
Events
Prayer Service for Germain Dauk
Friday, March 3, 2023
7:00 pm
St. George Roman Catholic Church
Naicam
Naicam, Saskatchewan, Canada
Prayer Service for Germain Dauk

Get Directions
Funeral Service of Germain Dauk
Saturday, March 4, 2023
11:00 am
Naicam School Gymnasium
Naicam
Naicam, Saskatchewan, Canada
Funeral Service of Germain Dauk

Get Directions