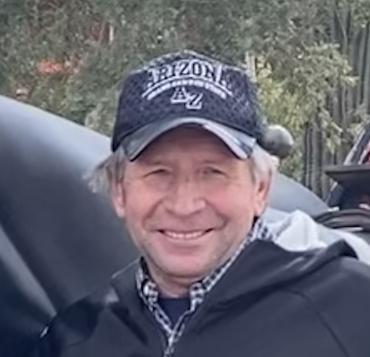 Obituary
In Loving Memory Of John Zarowny
It is with deepest sorrow that our family announces John George Zarowny, 70, of Paswegin SK, passed away suddenly on Tuesday, April 11th 2023 in the presence of his loved ones.
John was born on September 11th, 1952 in Wadena SK to Joseph and Annie Zarowny. He was the first of eight children. Raised on the family farm, he attended school in Paswegin until grade 8, after which he went to Wadena High School.John completed his grade 12 and set off to join the work force.
Everyone who knew John knew he was dependable and hard working. After graduation he started at the Co-op Creamery where he enjoyed having water fights with his coworkers when they were done work. He went from there to road construction, followed by the Co-op Lumber yard which lead him to Willow Bunch in September of 1980. He would eventually move back home and begin working for Sask Wheat Pool / Viterra where he would spend the rest of his career.
John's life would forever change in 1979 when he helped the neighbour's sister, Donna, corral an escaped pig and cover their garden before an early frost. Thus started a whirlwind romance resulting in an engagement after one week. John always insisted that Donna was the one to propose to him, although Donna disputes this to this day. This would result in 43 years of happy marriage and a family of three children, a son-in-law, a daughter-in-law, and four grandchildren. At his heart, John was always a farmer. Throughout his life, he could always be found outside on the farm- first with his father, then with his siblings, his children, and finally his grandchildren. He loved animals, and spent much of his life raising cattle, dogs, and cats.
John had a passion for motorcycles. Whenever the opportunity arose, John would get on his bike and go for a ride, even if it was only for a couple of minutes. His love of motorcycles began early- his brother Allan recalls finding himself at the age of 10 playing "mechanics helper" to his big brother Johnny who was determined to add a motor to a DIY bike. Uncle John Guley caught word of this dangerous project and shipped out a motorcycle from Winnipeg for John. Later in life, John owned several motorcycles but his favourite bike was a 1989 Harley Davidson Softail. He loved taking part in bike rallies and working on motorcycles in his spare time. John was not a mechanic but he had a talent for getting his cars and bikes to run, no matter the condition. He could always be relied on to help fix a vehicle, providing a quick diagnosis and some advice.
After retirement, John and Donna spent their winters in the warm air of Arizona. John loved his time there where he spent his days making friends, talking with neighbours, going dancing and swimming. He would say "it's different down here", and was always inviting people to come visit.
John will be deeply missed by his wife- Donna Zarowny; his children- Shannon (Doug) Rothlander, Crystal Zarowny, and Baron (Shelby Stecyk) Zarowny; his grandchildren- Brandon Rothlander, Colby Rothlander, Ben Rothlander, and Henri Hilderman; his siblings- Phyllis (Wayne) Rorquist, Arlene Townend, Rita Kaushal, Allan (Marj) Zarowny, Peter (Lorraine) Zarowny, and Dennis (Debbie Diamond) Zarowny; his nieces and nephews; and sisters in-law.
Memorial Service
1:00 p.m.
Friday, April 21, 2023
Wadena Community Legion Hall
254 Main St N
Wadena, SK
Come & Go Visitation
2:00 - 4:00 p.m.
Friday, April 14, 2023
The Chapel of Narfason's
Narfason's Funeral Chapel & Crematorium
102 - 1st St NW
Wadena, SK
Read More
Events
Friday, April 14, 2023
2:00 pm - 4:00 pm
The Chapel of Narfason's
102- 1st Street North West, Narfason's Funeral Chapel & Crematorium
Wadena, Saskatchewan, Canada
Friday, April 21, 2023
1:00 pm
Wadena Community Legion Hall
Main Street
Wadena, Saskatchewan, Canada
Memorial Service
Chapel of Narfason's- Narfason's Funeral Chapel & Crematorium
102 First St NW
Wadena, Saskatchewan, Canada
The Chapel of Narfason's
Memorial Service
Friday April 21, 2023 1:00 p.m. Wadena Community Legion Hall Wadena, Sask