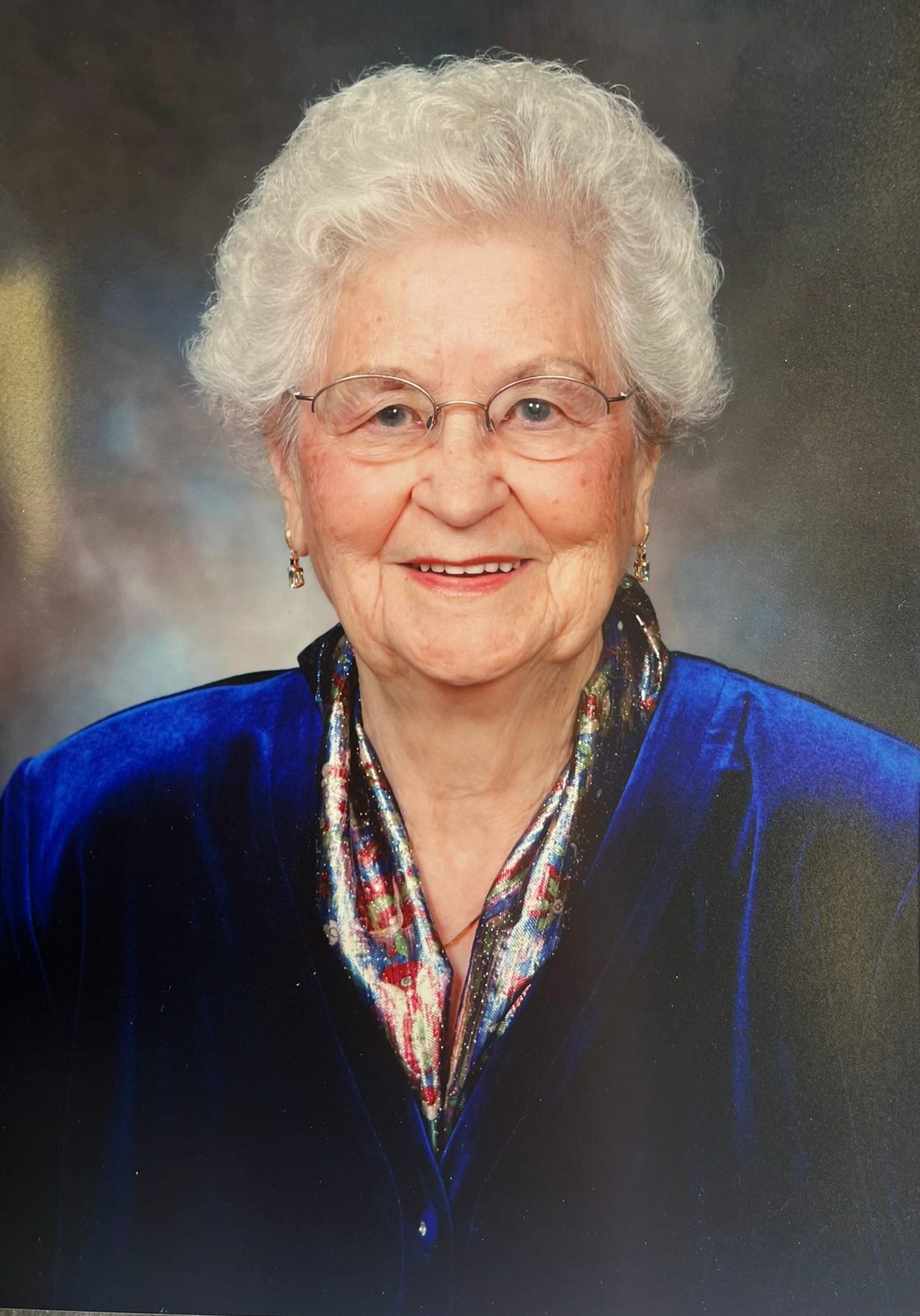 Obituary
In Loving Memory of Katherine Meehan
Katherine Frances (Fran) Meehan, 103, of Wadena, Saskatchewan passed away on Thursday, November 2, 2023.
Funeral Mass will be held at St. Mary's Roman Catholic Church in Wadena on November 10, at 11:00 p.m. with Fr. Jerome Ogunleye officiating. Interment of the ashes will take place at 3:00 p.m. in the Cupar Cemetery. Prayers will be held November 9, at 7:00 p.m. at Narfason's Funeral Chapel in Wadena.
Fran was born on June 28, 1920 in Cupar, Saskatchewan to Norman and Mildred (Patterson) McLay. She attended Glenn Murray School and her first teacher was Cordula Meehan who later became a valued friend and sister-in-law. Fran then attended Dalrymple School where Anne Meehan, another future sister-in-law was her teacher as well. She went to Cupar High School and then took a secretarial course at Balfour Tech in Regina.
Fran worked as a temporary worker in the Balfour office and for various firms needing short term secretarial help. She was then employed full time by Yingst General Insurance in Regina.
In 1943 she married Dinnis Meehan and moved with him to Weyburn where he was stationed as a flying instructor with the BCATP. They later moved to North Battleford for the remainder of the war where their daughter Colleen was born. After the war they moved to Fox Hills, Saskatchewan for a teaching position for Dinnis. During the five years that they lived there their son Patrick and daughter Brenda were born. In the time after that the family moved first to Jasmin and then Leross. Their daughter Bonnie was born during this period. It was also during their time at Leross that Fran's husband took a sabbatical to finish his degree so the family moved to Saskatoon. Fran got a job at the university working for Dr Spinks, the university president, as his secretary. The family returned to Leross after the sabbatical. Their son Michael was born at the time they moved to Wadena. Fran remained a homemaker until her two youngest children entered school.
Fran was then hired by the local law office where she worked for twenty five years. In addition to raising a family and working full time she was involved in both church and community events. Fran was an avid curler, playing on both mixed and women's teams. When the time came for her to give up the sport she was quite happy to follow it on television. She was never the type to yell at the television but there were times that she'd certainly sit forward when an important shot was being made.
Fran was also very proud of being a founding member of the local Arts Council and remained on the board for many years. Her faith was very important to her and so she was involved with church meetings, parish council and the C.W.L. In 1971 Fran participated with the planning, fundraising and building of the present St. Mary's Church. Through the church, Fran promoted ideas of social justice at both the provincial and local levels. She also volunteered for the board of the Local Housing Authority.
Fran is survived by her daughter Colleen (John) LaPerle of Edmonton, son Patrick (Marg) of Victoria, daughter Bonnie of Vancouver, and son Michael of Regina. Granddaughter Tammy (Darren) Hein of Saskatoon, granddaughter Kim Wood of Courtenay, granddaughter Laurielle (Chris) Hainsworth of Edmonton, Laurier (Amanda) LaPerle of Edmonton, and numerous great grandchildren. She is also survived by many friends in the community. Fran was predeceased by her husband Dinnis and daughter Brenda in the immediate family. Because of her age Fran was predeceased by all other relatives of her generation.
Donations in Fran's memory may be made to the Wadena Food Bank, P.O. Box 1187, Wadena, Saskatchewan, S0A 4J0. The family wishes to thank the staff of Pleasant View Care Home in Wadena for their excellent care of Fran during her time there. The staff do amazing things with the resources that they have. They truly care about the residents, their comfort and well being.
Prayers
7:00 p.m.
Thursday, November 9, 2023
The Chapel of Narfason's
Narfason's Funeral Chapel & Crematorium
Wadena, SK
Funeral
11:00 a.m.
Friday, November 10, 2023
St. Mary's Roman Catholic Church
Wadena, SK
Donations in memory of
Fran Meehan
may be made to:
The Wadena Food Bank
P.O. Box 1187
Wadena, SK
S0A 4J0
Those wishing to send
cards of sympathy & caring may send them to:
Fran Meehan's Family
P.O. Box 421
Wadena, SK
S0A 4J0
Read More
Events